Nationally Recognized Among Landscaping Companies Serving Our Neighbors in Corsicana, Texas
Folks in Corsicana, Texas, are proud of their heritage and history, and rightfully so. It's known as the birthplace of the Texas oil industry due to the discovery of oil back in 1894, and it continues to be a thriving small town. Over the years, Corsicana, TX has grown and evolved, but there's one type of business we lack. There's no garden supply store in town, no place to get plants, topsoil, fertilizer, mulch, or any other gardening supplies all in one place. But don't despair: Tex-Scapes is just a short drive away in Ennis. When you're looking at nearby landscaping companies, you'll discover the team at Tex-Scapes Nursery and Landscape are your nearby, full-service experts for all things outdoors.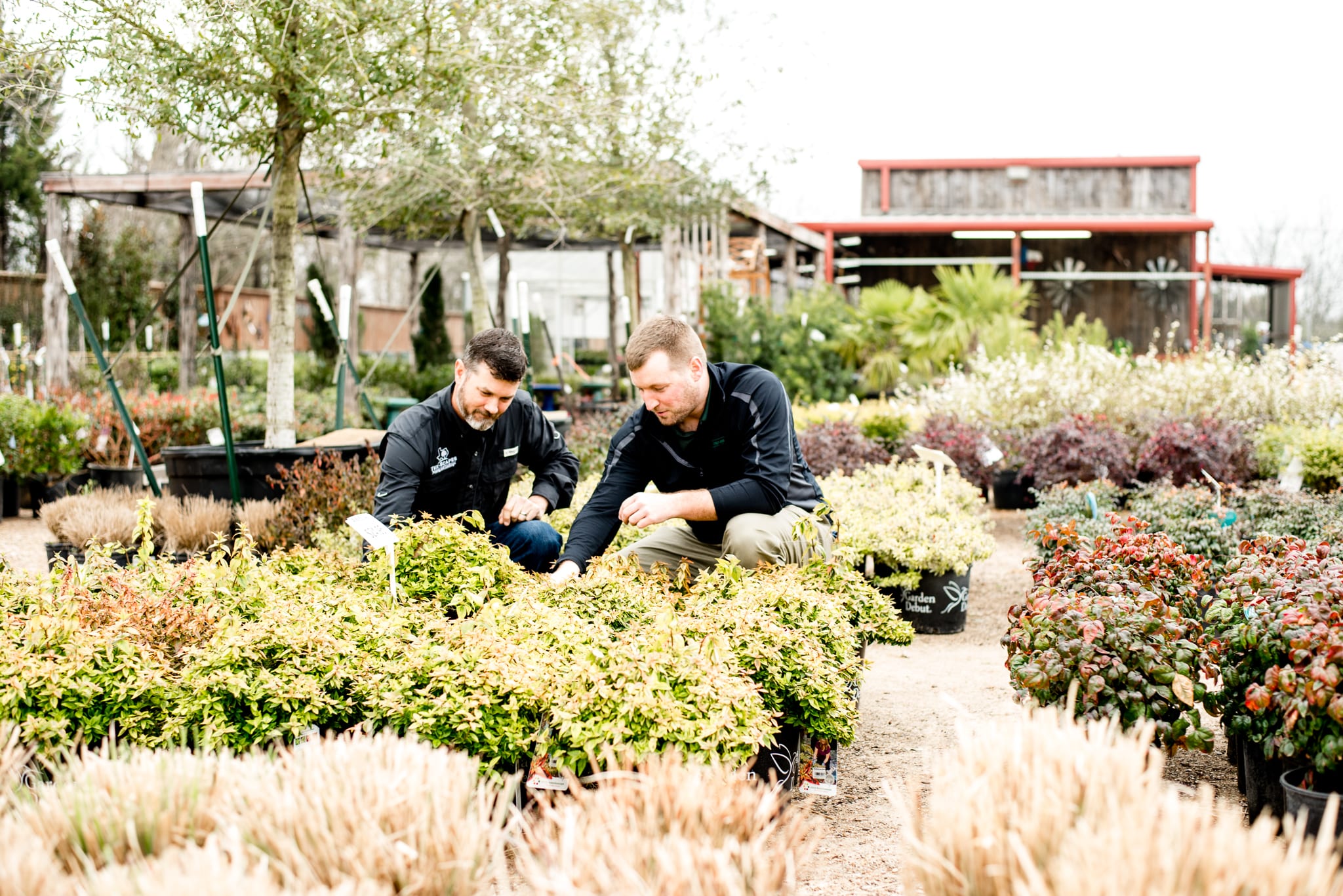 Come on Over to Ennis and Tell Us About Your Outdoor Needs
You love to get your hands dirty, tilling the soil, planting seeds and plants, pulling weeds, and harvesting the fruits of your labor. We know how you feel. Gardening is what we're all about, and we love meeting others who love it as much as we do. What sets us apart from other landscaping companies is our commitment to the people we serve. At Tex-Scapes Nursery and Landscape, we love to help other gardeners find the products that help them grow the gardens of their dreams. In fact, you might say we're a bit obsessed with customer service.
A Few Words from Happy Tex-Scapes Customers
A big Tex-Scapes thank you to our valued customers for sharing these kind reviews on Yelp and Google Reviews!
A Proven Process from Beginning to End
Our landscape design process begins with your first phone call. If you are interested in our design services, we'll set up a consultation at your property. We'll go over your landscape area together, talking about your ideas and gathering initial data. You can ask us questions, and we'll ask a few of our own. The initial consultation is for learning about each other and how Tex-Scapes can help you. We hope you'll come to trust us as we begin a new professional relationship.
After the first consultation, we'll come up with a design plan. We always custom-make our landscape designs. Everything is based on your unique property and your needs. We will explain this first design plan to you in detail, and you'll have the opportunity to tell us what you think. We count on your honest input, so that we can create a landscape you'll enjoy.
At Tex-Scapes, we take into account your budget and timeline. Your time and money are valuable. That's why our process includes clear estimates of the costs and the time it will take to complete the project. We will also list the materials that will be used in your landscape. If you ever have any questions, we're right here! We'll take the time to listen and answer your questions.
Tex-Scapes Has All the Gardening Supplies You Need
Our awesome staff is only one of the reasons that people travel from Corsicana to Ennis to visit our store. Admittedly, their friendly smiles and endless gardening knowledge are pretty amazing, but it's our garden center that really draws folks in. It's packed with hand-chosen products and plants that are perfect for North Texas gardens and the gardeners that love them.
You Won't Believe Our Selection of Plants and Trees
With a growing season that lasts around 230 days, Corsicana, Texas, is a wonderful place for a gardener to put down roots. Even with such a long season, soil condition, climate, and water availability are all unique to the area. We only stock plants, trees, and shrubs that are native to North Texas or well suited to grow here.
Check Out Our Nursery Selection
Trees, plants, and shrubs aren't just pretty to look at. They also help clean the air, provide habitats for birds, insects, and other critters, and they produce delicious vegetables, fruits and nuts that we can eat. If you're looking for plants, flowers, and trees for a landscaping or gardening project, this is the place to shop! We provide:
Flowering Trees
Ornamental Varieties
Shade Trees
Fruit Trees
Nut Trees
Native Texas Trees
Flowering Perennials
Bedding Plants
Vegetable Plants
Fruit Plants
If you need help picking out the right plants and trees for your property, or you have questions about planting and caring for them, ask one of our friendly staff members. They'll make sure you have all the information and help you need to keep your yard and garden plants healthy and happy.
Stock Up On Garden Products
Keeping the plants in your yard and garden healthy means providing them with the right nutrition, protecting them from pests, and ensuring that weeds don't choke them out. Whether you subscribe to organic gardening methods or you carefully use non-organic garden products, you'll find what you need here, including:
Pests and weeds can drive a gardener crazy, and you might lose a few battles with them—but they don't have to win the war. It's your garden and unwelcome guests like fire ants, grubs, and weeds just aren't welcome. We'll help you put up a line of defense that will keep your plants safe and healthy.
Bulk Landscaping Materials
Ask any gardener, and they'll tell you that good dirt is a beautiful thing. When the topsoil in your garden is rich and full of microorganisms, your plants will respond by growing tall, full, and beautiful. When it's time for them to flower and fruit, those nutrients will make for some tasty produce, pretty foliage, and vibrant flowers! At Tex-Scapes Nursery and Landscape, you can find:
If you need a bag of soil, compost, mulch, or a few rocks and stones, come on in and grab what you need! We'll help you pick out what you need, and we'll load it up for you too. If you need larger quantities, ask about our bulk materials, including landscape stones, organic topsoil, and compost.
Tex-Scapes Landscaping Services
We've done quite a few landscaping jobs around Corsicana, TX! In fact, our landscaping services are available to all our neighbors in Ellis and Navarro counties and the DFW area. All of our customers, no matter where they live, get the same home town, family-oriented customer service.
Landscape Lighting
Xeriscaping
Sod Installation
Tree Planting & Trimming
Stump Removal
Hardscaping
Retaining Walls
Patios
Walkways
Whether you have a residential yard and garden or a commercial property, you can rely on our expert landscapers to make it beautiful. Got an idea? Great! Our experienced team has the advice and know-how to help you make it happen. No clue where to start? No worries! We'll help you every step of the way.
Tex-Scapes' Irrigation and Drainage Services
You want to maintain the landscaping of your commercial property or home, and that means ensuring it gets enough water. It also means making sure there's adequate drainage to protect the soil from erosion, and to ensure that it's suitable for plant growth. Our irrigation and drainage services include:
A professionally installed sprinkler system will ensure your property,plants, and trees get the water they need. A timer and rain sensor will make sure the system only comes on when it's needed. A properly installed drainage system will keep excess water from damaging the property, plantings, or structures like your house and garage.
Stop In the Tex-Scapes Garden Center
Whenever you need garden supplies, plants, advice, or landscaping services for your home or business in Corsicana, think Tex-Scapes. If you're looking at landscaping companies, we encourage you to stop in to browse our garden center and to chat with our expert staff. If you can't come in person, please send us a message online and we'll get back to you as quick as we can.
Ready to get started on your project?
Schedule your Project Planning meeting online now!