Beautiful Landscape Services in Ennis, Texas
Landscape design is the first step in a successful landscape project. At Tex-Scapes Nursery and Landscape, we believe that working closely with the customer throughout the design phase is the only way to ensure the final outcome will suit the customer and meet our level of quality. From the very first consultation, we are sincerely concerned about what you want. We welcome your thoughts and ideas. And if you need a little inspiration, we're here to give you some creative and thoughtful options to consider, too!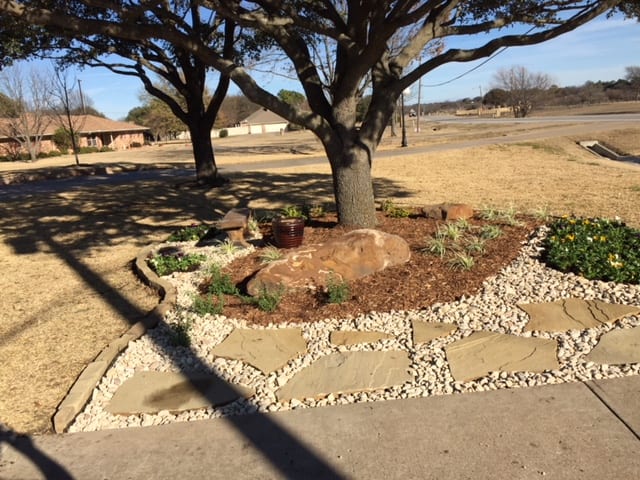 What Does it Take to Be an Expert at Landscape Design?
Our landscape designers know all about the native plants and trees of North Texas. We understand the unique problems that exist in all landscapes in the Ennis, Texas, area. And we have the experience and know-how to meet those problems with creative solutions. Our expert landscape designers will help you select the right plants, trees, and grasses for your property. We can also design and install irrigation and drainage systems to ensure your landscape stays lush and beautiful for years to come. Our experts don't only solve the landscaping problems that are right in front of their noses. We anticipate problems that are likely to happen in the future, and we solve them as well.
What Can You Expect During the Design Phase?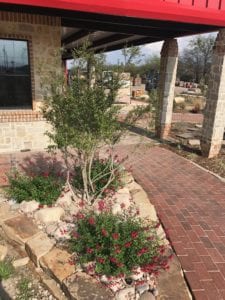 The first step is an initial consultation. The landscaping expert will come out to your property, walk around it with you, take notes, ask questions, and listen to your comments. The designer may want to take some photos, make a soil sample, or gather other information. Basically, the landscaper wants to thoroughly understand the landscape before he or she recommends changes.
Each landscaping project is different, and so is each design. Our designers don't use cookie-cutter landscape designs. Your landscape design will be uniquely suited to your property. When the landscape designer knows enough about the property, he will come up with a thoughtful plan which will be presented to you in detail. You will then have a chance to consider the plan, make suggestions, ask questions, or give permission for our landscapers to move forward with landscape installation.
The design plan presented to you will be explained to you clearly so that you truly understand what will be constructed, what materials will be used, how long the project may take, and an estimate of costs. Tex-Scapes is known for outstanding customer service, and this includes the landscape design phase. We want you to be satisfied at all points of the process.
Landscape Design Brings Promise to Your Project
We like to think of landscape design as an artistic birth of a new landscaping project. There are many ways your landscape could look, and the experts at Tex-Scapes want to present you with the landscape that combines beauty with practicality. We want to include your vision in your property. It's also important to consider the look of your property. The look of your landscape should be an extension of the design of your property, so buildings and nature exist in harmony together. When you hire a landscape designer, you're adding expertise and years of wisdom to your own creative ideas. People often find that our designers make wonderful recommendations that they would never have considered.
Beginning a new landscape project, whether it be for new construction or refreshing an old landscape, can be overwhelming. That's why it's so important to start with landscape design. With your creative ideas and our expert advice, you can be sure your final result will look amazing!
How Landscape Design Ties in With Our Other Landscaping Services
Here's the beauty of hiring Tex-Scapes for landscape design: Tex-Scapes is a full-service landscaping company, and we can continue the project after the design phase. The same people who design your new retaining wall or plan a row of trees along your driveway will be the ones constructing the retaining wall and planting the trees. It is a tremendous advantage to you because none of the plans will be lost in translation between the different phases of landscaping.
Check out our other services in detail on our Services page. Among other things, Tex-Scapes will handle: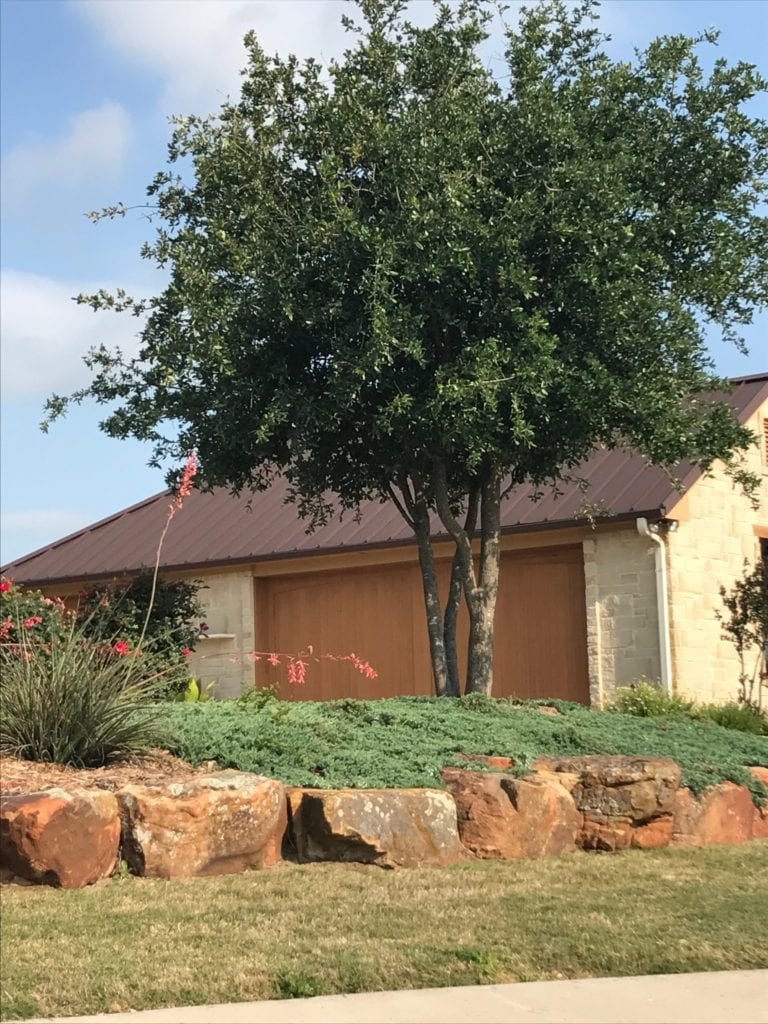 The other unique feature of Tex-Scapes Nursery and Landscape is our one-of-a-kind Garden Store. All of the plants, trees, organic gardening supplies, grasses and shrubs used in your landscape will be taken from the hand-picked selection in the Garden Store. All the stones and other bulk materials used in hardscaping will be taken from the stoneyard outside the Garden Store. We encourage you to stop by our store in Ennis, Texas, and see what a great variety of plants and products we have available! It may provide the inspiration you need when considering your landscape design. While you are at the store, our knowledgeable staff can tell you which plants and trees are best for your area.
The Best Reason to Hire Tex-Scapes for Landscape Design
We'll give you a few hints. It's not our high level of experience in landscape design (although our professionals have been doing this for years). It's not our high-quality materials (but yes, we use only the very best materials available). It's also not our excellent problem-solving abilities for the unique issues that North Texas deals with (but that is a very good reason to hire us). It's not because so many of our customers highly recommend our services (but take a look at our testimonials, if you don't believe us).
The very best reason to hire Tex-Scapes for landscape design is our dedication to excellent customer service. We make it our goal to please you, and we know we can only do that if we offer you beautiful landscapes and high-quality products and services. Thank you for driving us forward to becoming better at what we do!
If you have any questions about our Landscape Design services, please contact us. We'd love to hear from you!
Ready to get started on your project?
Schedule your Project Planning meeting online now!