One of the Best Landscaping Companies Around Has Everything You Need for Your Landscape and Garden
Tex-Scapes Nursery and Landscape is your source for big and small landscaping needs. Located in Ennis, Texas, we are a half-hour drive from your home or business in Kaufman, Texas. Our unique nursery and landscaping company has many valuable services that we offer all our customers from Ennis, Waxahachie, Corsicana, Kaufman, and more of the Dallas-Fort Worth area. As you continue reading, you'll find more information about our services and how they can benefit you. Take a look at our About page for specific company information. The best way to get to know us is to come down to our beautiful nursery and garden store. We're open year-round, and we love to help people find exactly what they're looking for!
Landscaping is Our Way of Life. Let Us Help You with Your Residential or Commercial Landscaping Needs!
What can we do for you? As one of the comprehensive landscaping companies in the area, we have a wide range of services to suit your individual needs. From finding the right plant for your home garden bed to redesigning your company's entire landscape, we have knowledge and skills that you can rely on. Take advantage of our passion for quality landscaping.
Personalized Service for Every Landscaping Need
When you work with Tex-Scapes, you're going to benefit from our five-star customer service. We have a winning combination of friendly staff and expert landscapers on our team. We listen carefully to your needs, and we always respect you and your property. All our services are customized to meet individual needs. Find out for yourself how helpful Tex-Scapes Nursery and Landscape really is.
A Few Words from Happy Tex-Scapes Customers
Tanya Hydes
This greenery is so nice, clean, and well stocked and organized. The people are very nice and genuine!! They know their stuff and always willing to help! Brett was so respectful and listened intently to our needs and concerns. We left with some good plants and compost as well as a plan for the future of our landscaping plans!! Thank you Brett!! Thank you Tex scapes!! We will be back!!
Britton Mann
I absolutely LOVE this nursery! Everyone is friendly and very knowledgeable. I recommend this place to everyone looking to make their outdoor living space beautiful.
Charlotte Fletcher
Tex-Scapes did a great job of removing existing overgrown landscaping and reinstalling landscaping. Quick, two-day process for our smaller lot with great results. Several compliments from neighbors, and a fair price for the amount of work done in completely removing several larger bushes, smaller trees, and existing plants and redoing several beds.
Deanne Miller
I live 30 minutes away and just discovered Tex-Scapes a few weeks ago and have been back twice since then. The quality of plants and flowers are phenomenal with a great price. All the staff is friendly and eager to help. Brett was hard working, exceptional in answering our questions, and loading our purchases in the truck. Thank you for your assistance!
Kelsey McMullen
I really enjoyed all the options this greenery had to offer. Brett Neal was very helpful with showing me the flowers, and was patient with my kids in the greenhouse! I highly recommend this place for your next landscaping purchase! And ask for Brett!
Erin Abay
We are so thankful for Texscapes! We had a garden bed put it in and due to the shelter in place we were unable to buy plants before it started. But thanks to Brett at Texscapes we are able to get all of the beautiful flowers we needed! He went above and beyond and was so kind. We chatted over the phone and he even video called me so I could pick out the exact plants I wanted, and that was so no small feat! We are beyond happy with Texscapes and Brett's customer service and personal touch. And thankful for their flexibility during this unprecedented time. Highly recommend!
Kasey Edward
Brett neal was so amazing today he literally helped us find everything we wanted and needed and if we had any questions he was right there to help us with the answer!!!! Thank you so much.

A big Tex-Scapes thank you to our valued customers for sharing these kind reviews on Yelp and Google Reviews!
Our Process Removes the Stress from Landscape Design
Great communication is how Tex-Scapes makes sure you get exactly what you want in your landscape. We follow a proven process to keep you involved in every step of the project.
Initial Consultation

. We discuss your needs and wants, talk about budget, and take a look at your property.

First Design Plan

. We customize a plan based on our previous discussion and analysis.

Review the Plan

. If you have anything else to add to the plan, or you want to change something, we'll make sure your voice is heard.

Finalize the Plan

. At the last stages of the plan, we put together the final details, such as materials being used, estimated costs, and approximate timeline.

Installation Phase

. Tex-Scapes is a full-service landscaping company, which means we can move seamlessly from the design phase to the installation phase.
Our landscape design services are available throughout our service area, including Waxahachie, Ennis, and Corsicana.
Your Invitation to Apply at Tex-Scapes Nursery and Landscape
Tex-Scapes Nursery and Landscape is based out of Ennis, Texas and serves the DFW area, specializing in landscaping for residential homes and light commercial properties. We pride ourselves on customer satisfaction! If you have a landscaping or garden center background, a strong work ethic, and enjoy working in a friendly, family-oriented environment, we invite you to apply for one of our landscaping jobs or garden center jobs.
For more information, please contact us or send us an email to info@texscapesnursery.com.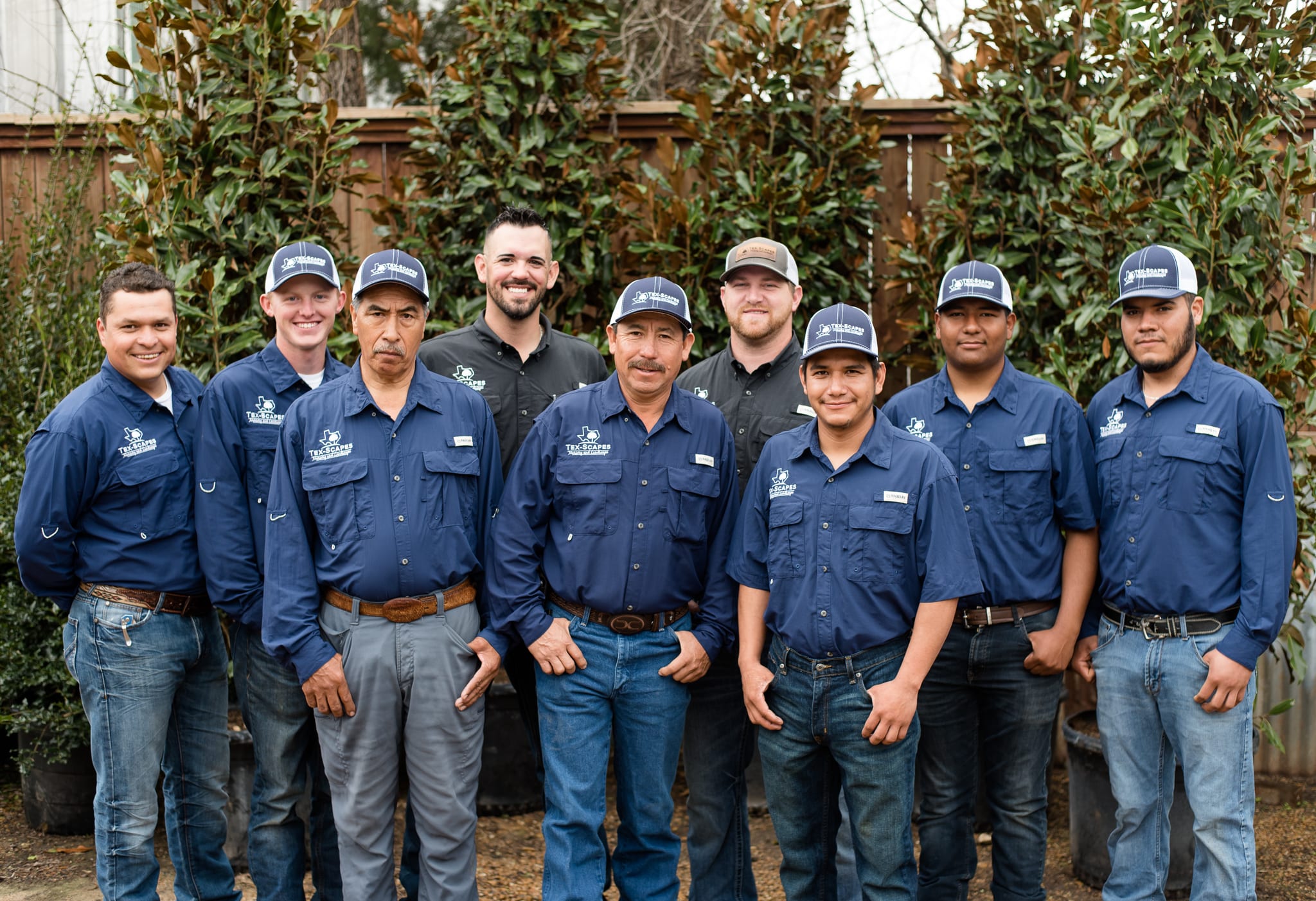 Take the Next Step Toward Your Landscaping Project in Kaufman, TX
Let's talk landscaping together. Of all the landscaping companies in the area, Tex-Scapes is the one that is here to help you through every aspect of your project, from the first consultation to the finished result. Our Kaufman, TX landscaping experts will ask you questions that give them a better idea of your needs. We'll also answer any questions you have about our services and products. Feel free to test our knowledge and pick our brains about anything landscaping! We love to share what we know with our valued customers. 
Fill out the form on our Contact page, and we'll get back to you soon. If you'd rather give us a call, you'll also find our phone number on the Contact page. We'd enjoy seeing you at our Garden Store location, so drop on by sometime! We're happy to work with you.
Ready to get started on your project?
Schedule your Project Planning meeting online now!