One of the Best Landscaping Companies Around Has Everything You Need for Your Landscape and Garden
Tex-Scapes Nursery and Landscape is your source for big and small landscaping needs. Located in Ennis, Texas, we are a half-hour drive from your home or business in Kaufman, Texas. Our unique nursery and landscaping company has many valuable services that we offer all our customers from Ennis, Waxahachie, Corsicana, Kaufman, and more of the Dallas-Fort Worth area. As you continue reading, you'll find more information about our services and how they can benefit you. Take a look at our About page for specific company information. The best way to get to know us is to come down to our beautiful nursery and garden store. We're open year-round, and we love to help people find exactly what they're looking for!
Landscaping is Our Way of Life. Let Us Help You with Your Residential or Commercial Landscaping Needs!
What can we do for you? As one of the comprehensive landscaping companies in the area, we have a wide range of services to suit your individual needs. From finding the right plant for your home garden bed to redesigning your company's entire landscape, we have knowledge and skills that you can rely on. Take advantage of our passion for quality landscaping.
Personalized Service for Every Landscaping Need
When you work with Tex-Scapes, you're going to benefit from our five-star customer service. We have a winning combination of friendly staff and expert landscapers on our team. We listen carefully to your needs, and we always respect you and your property. All our services are customized to meet individual needs. Find out for yourself how helpful Tex-Scapes Nursery and Landscape really is.
A Few Words from Happy Tex-Scapes Customers
A big Tex-Scapes thank you to our valued customers for sharing these kind reviews on Yelp and Google Reviews!
A Proven Process from Beginning to End
Our landscape design process begins with your first phone call. If you are interested in our design services, we'll set up a consultation at your property. We'll go over your landscape area together, talking about your ideas and gathering initial data. You can ask us questions, and we'll ask a few of our own. The initial consultation is for learning about each other and how Tex-Scapes can help you. We hope you'll come to trust us as we begin a new professional relationship.
After the first consultation, we'll come up with a design plan. We always custom-make our landscape designs. Everything is based on your unique property and your needs. We will explain this first design plan to you in detail, and you'll have the opportunity to tell us what you think. We count on your honest input, so that we can create a landscape you'll enjoy.
At Tex-Scapes, we take into account your budget and timeline. Your time and money are valuable. That's why our process includes clear estimates of the costs and the time it will take to complete the project. We will also list the materials that will be used in your landscape. If you ever have any questions, we're right here! We'll take the time to listen and answer your questions.
Your Invitation to Apply at Tex-Scapes Nursery and Landscape
Tex-Scapes Nursery and Landscape is based out of Ennis, Texas and serves the DFW area, specializing in landscaping for residential homes and light commercial properties. We pride ourselves on customer satisfaction! If you have a landscaping or garden center background, a strong work ethic, and enjoy working in a friendly, family-oriented environment, we invite you to apply for one of our landscaping jobs or garden center jobs.
For more information, please contact us or send us an email to info@texscapesnursery.com.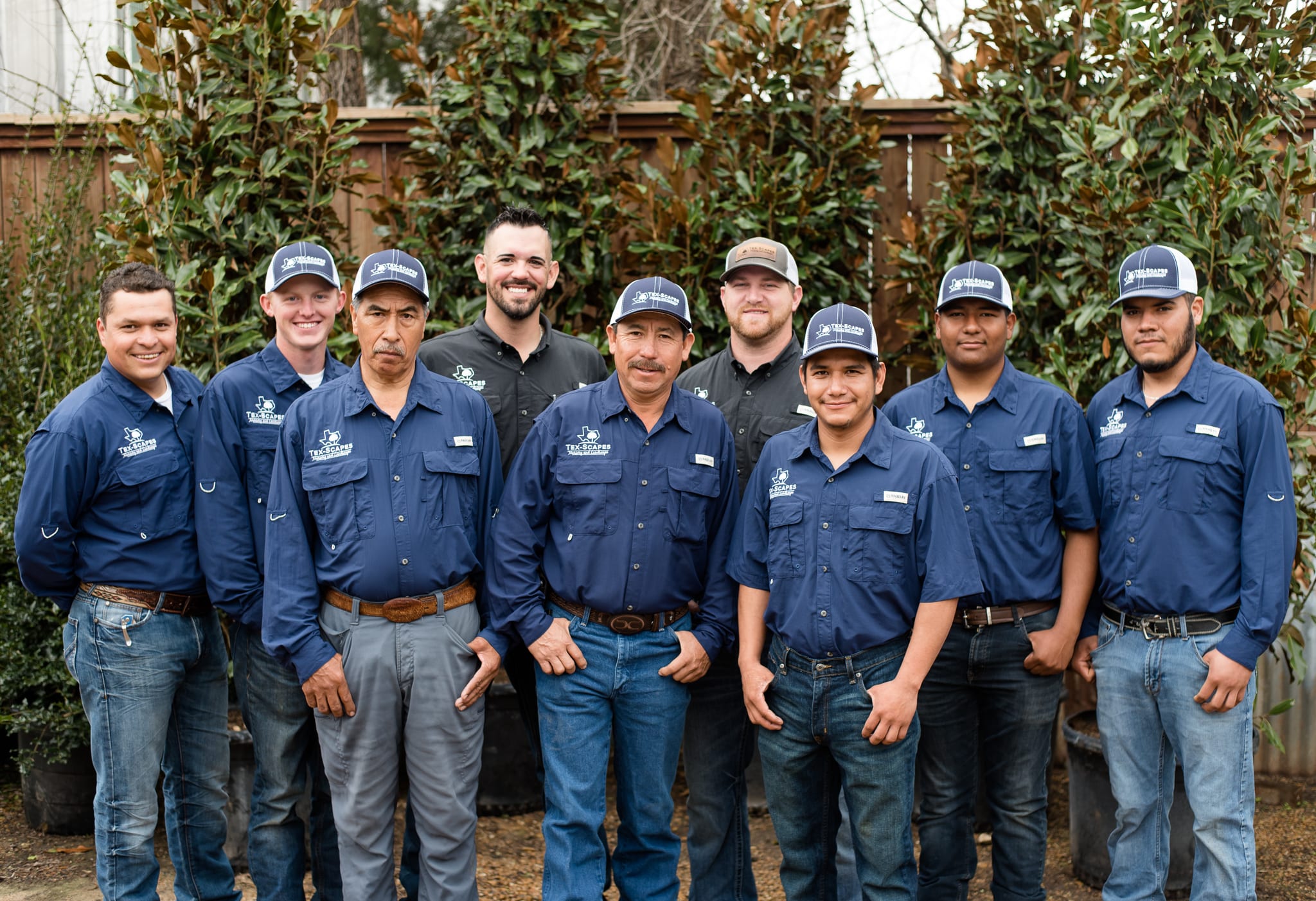 Take the Next Step Toward Your Landscaping Project in Kaufman, TX
Let's talk landscaping together. Of all the landscaping companies in the area, Tex-Scapes is the one that is here to help you through every aspect of your project, from the first consultation to the finished result. Our Kaufman, TX landscaping experts will ask you questions that give them a better idea of your needs. We'll also answer any questions you have about our services and products. Feel free to test our knowledge and pick our brains about anything landscaping! We love to share what we know with our valued customers. 
Fill out the form on our Contact page, and we'll get back to you soon. If you'd rather give us a call, you'll also find our phone number on the Contact page. We'd enjoy seeing you at our Garden Store location, so drop on by sometime! We're happy to work with you.
Ready to get started on your project?
Schedule your Project Planning meeting online now!