Tex-Scapes Nursery and Landscape has been providing landscaping services in the Ennis, Texas and Dallas-Fort Worth (DFW) area since 2004
We are a family-owned and operated company, committed to delivering the highest quality, innovative landscapes for residential and commercial properties, with a focus on friendly customer service. We treat our staff like our extended family, and we value their contributions. If you are enthusiastic, customer-friendly, and pride yourself in the highest quality of workmanship, you may wish to consider applying for one of our landscaping jobs.
Available Landscaping Jobs
Experienced Landscapers Welcome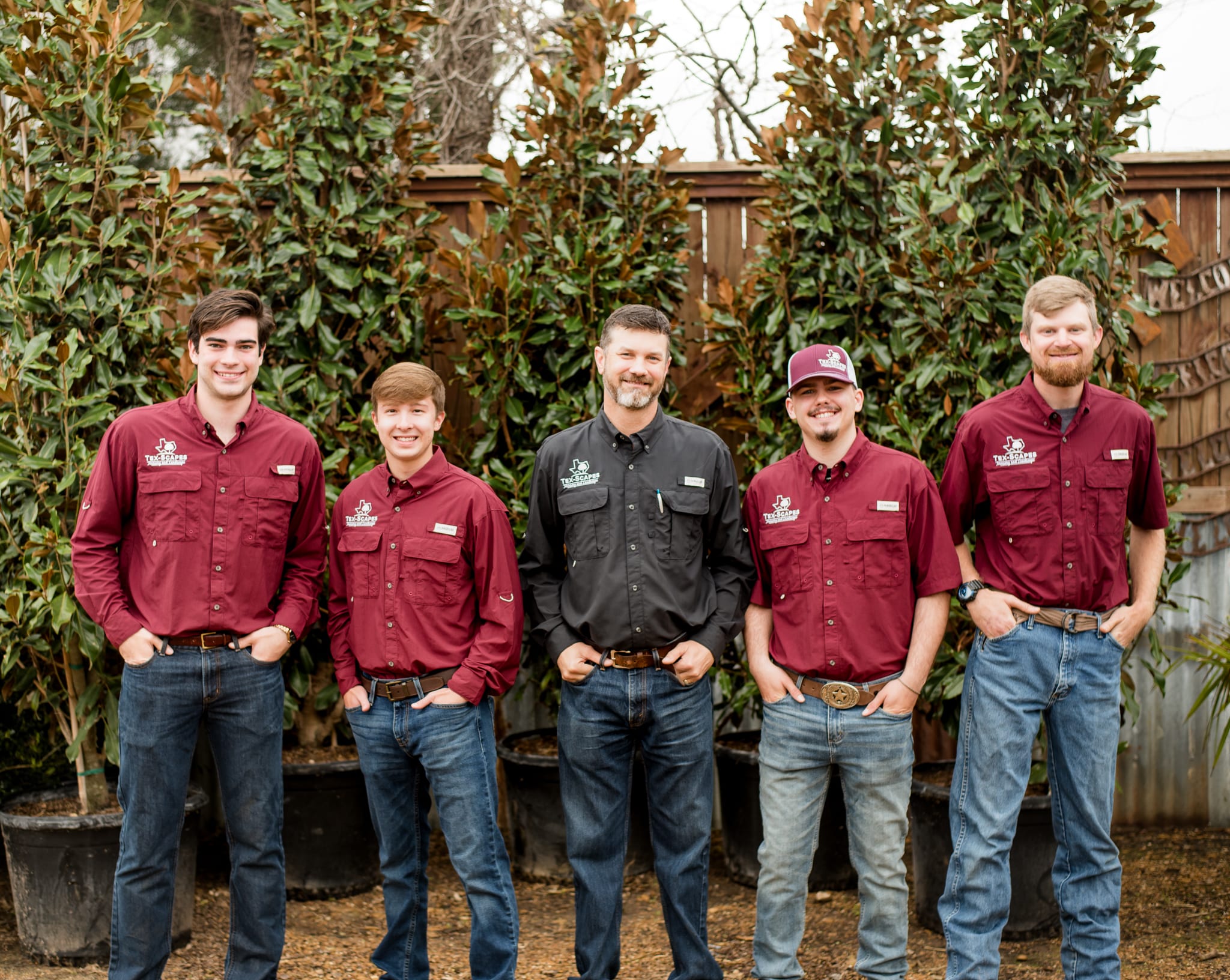 As the demand for our services grows, we are seeking qualified personnel to fill our full time and seasonal positions. We welcome knowledgeable landscapers, outdoor craftsmen, trades people, and technicians with background experience to apply. We look for professionals from the landscape and construction fields with a strong emphasis on the following skills:
Experience in landscape installation and construction
Technical proficiency in the installation of irrigation and sprinkler systems
Supervisory knowledge of job tracking, job cost reporting, and scheduling
Integrity, great work ethic, and a positive approach
Detail-oriented and dedicated to excellence in workmanship
Educational background in landscape installation, construction project management, horticulture and associated fields
Adherence to safety and job-related training
Firm understanding of horticultural practices for landscape gardeners
Ability to communicate clearly, and in a personable manner
Enthusiastic, creative, and open to learn
Willingness to cooperate in a team environment
Motivated and solution-oriented
Our Expectations of Our Landscapers
In the design phase of project development ,we collaborate with our customers to create a plan that reflects their lifestyle preferences while providing practical functionality. We approach a landscape build as though we are building an outdoor extension to the homeowner's living space, and we give it due respect. As the landscape installation progresses, we strive to deliver unique outdoor spaces that incorporate every detail of the customer's landscaping design plans. Our landscaping team ensures that the completed landscape follows predetermined timelines and budgetary considerations.
Upon completion, the customer is delivered a successful, long-lasting outdoor living space that exceeds their expectations. All hardscape materials, trees and plants are hand-selected to guarantee the highest quality.
At every phase of the project, we expect our landscapers to show absolute courtesy to our customers and to demonstrate commitment to the highest standards of workmanship. We look for solution-oriented individuals that can come up with workable outcomes for the wide variety of environments we encounter.
Services Provided By Our Landscape Team
We provide a variety of services for private residential and light commercial landscaping. Projects may be as simple as adding a flower bed or vegetable garden to a complex renovation of the property. Our team of professionals is skilled in all aspects of landscape construction, from small to large projects:
Dirt work, grading, drainage and French drains
Automated sprinkler systems
Hardscaping
Patios and walkways
Water features
Xeriscaping
Tex-Scapes Customer Goal
We always want our customers to know they have come to the right place! Our staff goes above and beyond the call of duty to make them welcome, and to provide them with only the best landscaping services. In the Ennis and DFW area, homeowners that contact us for our services range from couples with families to working professionals to retired grandparents. Commercial property owners also contact us with requests for their exterior business environments.
We strive to instill the confidence in all of our customers that our team has the artistic vision and finely-honed skills that will transform an ordinary property into the best of the Texas outdoor residential or commercial spaces.
We Rely on the Expertise of Our Landscape Team
Our customers count on us to come up with creative solutions for grading and re-shaping the land, providing efficient drainage and irrigation systems, constructing unique patios and activity areas, and for selecting the trees and plants that bring their environment to life. Our landscapers have the know-how to improve a property, implement "green" water-saving designs, all while increasing the beauty and value of a home.
Our landscape services cover every facet of remodeling and constructing a new outdoor living space. We value the expertise and vision offered by our landscape team. Their credentials and experience lead to achieving the customer's defined goals, and this is an asset to our company we celebrate!
We Treat Our Staff Like Family
We hope this is giving you a sense of the caliber of landscape services we provide and the exceptional quality of our staff. We also want to impress upon you how highly we value and respect the individuals that comprise our staff. Each staff member represents our core values to the very best of their ability.
We began as a family-run operation and as we expanded, hiring new talent meant we were simply adding more members to our team! We are always looking for talented and caring landscapers to join our family.
Our Landscape Team Delivers The Best
Our mission is to provide our customers with all-encompassing, personalized service. Our landscaping staff is equipped with the resources and expertise to handle every phase of construction, from breaking ground to a finished landscape that complements the homeowner's dream and architectural preferences. We welcome the thoughtful, creative suggestions contributed by our team members. We look forward to expanding our team as the demand for our services grows.
Your Invitation to Apply for Landscaping Jobs
Tex-Scapes Nursery and Landscape is based out of Ennis, Texas and serves the DFW area, specializing in landscaping for residential homes and light commercial properties. We pride ourselves on customer satisfaction! If you have landscaping background, a strong work ethic, and enjoy working in a friendly, family-oriented environment, we invite you to apply for one of our landscaping jobs or garden center jobs.
When visiting our garden center, located in Ennis, you will meet our awesome staff, eager to help in any way. Come over for a tour and get to know us! For more information, please contact us or fill out our job application.