Some people are easy to shop for, and others are nearly impossible. When a birthday or holiday is coming around and you need to find something special for that special someone, check out our Garden Store. Because Tex-Scapes is a nursery, a store, and a landscape company all blended into one, you're bound to find at least one thing for your friend or family member, even if he or she doesn't have a green thumb. We stock all sorts of fun decor, crafts, outdoor art, and practical gardening tools. Find the perfect garden gift, and then pick out something extra for yourself!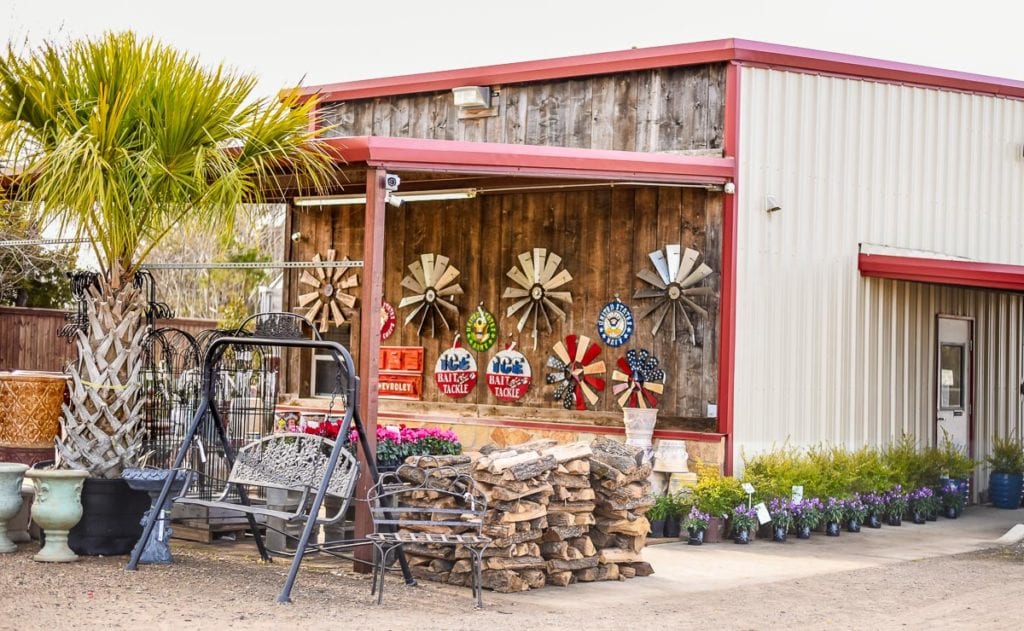 Relax as You Shop for Garden Gifts in Our Down-Home Texas Atmosphere
Shopping at Tex-Scapes Nursery and Garden Store is like coming home to pick something up that you need. Our friendly staff will greet you with a genuine smile because they are genuinely happy to see you. You won't feel any pressure to make a purchase, and if you need help, all you have to do is give a little wave, and say, "Over here, please. I need some help, y'all!"
Need help matching a certain plant to the right size flower pot? We can help you with that. How about finding a garden ornament to put on your Christmas tree? We'll lead you right to it! Maybe you're looking for something in a certain color. Or you need a gift that is under a certain dollar amount. Or do you really want a wind-chime that will remind your sister of that one summer vacation at the lake. Well, we can at least chime the wind-chimes for you! The point we're trying to get across is that the people who work here love to help the people who shop here. And they know a lot about plants, gardening, and what makes great gifts! Trust the experts, and find just what you want. Shopping at Tex-Scapes Garden Store is a fun experience.
Gift Ideas for the Gardener in Your Life
If you don't have a good idea of what gift you want to give someone, come on over to our store in Ennis, TX to find some inspiration. Our shelves, countertops, and walls our stocked full of good things that will probably make you smile. Here are a few examples of garden gifts you might come across:
a colorful wind spinner to hang from a tree branch
animal-themed garden sculptures
uniquely-shaped garden stakes for outdoor modern art
fairy house accessories
rain gauges in pretty colors
solar lights to brighten the nights
beautifully-tuned wind chimes
elegant bird baths
Texas-themed outdoor art
farmhouse-style benches
painted signs that reflect your values
iron art to hang on the outside of your house
pottery in beautiful colors, shapes, and sizes
wall art for indoors or outdoors
welcome mats
baskets for collecting produce
birdhouses for decor and for practical use
mosaic-tile stepping stones
handy garden tool totes
Phew! That's a lot of ideas, and we've only begun to describe what you might find in our store. Stop on in to enjoy the hunt for that special garden gift.
Flowers and Plants Make Beautiful Garden Gifts
A bouquet of roses is sweet, but it only last a few days before it wilts. A rose bush, on the other hand, has the potential to last a lifetime! Get your sweetheart some flowers that will bloom again and again, a true reminder of how your love lasts year after year. Houseplants and succulents make pretty fantastic presents for various occasions. We can guide you to the plant that will do well in your particular garden space or planter. Whether you're a master gardener or you've never managed to keep a plant alive, our friendly staff can help you decide which plant is best for you. Our nursery is stocked full of flowers, vegetables, bushes, and even trees. Plus, we're open all year round.
To make a plant into an extra special gift, consider choosing a pretty pot to grow it in, or a unique garden stake to accompany it. For the kitchen gardener, you might choose a set of herb plants in an attractive planter. We have loads of fun things to make any size garden reflect your unique personality.
Practical Gifts for the Serious Gardener
You'll find a lot of whimsy in our store, but we temper it down with plenty of serious gardening tools and supplies. For the gardener on your list who cares as much for his vegetable plot as he does for his grandkids, we have just what you need. Spades, hoes, shovels, rakes, and wheelbarrows all make great practical gifts. How about a bench to rest on when the Texas sun is getting too hot? Maybe your serious gardener would really appreciate a bag of organic fertilizer. We have watering cans and row markers, flower bulbs, and hanging baskets. Can't find the gardening supply you're looking for? Ask our staff! Chances are pretty good that we have it on hand.
A Gift Certificate is an Easy Gift for Anyone in the Ennis, Texas Area
We sell gift certificates so you can allow your loved one to shop here and enjoy our store and all its great garden gifts. We are the only nursery open year-round in Ennis, Waxahachie, Corsicana, and the surrounding areas, making us a super-convenient place to shop whenever the gardening mood strikes!
Make Your Landscape Complete with Our Other Landscaping Services
Garden gifts are a great way to complement a Ennis, Texas beautiful landscape. If your yard needs more than a birdbath and stepping stones, let Tex-Scapes help you with all your landscaping needs! We offer these services and more:
We are a landscape company with a big, Texas-sized heart for people. We listen to what you want, and we do our best to meet your needs at a reasonable cost. Enjoying a beautiful landscape is within your reach. We're here for you, whether you have a big project or a small gardening question. Contact us today for more information on any aspect of landscaping and gardening.
A Proven Process from Beginning to End
Our landscape design process begins with your first phone call. If you are interested in our design services, we'll set up a consultation at your property. We'll go over your landscape area together, talking about your ideas and gathering initial data. You can ask us questions, and we'll ask a few of our own. The initial consultation is for learning about each other and how Tex-Scapes can help you. We hope you'll come to trust us as we begin a new professional relationship.
After the first consultation, we'll come up with a design plan. We always custom-make our landscape designs. Everything is based on your unique property and your needs. We will explain this first design plan to you in detail, and you'll have the opportunity to tell us what you think. We count on your honest input, so that we can create a landscape you'll enjoy.
At Tex-Scapes, we take into account your budget and timeline. Your time and money are valuable. That's why our process includes clear estimates of the costs and the time it will take to complete the project. We will also list the materials that will be used in your landscape. If you ever have any questions, we're right here! We'll take the time to listen and answer your questions.
Visit the Premiere Garden Supply Store in Ennis, Texas
We love our garden supply store, and we think you will, too. Visit us at the following hours:
Spring Hours (March - May)
Monday – Friday: 8:00 am – 6:00 pm
Saturday: 8:00 am – 5:00 pm
Sunday – Closed
Monday – Friday: 8:00 am – 5:30 pm
Saturday: 8:00 am – 5:00 pm
Sunday – Closed
If you want to learn more about organic gardening in Ennis, Texas, or you need some organic gardening supplies, come on in and talk to us. At Tex-Scapes Nursery and Landscape, we believe that providing the best products, hometown friendly atmosphere, and superb customer service is what good neighbors do.
Or, you can always contact us online and we'll get back to you.
We're passionate gardeners ourselves and we understand how important your organic garden is. From bagged top soil to organic fertilizers, plants, trees, and gardening tools, we've got everything you need to get going. And, if you ever have a question, or need some help, we'll be happy to lend a hand.