Our History Begins with Family Values
Tex-Scapes Nursery and Landscape began in 2004 when Casey and Tiffany Hendrix established their very own landscape and irrigation business. In 2005, the Hendrix couple purchased a plant nursery in Ennis, Texas, allowing them to stay closer to home. Today, Tex-Scapes Nursery and Landscape is still owned and operated by Casey and Tiffany. Even though it has grown and flourished since 2004, employing professional landscapers and plant specialists, Tex-Scapes still operates under the same core family values. That means when you do business with us, we meet your needs in whatever way we can. We pride ourselves on customer satisfaction!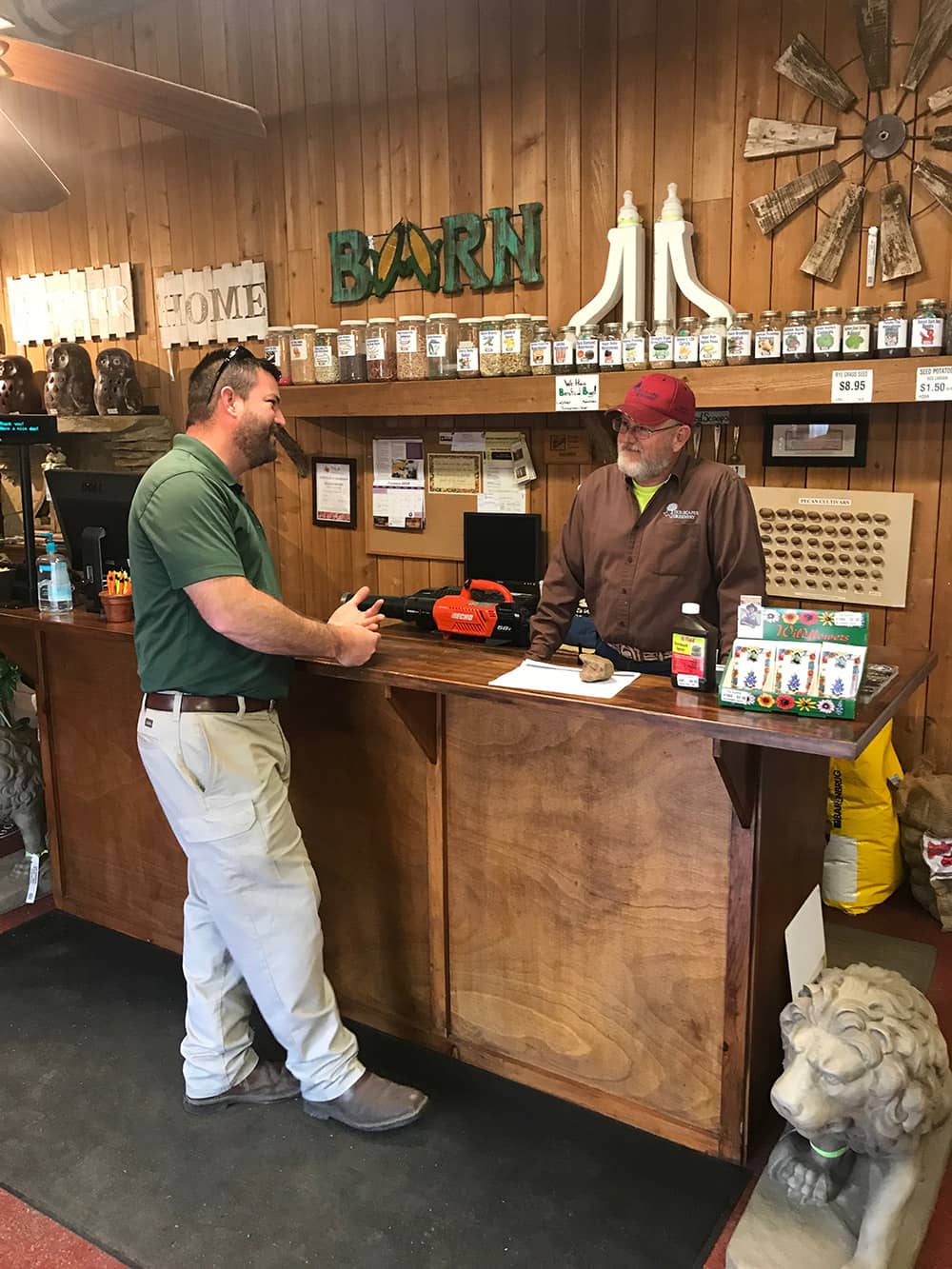 What Makes Tex-Scapes Nursery and Landscape Unique?
Tex-Scapes Nursery and Landscape boasts a full-service Garden Center, plus we offer all types of professional landscaping services. No other landscaping company in the area can offer the same amount of service and products. Here are just a few ways Tex-Scapes offers our neighbors in Ennis, Waxahachie, and Corsicana the best there is to offer:
Our Garden Store is the only local year-round nursery and garden center in Ennis, Texas.
We greet you warmly before you even get to the door of our store.
When you need help, you'll work mostly with one person from start to finish. (That includes loading and delivery!)
Our products are hand-picked by people who know what grows best in North Texas.
We are landscaping problem solvers, and all our services are professional and high quality.
We have won awards for our famous customer service.
Professional Landscaping Service and Integrity Go Hand-in-Hand at Tex-Scapes Nursery and Landscape
Our landscaping professionals do not cut corners. Each service we provide is completed as if we are doing it for members of our own family. Whether you're getting professional landscaping services or visiting our Garden Store, we are dedicated to treating you with respect by offering the best service and products available. We carefully choose the products in our Garden Store with our customers in mind. When our customers call us on the phone with a landscaping or gardening question, we really want to talk! We're here to help solve your problems in the best way possible using the highest quality products.
How can Tex-Scapes Nursery and Landscape help you and your outdoor spaces? We help our customers find the right plants or products to meet their landscape needs and desires. We solve problems with plant selection and installation. Do you have too much water, or not enough? We specialize in water application by sprinkler system installations and repairs. We're also experts in drainage, which includes dirt work, grading, and underground drainage systems.
Our business is a proud member of the Texas Nursery and Landscape Association.
A Few Words from Happy Tex-Scapes Customers
A big Tex-Scapes thank you to our valued customers for sharing these kind reviews on Yelp and Google Reviews!
A Proven Process from Beginning to End
Our landscape design process begins with your first phone call. If you are interested in our design services, we'll set up a consultation at your property. We'll go over your landscape area together, talking about your ideas and gathering initial data. You can ask us questions, and we'll ask a few of our own. The initial consultation is for learning about each other and how Tex-Scapes can help you. We hope you'll come to trust us as we begin a new professional relationship.
After the first consultation, we'll come up with a design plan. We always custom-make our landscape designs. Everything is based on your unique property and your needs. We will explain this first design plan to you in detail, and you'll have the opportunity to tell us what you think. We count on your honest input, so that we can create a landscape you'll enjoy.
At Tex-Scapes, we take into account your budget and timeline. Your time and money are valuable. That's why our process includes clear estimates of the costs and the time it will take to complete the project. We will also list the materials that will be used in your landscape. If you ever have any questions, we're right here! We'll take the time to listen and answer your questions.
A Philosophy of Caring for Others
While other companies that provide professional landscaping service may do good work, our goal to meet every customer's needs and desires puts us on a different level. At Tex-Scapes Nursery and Landscape, we truly care about you. We are local Ennis, TX, landscapers who love and understand North Texas. We are down-to-earth people with families and goals in life that extend past our next paycheck. We love being around plants, trees, soil, and rocks, and you could say our work is growing on us. Our people at Tex-Scapes Nursery and Landscape want to make you happy with the work we do. Next time you're considering an outdoor project large or small, remember that integrity counts for a lot. You'll get that and more at Tex-Scapes Nursery and Landscape.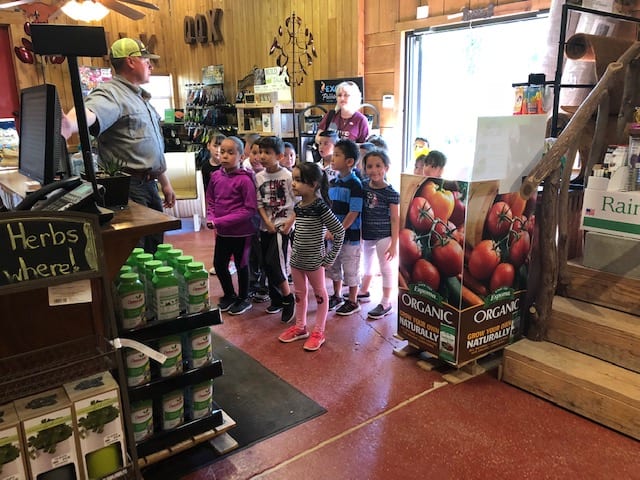 Work for Us and Notice the Difference We Make
Our team of professional landscapers and plant specialists are dedicated to providing high quality, friendly service to each and every customer. We hire personable, talented staff to work in our Garden Store, do landscaping work in the area, help out neighbors looking for DIY advice, and work with other landscapers who are interested in buying from our bulk supplies. Our staff members are knowledgeable about trees, plants, grasses, and fertilizers, and they love the great outdoors! If this sounds like you, please take a look at our Career Pages. We are always on the lookout for new talent.
Visit the Premiere Garden Supply Store in Ennis, Texas
We love our garden supply store, and we think you will, too. Visit us at the following hours:
Spring Hours (March - May)
Monday – Friday: 8:00 am – 6:00 pm
Saturday: 8:00 am – 5:00 pm
Sunday – Closed
Monday – Friday: 8:00 am – 5:30 pm
Saturday: 8:00 am – 5:00 pm
Sunday – Closed
A Short Note from the Hendrix Family
Thank you for your interest in our professional landscaping company. We think North Texas is such a special place to raise a family, and that is why we settled down in the Ennis, Texas, area. We are pleased to offer our landscaping services to all our neighbors. If you're in the area, stop on by and let us show you around! Our Garden Store is open year-round, and you're sure to find something that suits every gardener at heart. We look forward to seeing more of you. Your satisfaction drives us forward into a green and abundant future.
Have questions? Please contact us. We'll be more than happy to help you solve your gardening and landscaping problems.
Yours truly,
Casey and Tiffany Hendrix
Ready to get started on your project?
Schedule your Project Planning meeting online now!