Tex-Scapes Nursery and Landscape specializes in commercial landscaping services. Whether you have a stand-alone building, a restaurant with exterior seating, or a shopping center, good landscaping matters. A beautiful exterior draws more customers to your business. Decorative entryways can catch the eye of passing traffic. Neatly trimmed medians and well-drained pathways make parking lots safer and more inviting.
If you're looking for commercial landscaping companies, look no further. Come visit Tex-Scapes Nursery and Landscape in Ennis to find the best landscaping ideas for your commercial property. Our commercial landscaping specialists can design and install the perfect landscape. We can help keep your property safer and easier to maintain with drainage features and automated irrigation. Make your store look welcoming all year-round with green grasses and clean landscaping features.
Why Your Business Needs Eye-Catching Commercial Landscaping
Great landscaping makes a great first impression. Green grass and lush plants are more inviting than a patchy brown landscape. Hardscape features like patios, flagstone paths, and stone benches can attract more customers to your front door.
Good landscaping is just as important at night as it is during the day. Landscaping lights make shoppers feel safer between your building and the parking lot, especially when they're alone. Well-designed lighting also illuminates walkways and steps to keep pedestrians safe. Plus, overnight lighting can deter trespassers to keep your business premises safe.
A Few Words from Happy Tex-Scapes Customers
Tanya Hydes
This greenery is so nice, clean, and well stocked and organized. The people are very nice and genuine!! They know their stuff and always willing to help! Brett was so respectful and listened intently to our needs and concerns. We left with some good plants and compost as well as a plan for the future of our landscaping plans!! Thank you Brett!! Thank you Tex scapes!! We will be back!!
Britton Mann
I absolutely LOVE this nursery! Everyone is friendly and very knowledgeable. I recommend this place to everyone looking to make their outdoor living space beautiful.
Charlotte Fletcher
Tex-Scapes did a great job of removing existing overgrown landscaping and reinstalling landscaping. Quick, two-day process for our smaller lot with great results. Several compliments from neighbors, and a fair price for the amount of work done in completely removing several larger bushes, smaller trees, and existing plants and redoing several beds.
Deanne Miller
I live 30 minutes away and just discovered Tex-Scapes a few weeks ago and have been back twice since then. The quality of plants and flowers are phenomenal with a great price. All the staff is friendly and eager to help. Brett was hard working, exceptional in answering our questions, and loading our purchases in the truck. Thank you for your assistance!
Kelsey McMullen
I really enjoyed all the options this greenery had to offer. Brett Neal was very helpful with showing me the flowers, and was patient with my kids in the greenhouse! I highly recommend this place for your next landscaping purchase! And ask for Brett!
Erin Abay
We are so thankful for Texscapes! We had a garden bed put it in and due to the shelter in place we were unable to buy plants before it started. But thanks to Brett at Texscapes we are able to get all of the beautiful flowers we needed! He went above and beyond and was so kind. We chatted over the phone and he even video called me so I could pick out the exact plants I wanted, and that was so no small feat! We are beyond happy with Texscapes and Brett's customer service and personal touch. And thankful for their flexibility during this unprecedented time. Highly recommend!
Kasey Edward
Brett neal was so amazing today he literally helped us find everything we wanted and needed and if we had any questions he was right there to help us with the answer!!!! Thank you so much.

A big Tex-Scapes thank you to our valued customers for sharing these kind reviews on Yelp and Google Reviews!
What Should Every Commercial Landscape Include?
Commercial landscapes involve more than green grass and a handful of plants. If you want to bring more shoppers to your store day and night, your landscape needs:
Intentional Design: Every property is different. Work with a professional landscape designer to make sure your plants and landscaping support systems work together to make your property beautiful.
Native and Low-Maintenance Plants: Your property's exterior needs to look great without constant maintenance. Native and drought-resistant plants are more water-efficient, more durable, and appeal to local shoppers.
Hardscape Features and Lighting: Make your landscape functional, not just beautiful. Install footpaths, patios, and seating to draw in more visitors. Add lighting to illuminate the space and keep your customers safer.
Irrigation: Drip irrigation helps your plants grow healthy, deep roots, and well-designed systems ensure that every plant gets the water it needs. Smart irrigation can turn on and off automatically to water your landscaping for you. That's why our landscaping design includes irrigation plans for high-efficiency, automated watering systems that keep your plants strong.
Drainage: Water needs to be able to flow away from your property without muddying the paths or puddling on the lawn. We can help find the best drainage solutions to move water away from your building.
When all of these commercial landscaping elements work together, you can welcome shoppers into your store every season without worrying about the building's first impression. Contact our team at Tex-Scapes Nursery and Landscape to schedule an initial consultation.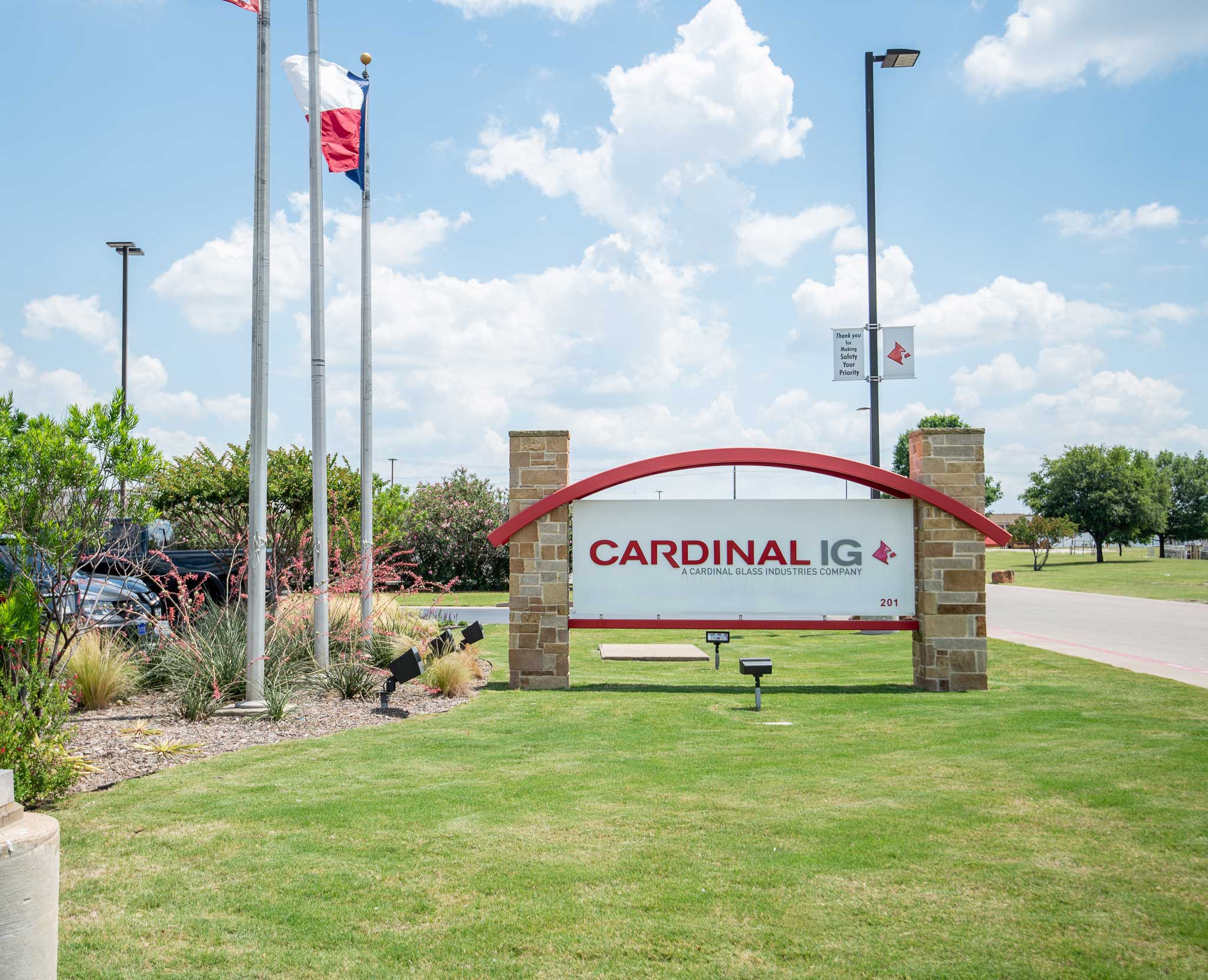 Start Your Landscaping Transformation with Professional Design and Preparation
The first step for every landscaping transformation is to plan the layout. Our team can help you decide on the best features to strengthen your business. Fast food and sit-down restaurants can attract more business with exterior seating. Make your roadside sign more eye-catching with bright plants and track lighting. Maybe you want to make your parking lot easier to manage with grasses, lighting, and slower-growing hedges in the medians.
If you have specific elements you want to include on your property or you're looking for suggestions, our team can create a perfect plan that fits your store, your property, and your budget.
We Prepare Your Site for New Landscaping
Once you sign off on a plan, our commercial landscaping company can start getting your property ready for the transformation. This includes site preparation such as:
Removing old sod and unwanted stumps or plants.
Rejuvenating the soil, especially in areas of high foot and car traffic.
Adjusting your soil gradient for better drainage.
Repairing or removing existing irrigation systems and retaining walls.
This preparation is quick and gives landscapers a blank slate to install your new landscaping with minimal business disruption.
Our Landscapers Can Turn Your Landscaping Ideas into Reality
While some commercial landscaping companies deliver stock plans, Tex-Scapes Nursery and Landscape can design a custom commercial landscaping plan that's ideal for your business. In just a few days or weeks, our landscapers can transform your property's exterior into an eye-catching attraction. New trees, plants, and shrubs will be installed into the ground straight from our Ennis, Texas, nursery. Our team will also start to lay down the stones to construct your property's hardscaping features.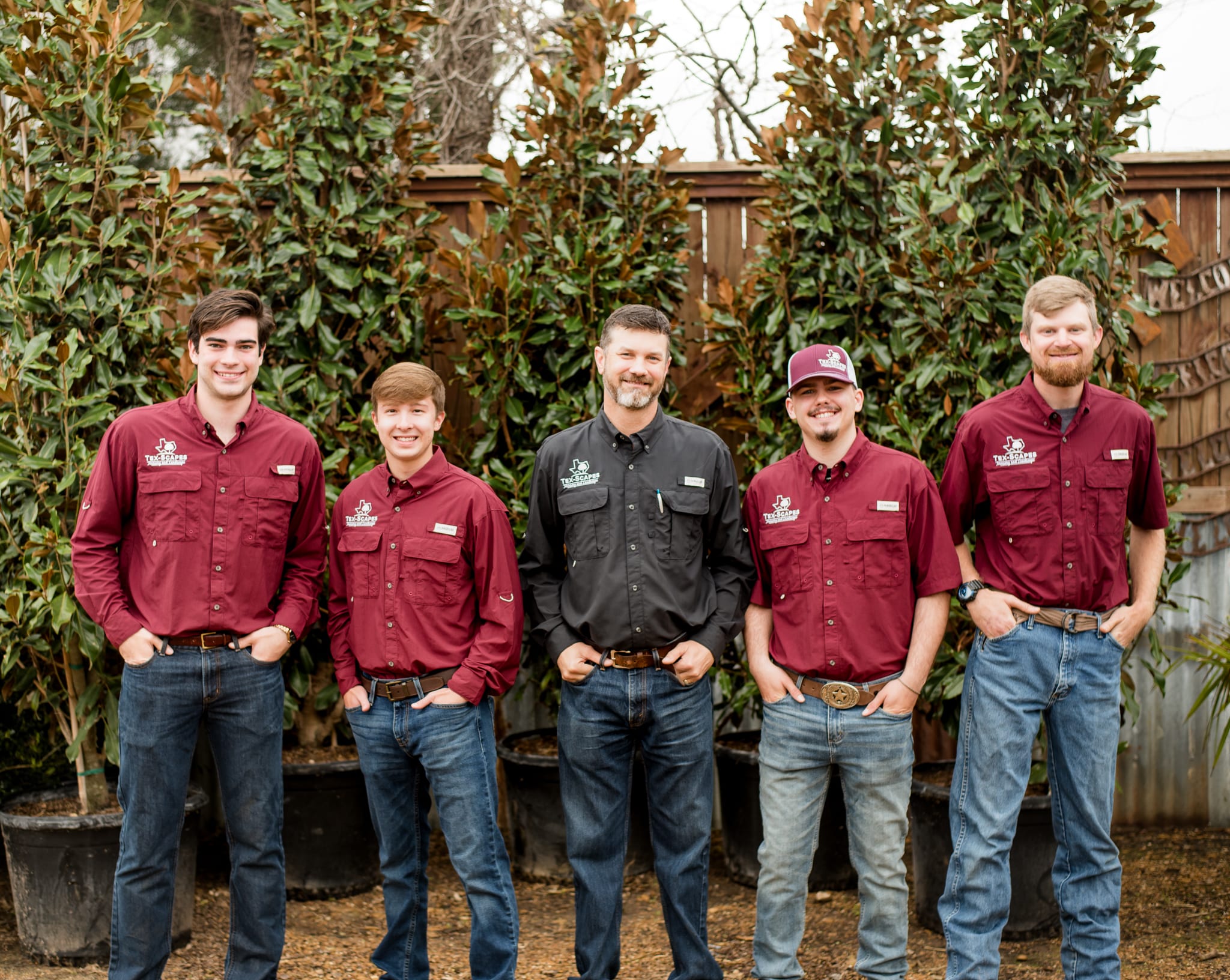 If you have a small strip of greenery near your front entrance, we can make it pop. Select colorful flowers and perennials that will welcome shoppers into your business. We'll help you get the most out of your square footage with pottery and rock arrangements.
If you have a wide expanse of space at your business, we can do even more. Our commercial landscaping company can transform your store's lawn and medians into a vivid green with fresh grass and sod installation. Dot your landscape with trees and landscaping stones to accent the property. With low-water landscaping elements like drip irrigation and native plants, even a large property can have a small watering budget. Xeriscaping, or landscaping that is designed to conserve water, keeps your property beautiful and attractive even during severe watering restrictions.
Lights can be just as important as plants in your landscaping plan. Add lights that illuminate your building's front facade and your sign to make your business easier to find. Get lights that brighten your top landscaping features, like mature trees or beautiful garden beds around your entryway sign, to direct car traffic into your parking lot.
Browse our nursery to see our selection of native and beautiful plants. Explore our stoneyard for the best landscaping and hardscaping stones in the area.
Keep Your Ennis, Texas, Business Beautiful With Professional Irrigation and Drainage
Don't let your property struggle with water issues. Outdated or ill-fitting irrigation systems can leave your grass parched but over-water the hedges. Our landscapers can install new drip irrigation systems that get the right amount of water to every square foot of your landscaping. Newer systems can be automated to make your work schedule easier.
Make sure all of that water has somewhere to go by letting us design good drainage into your landscaping plan. By adjusting your soil at a slight grade, or slope, we can direct water away from your store. Not only does that keep your foundation safe, but it means shoppers can reach your store without muddy walkways or puddles getting in their way. We can install French drains and underground drainage equipment to get rid of standing water or potential flood points on your property.
Visit Tex-Scapes Nursery and Landscape for All of Your Commercial Landscaping Needs
Whether you want to completely renovate your business's landscaping or you just want to make a few changes, our team is happy to help! Customer satisfaction is our top priority, and our commercial landscapers focus on creating a picture-perfect, low-maintenance landscape that will bring shoppers to your business's front doors. Contact our team here or call (972) 875-1716 for all of your commercial landscaping, irrigation, and drainage needs.
Ready to get started on your project?
Schedule your Project Planning meeting online now!