Why Do We Stock Native Plants for Our Ennis, Texas Gardeners?
Easy! Because we know that native plants and those that are bred to withstand our North Texas climate are going to perform better. That means our customers can grow more beautiful gardens, create spectacular landscapes, and plant trees for future generations without worry. Plus, we're more than a little bit selfish and we want to see those gorgeous plantings for years to come too.
A Few Words from Happy Tex-Scapes Customers
A big Tex-Scapes thank you to our valued customers for sharing these kind reviews on Yelp and Google Reviews!
A Proven Process from Beginning to End
Our landscape design process begins with your first phone call. If you are interested in our design services, we'll set up a consultation at your property. We'll go over your landscape area together, talking about your ideas and gathering initial data. You can ask us questions, and we'll ask a few of our own. The initial consultation is for learning about each other and how Tex-Scapes can help you. We hope you'll come to trust us as we begin a new professional relationship.
After the first consultation, we'll come up with a design plan. We always custom-make our landscape designs. Everything is based on your unique property and your needs. We will explain this first design plan to you in detail, and you'll have the opportunity to tell us what you think. We count on your honest input, so that we can create a landscape you'll enjoy.
At Tex-Scapes, we take into account your budget and timeline. Your time and money are valuable. That's why our process includes clear estimates of the costs and the time it will take to complete the project. We will also list the materials that will be used in your landscape. If you ever have any questions, we're right here! We'll take the time to listen and answer your questions.
What Kinds of Plants Are Native to Ennis, Texas?
There are actually several species of native plants that are found in the Ennis area. At our plant nursery, we grow many of them! What's really interesting about these native species is how varied they are and how well they seem to capture the feel of Texas. Because they're native species, they'll also attract butterflies, bees, and other local beneficial insects to your garden.
Blackland Prairie Species
Ellis County takes up about 939 square miles of the Blackland Prairie and the majority of the plants that are native to the area spring from this area. While there are few trees on the open prairie, there are plenty of interesting, and beautiful native plants and shrubs.
Mesquite
Cacti
Various shrubs species
Bunch & Short Grasses including: Indian, buffalo, grama, bluestems, and three-awn.
All of these plants and shrubs are able to cope with hot, dry conditions, wind, and whatever else Mother Nature throws at them. They're perfect for a homeowner who doesn't want to spend a lot of time tending to delicate plants that require excessive amounts of water and shade. In fact, these plants can be planted and forgotten and they'll carry on for generations to come.
Low Maintenance Varieties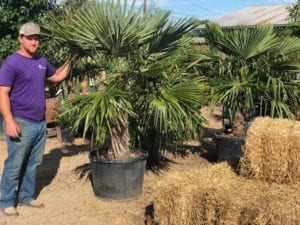 Gardening doesn't have to be all hard work. In fact, it should be a fun, relaxing, and even entertaining way to spend your time. If you'd rather enjoy looking at your garden than working in it, native plant species are the way to go. Think about it, they grow naturally here, so they don't need any help from you beyond providing a good home.
Minimal water requirements
Rarely needs fertilizers
Naturally disease & pest resistant
Virtually no pruning
Long-lasting, vigorous growers
If you're leaning towards a low maintenance landscape and garden, consider the beautiful varieties of native plants, cacti, and succulents first. Not only will you save yourself work, but you'll also ensure that our area's unique plants are always abundant. The birds and other local critters will really love it too, and they'll visit your garden regularly.
Flowers for a Pop of Color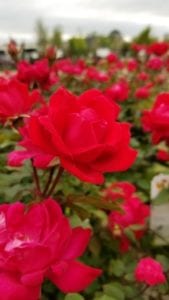 We don't just carry prairie plants and local natives; we've also got a beautiful selection of knockout roses and annual plants that will add a splash of color to your yard and garden. We've got lots of flowering varieties that bloom all season long, producing flower after flower for your enjoyment. If you're looking for more permanent garden residents, we also have beautiful perennials.
Perfect for flower beds or containers
Shade & sun-loving varieties
A rainbow of colors and textures
Attract butterflies, bees, and hummingbirds
Want to add a dramatic splash of color to your landscape? Whether you plant a full flower bed or a potted plant or two, come on in and wander through our selection of flowering plants and shrubs. If you need help making a choice or you just want a second opinion, grab one of our staff members and they'll help you out.
Keep Your Ennis, Texas Garden Plants Happy!
Growing happy, healthy plants in Texas isn't always easy. The soil doesn't always have enough nutrients, the rain doesn't always come when it's needed, and those pesky bugs seem to come out of nowhere. Don't fret—even Mother Nature struggles to keep plants growing in these tough conditions. We've got some great garden products in our garden center that'll give your plants the boost they need.
Soil Amendments
Fertilizers
Herbicides
Pesticides
Lawn Food
You can't control nature completely, but you can certainly give her a hand when it comes to your garden. And we'll be happy to pitch in, too. The friendly staff in our plant nursery and garden center will help you find the products you need to get rid of bothersome insects and weeds and feed your yard and garden.
Landscape Stones & Garden Accessories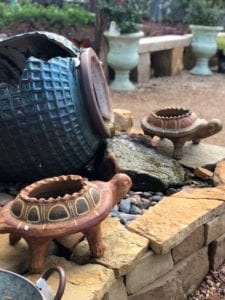 Nature might like a bit of chaos when it comes to the way plants grow, but you probably like a bit of order amid the chaos. A beautiful stone retaining wall, flowerbed border, or walkway will do the trick. As pretty as all those flowers and plants are, why not add a water feature or some classic Texas garden art for a truly one-of-a-kind garden?
Patio pavers
Stones and boulders
Gravel and crushed granite
Water features
Glazed pottery
Garden lights
And much more!
Stop in to our garden center or stoneyard and check out all the fantastic landscape materials and then head over to the accessories area! In no time, you'll find everything you need to create a special garden, or a stunning complete landscape. Our friendly staff will help you find what you need, load it up for you, and answer all your questions.
Head On Over To Tex-Scapes If You Need Plants!
We've been growing gardens, plants, trees, and shrubs here in Ennis, Texas since 2004, and we've learned that Mother Nature knows what she's doing. Texas plants are tough, resilient, easy on water, and pretty darn maintenance free. These are the reasons we focus a lot of our attention on making sure our plants are Texas tough. So come on in and take a look!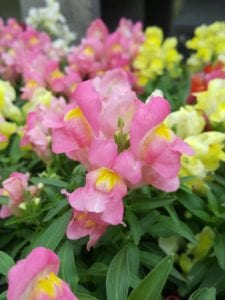 Visit the Premiere Garden Supply Store in Ennis, Texas
We love our garden supply store, and we think you will, too. Visit us at the following hours:
Spring Hours (March - May)
Monday – Friday: 8:00 am – 6:00 pm
Saturday: 8:00 am – 5:00 pm
Sunday – Closed
Monday – Friday: 8:00 am – 5:30 pm
Saturday: 8:00 am – 5:00 pm
Sunday – Closed
Tex-Scapes Nursery and Landscape: A Garden Center and More
Tex-Scapes is more than a garden center and plant nursery, we're also a full-service landscaping company serving Ennis, Waxahachie, Corsicana and the surrounding areas. We're experienced in all kinds of landscape, irrigation and drainage projects from small yards and gardens to large corporate projects. No job is too small, and we're always willing to help a neighbor! So, give us a ring at (972) 875-1716, get a hold of us online, or better yet, stop in so we can see your smiling face and get to know you!