Rely on Our Experience When It Comes to Building a Better Retaining Wall
Retaining walls are man-made structures that hold soil behind it. Instead of allowing your soil to slope naturally down your sloping yard, you can create a wall to make two flat levels of soil, one at the top of the wall, and one at the bottom. Retaining walls can be constructed from various materials, such as concrete blocks, concrete slabs, stone, or brick. A good retaining wall adds a unique design to your landscape, provides stability in your sloped landscape, and prevents soil erosion. 
The Tex-Scapes landscaping team can provide you with the right retaining wall solution for your Ennis, Texas yard. Engineering and constructing a retaining wall that won't fall down or buckle under pressure is a job for hardscaping professionals. Many factors go into the design of your wall, including soil type and proper drainage. Tex-Scapes has been in business since 2004, and we have the necessary experience and equipment to build a retaining wall that will last for years.
Different Types of Retaining Walls Solve Different Types of Landscaping Problems
No two landscapes are the same, so your retaining wall is going to look and function differently than the wall down the road. Learn a little more about the varieties of retaining walls and how they look and function.
Gravity retaining wall

. A gravity wall relies on its own weight to hold soil back. This means the wall itself will be strong and thick, and it usually leans slightly into the soil to support it better. A gravity wall is a versatile choice because it can be tailored to look anyway you like it, and it is good in tight spaces. If built correctly, the wall is very durable and long-lasting.

Cantilevered retaining wall.

A cantilevered wall is usually made of solid slabs of concrete. The base of the wall has a heel that sticks into the soil and a toe that sticks out the other way. The concrete slab can be faced with a decorative material for greater appeal. 

Piled retaining wall

. This is the thinnest type of wall. It reaches deep into the ground to keep it in place and withstand the pressure of the soil. Since this wall is lightweight and thin, it can fit into smaller places and adapt well to corners.

Anchored retaining wall

. Any retaining wall can be anchored to give it more resistance against the soil. The anchor is attached to the wall and inserted into the soil behind it.
Retaining walls can be short or tall, wide or narrow, ornately decorated or minimalist in style. You can build a retaining wall to act as a bench. You can build a tall one to give you more privacy in your outdoor living space. Short retaining walls can act as steps, leading up the slope of your yard. If you have an idea of how you would like your retaining wall to look, please let us know. We can customize a retaining wall that will look and function perfectly in your Ennis, TX landscape.
A Few Words from Happy Tex-Scapes Customers
A big Tex-Scapes thank you to our valued customers for sharing these kind reviews on Yelp and Google Reviews!
A Proven Process from Beginning to End
Our landscape design process begins with your first phone call. If you are interested in our design services, we'll set up a consultation at your property. We'll go over your landscape area together, talking about your ideas and gathering initial data. You can ask us questions, and we'll ask a few of our own. The initial consultation is for learning about each other and how Tex-Scapes can help you. We hope you'll come to trust us as we begin a new professional relationship.
After the first consultation, we'll come up with a design plan. We always custom-make our landscape designs. Everything is based on your unique property and your needs. We will explain this first design plan to you in detail, and you'll have the opportunity to tell us what you think. We count on your honest input, so that we can create a landscape you'll enjoy.
At Tex-Scapes, we take into account your budget and timeline. Your time and money are valuable. That's why our process includes clear estimates of the costs and the time it will take to complete the project. We will also list the materials that will be used in your landscape. If you ever have any questions, we're right here! We'll take the time to listen and answer your questions.
Carve Out a Better Space in Your Landscape with a New Retaining Wall
Imagine the way your yard could look with a beautiful retaining wall to create different levels in your landscape. Find more hardscaping inspiration on our Portfolio page.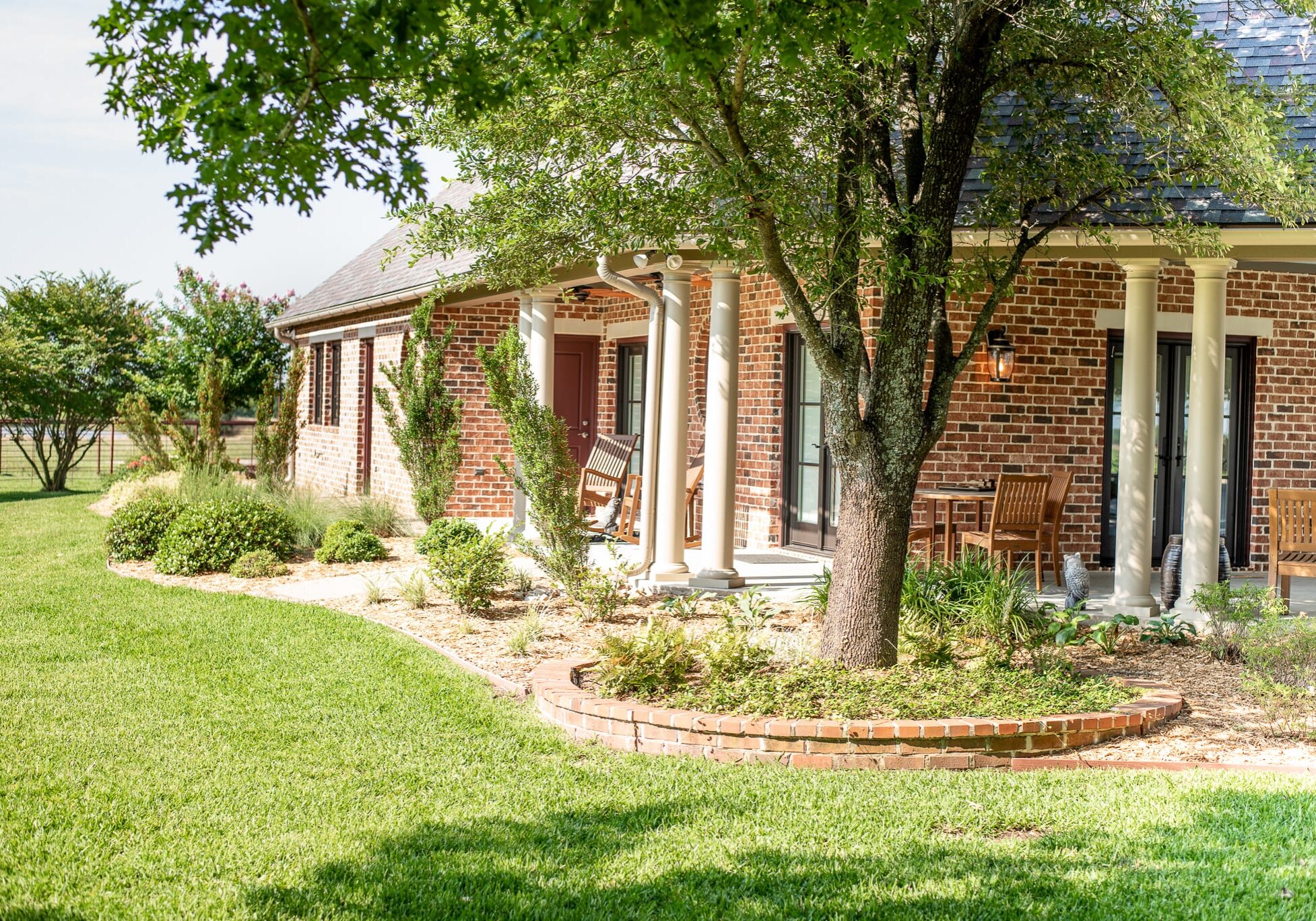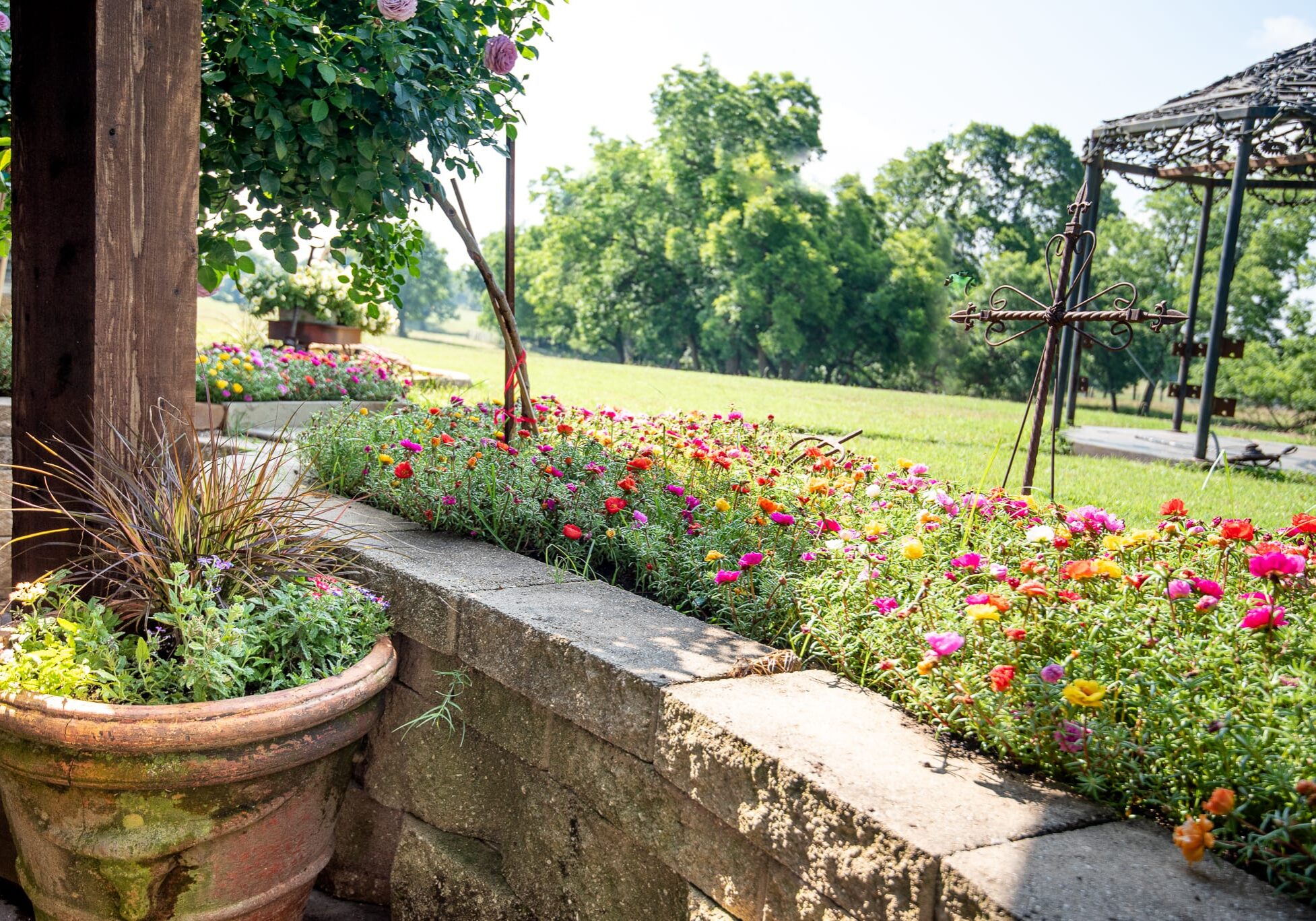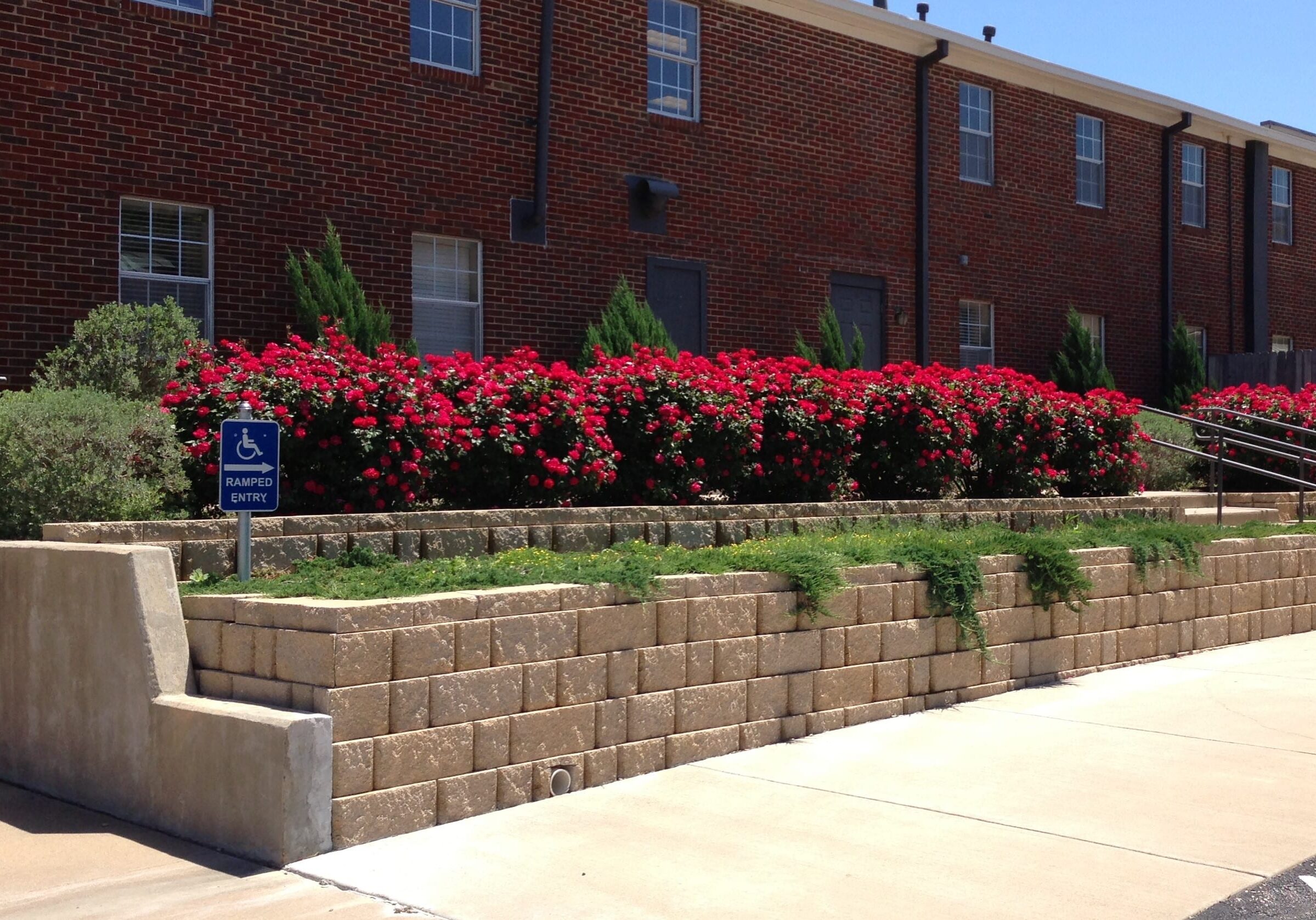 Efficient, High-Quality Landscaping Begins with Tex-Scapes' Proven Process
We follow a simple process to get your landscaping done correctly and on schedule. Your input is vital every step of the way.
Initial Consultation.

During our on-site consultation, we listen closely to your needs and wants, so we can give you exactly what you had in mind.

First Design Plan.

This initial design plan is based off our previous analysis and discussion.

Plan Review.

We'll go over the plan with you, and you can suggest changes.

Final Design Plan.

Based on our review, we finalize the design, adding in details such as the estimated costs, materials used, and estimated timeline.

Installation Phase.

Upon your approval, we can move right into the installation phase to begin construction on your retaining wall.
Throughout the entire process, we aim for complete customer satisfaction.
Full-Service Landscaping Available in Ennis and Surrounding Areas
Check out these other landscaping options available to you in Ennis, Texas:
The other side of Tex-Scapes is our year-round garden store and nursery, located in Ennis. We hand-pick all our landscaping materials from our own supplies. You can even help us choose from the varieties of plants, trees, and shrubs that are available. If stone is a part of your landscape design, your materials will come from our stoneyard. Looking for the perfect finishing touches? Check out our well-stocked garden store. We'll be there, ready to help you find exactly what you need.
Step Up to Professional Landscaping in Ennis, Texas
Whether you are dreaming of a gently curving retaining wall to add sophistication to your landscape, or you need a practical solution to your soil erosion problem, we can offer you our professional assistance. Give us a call, or fill out our online form. Together, we'll transform your landscape, so you can enjoy it for years to come.
Ready to get started on your project?
Schedule your Project Planning meeting online now!