Choosing From Nearby Landscaping Companies? We're Proud to Serve our Neighbors in Waxahachie, Texas!
After all, it's known as the Crepe Myrtle capital of Texas, the Texas Country Reporter Festival, among other cool attractions. Luckily, just a short drive down the road, Waxahachie, Texas gardeners can find all their garden supplies and landscape materials at Tex-Scapes Nursery and Landscape in Ennis.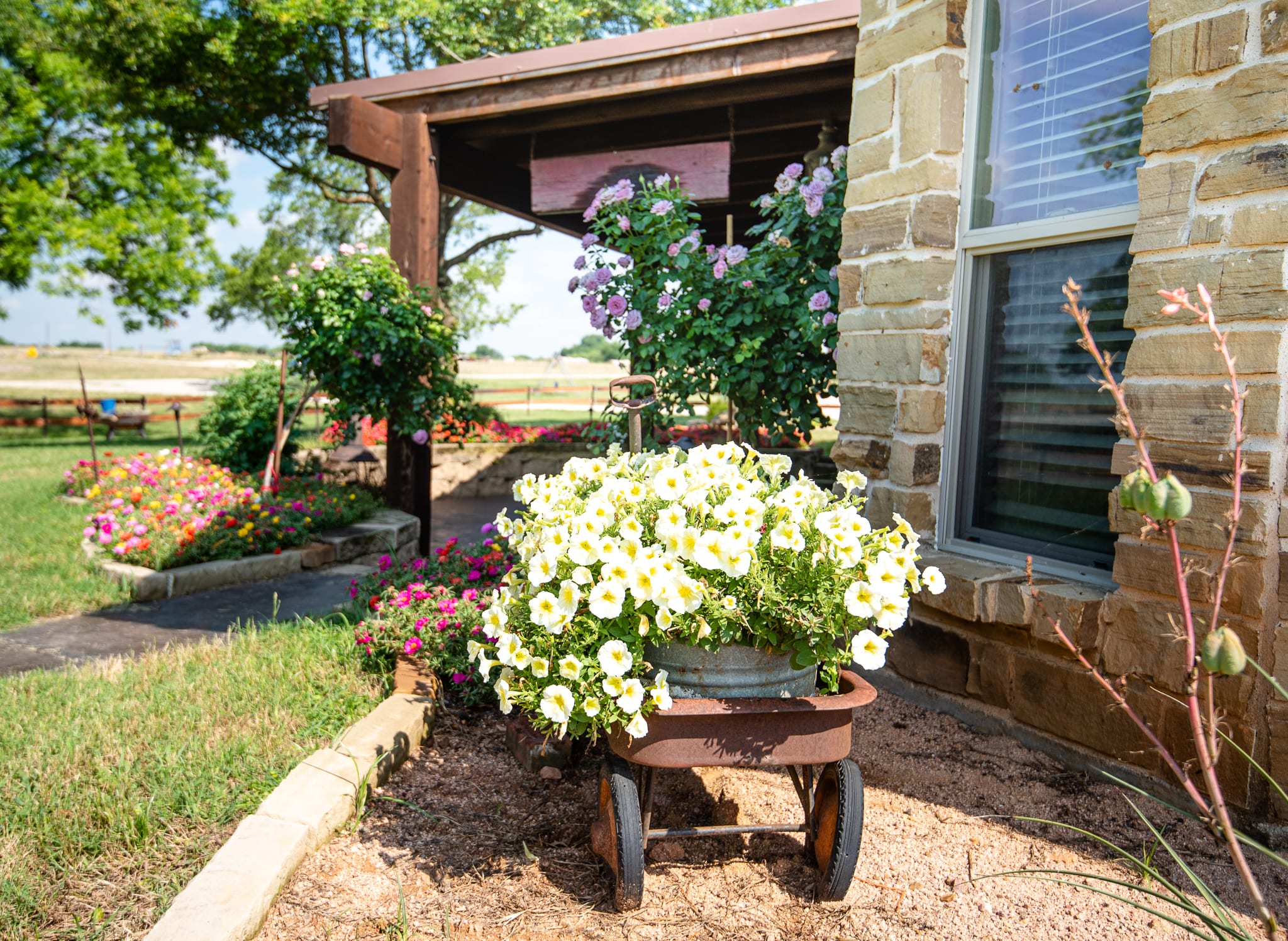 A Few Words from Happy Tex-Scapes Customers
A big Tex-Scapes thank you to our valued customers for sharing these kind reviews on Yelp and Google Reviews!
Tex-Scapes Has the Supplies You Need For Your Waxahachie, Texas Garden
Are you trying to choose from nearby landscaping companies? You've come to the right place. Tex-Scapes Nursery and Landscape is the best choice for a local nursery and garden center serving Ennis, Waxahachie, Corsicana, and the surrounding areas. Our garden supplies, products, and services are hand-selected specifically for North Texas gardens and gardeners. We carry everything you need to create the yard and garden of your dreams, no matter how big the project.
Everything You Need From the Ground Up
Your garden plants will only grow their best if they get the right balance of nutrients from the soil. In North Texas, it's not always easy to find perfect soil for a garden, so you need to give Mother Nature a hand. Our experienced staff has a deep understanding of the soil here, and we can help you get your soil properly prepared so it provides your garden with everything it needs.
Topsoil, Compost, and Mulch
Plants and trees absorb nutrition from the soil through their root systems. The more nutrients that are found in the soil, the better plants grow. They also produce more flowers, fruits, or nuts. If your soil is sandy or if it has high levels of clay, it won't be able to support vigorous plant growth without additional nutrients. We can help with that. We've got plenty of:
Topsoil
Compost
Mulch
Peat moss
Soil amendments
Whether you need a bulk quantity or just a bag or two, we've got you covered. We'll even help you load up your purchases or arrange for delivery.
You'll Love the Plants in Our Garden Center
Don't you just love the feeling of being surrounded by beautiful plants, flowers, shrubs, and trees? So do we! Our garden center is special place and we love to share it with our neighbors. We keep it full of North Texas hardy varieties that will inspire you to put your gardening gloves on.
Plants and Shrubs of All Types and Sizes
When the right plants, trees, flowers, and shrubs are put together, it creates a special place full of color, texture, and scent. We carefully choose the best plants for our North Texas climate so you don't need to worry about wasting time and money planting something that won't last. Come on in and browse our selection including:
Contemporary
Texas natives
Perennials
Bedding plants
Organic Gardening Supplies
If you prefer to garden naturally, without the help of chemicals like pesticides and herbicides, stop in and check out our organic gardening section. We carry a huge selection of products designed to enhance your organic garden and provide your plants with what they need to grow strong and healthy. Some of these products include:
Diatomaceous earth
Poultry base lawn food
Green sand
Lava sand
Expanded shale
We've got so many organic gardening products that we can't possibly list them all here. We'd love to show you everything we've got, so come on in and see us at our location in Ennis.
Landscaping Stones
Stone is a beautiful contrast to the soft, colorful petals of flowers and the green of leaves and ivy. A short retaining wall, raised flower beds, or stone walkway will also add curb appeal and value to your home. We have all the stone you need to create a stunning landscape.
Patio stone and slabs
Mossy boulders
Chopped rock
Decomposed granite (Bulk)
From deciding what stone to use to how much you need, we'll be here to help if you need us. We know working with stone is tough, so all of our stone is palletized so it's easier to transport and work with on site.
Garden Art and Accessories
A well placed water feature, or a lovely garden sculpture turns your garden into a peaceful, relaxing, and even magical place. We have a beautiful selection of long-lasting, well-made yard and garden art that you'll be proud to have in your yard or garden.
Clay and glazed pottery
Chimineas
Water features
Bird feeders
Wind chimes
Unique Texas outdoor art
Enjoy the colors, textures, and scents of the great outdoors from your own home. Find more landscape inspiration on our portfolio page.
Tex-Scape Landscape Services
While some landscaping companies only perform limited services, Tex-Scapes is your full-service, nearby landscaping and garden provider. If your yard and garden are in need of an upgrade, but you don't have the time to do it yourself, we'll take care of it. If you have a great idea, but aren't sure where to start, come talk to us. We love to transform ordinary yards into beautiful places. Our landscape services include:
Landscape Lighting
Patios and Walkways
If you're ready to get started, come in and visit with us a while. We'll listen closely as you detail your vision and we'll do everything possible to make it a reality.
Tex-Scape Irrigation and Drainage Services
Nature won't always provide your garden with enough water, and hand-watering is time-consuming and wasteful. A properly installed irrigation system solves both problems with ease. If your property has problems with drainage, it has to be taken care of to avoid damage to your yard, garden, home, and other structures. Our experts can take care of all kinds of things for you including:
Your garden plants, lawn, trees, bushes, and shrubs will thrive on the steady supply of water. They'll produce spectacular flowers, delicious fruits and vegetables, and beautiful foliage for years to come.
Visit Tex-Scapes For All Your Gardening Needs
If you live around Waxahachie, Texas and you're looking for high-quality, reliable garden supplies or landscaping companies, come on over to Ennis and stop in at Tex-Scapes Nursery and Landscape. Contact us online, or give us a call at (972) 875-1716 if you need directions or if you're wondering if we carry something you need. We'll happily answer all your gardening, landscaping, and irrigation questions.
Ready to get started on your project?
Schedule your Project Planning meeting online now!