Just outside the hustle and bustle of Dallas, Waxahachie, Texas is a small town community where everyone treats you like family. With Texas' mild climate and a host of annual festivals and celebrations, it's a neighborhood that offers plenty of reasons to stay outdoors. No matter where you go for entertainment in Waxahachie, home is where the heart is and it's a great place to enjoy the outdoors as well.
Outdoor living isn't placing a few chairs in the backyard or sitting on the porch swing when you finally get a few minutes at dark, it's a way to expand your living space into the outside world that you love. All too often, homeowners spend the entire day indoors at work, only to go home and go back inside to prepare meals and take care of chores. Finding time to enjoy the outdoors in Waxahachie doesn't require a lifestyle makeover. You simply need an update to your landscape. 
Imagine your yard transformed into a space where you can enjoy meals, relaxation, entertaining, and fun with the whole family throughout the entire year. The Tex-Scapes Landscape and Nursery landscape contractors team can make your Waxahachie outdoor living dreams a reality with our full line of reliable landscaping services and quality products.
A Few Words from Happy Tex-Scapes Customers
A big Tex-Scapes thank you to our valued customers for sharing these kind reviews on Yelp and Google Reviews!
A Proven Process from Beginning to End
Our landscape design process begins with your first phone call. If you are interested in our design services, we'll set up a consultation at your property. We'll go over your landscape area together, talking about your ideas and gathering initial data. You can ask us questions, and we'll ask a few of our own. The initial consultation is for learning about each other and how Tex-Scapes can help you. We hope you'll come to trust us as we begin a new professional relationship.
After the first consultation, we'll come up with a design plan. We always custom-make our landscape designs. Everything is based on your unique property and your needs. We will explain this first design plan to you in detail, and you'll have the opportunity to tell us what you think. We count on your honest input, so that we can create a landscape you'll enjoy.
At Tex-Scapes, we take into account your budget and timeline. Your time and money are valuable. That's why our process includes clear estimates of the costs and the time it will take to complete the project. We will also list the materials that will be used in your landscape. If you ever have any questions, we're right here! We'll take the time to listen and answer your questions.
Tex-Scapes Landscape Contractors Services for Waxahachie, TX Homeowners
Your Waxahachie outdoor space is an important part of your living space. With all the outdoors has to offer, no one wants to be cooped up inside all the time. The right elements can help you create an outdoor space with the comfort and entertainment of the indoors that your entire family will enjoy. Whether you're seeking a space for elegant entertaining, boisterous family fun, or a quiet space to work in the fresh air and sunshine, our experienced team of landscape contractors can help. The Tex-Scapes full line of landscaping services includes the following.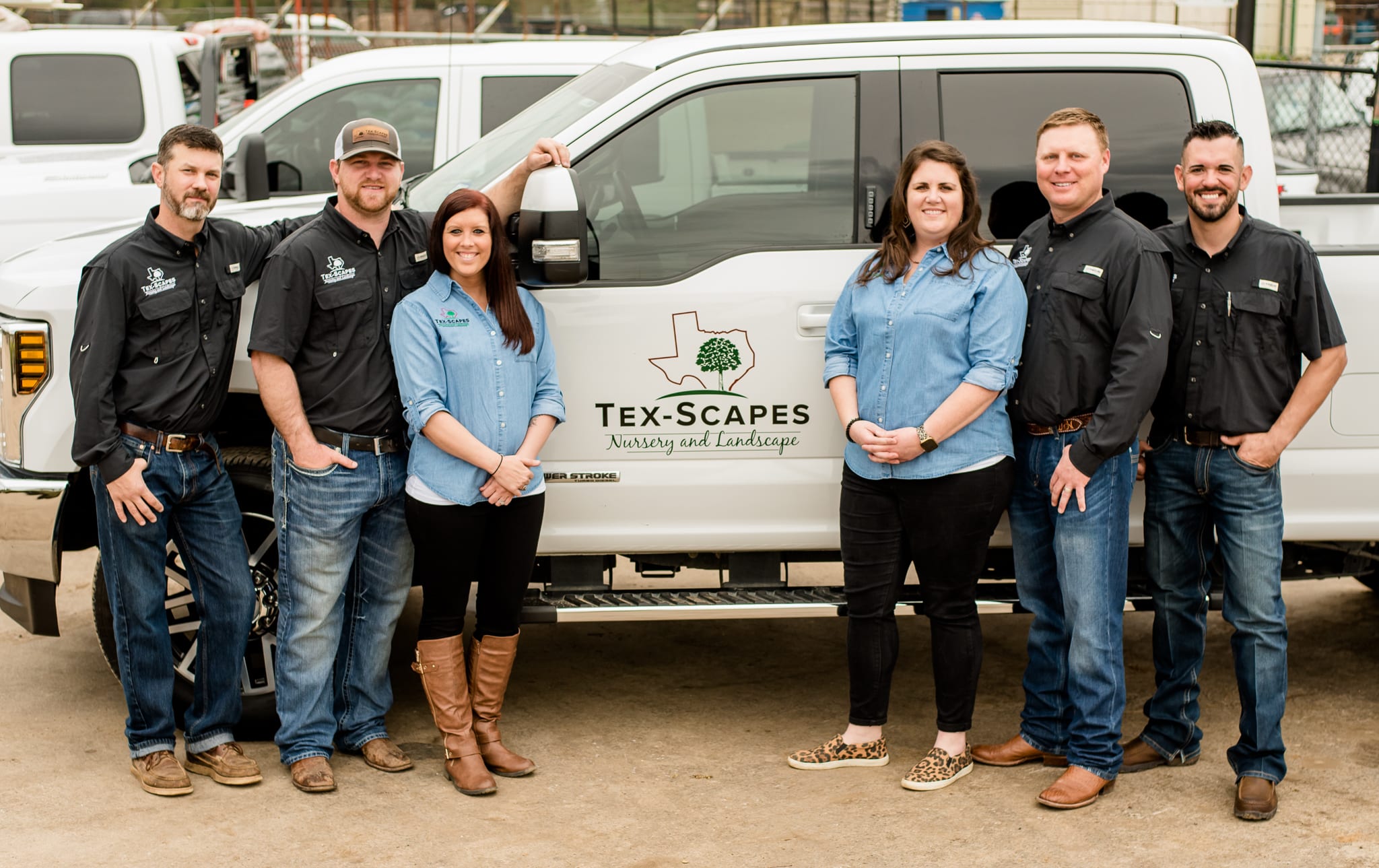 No matter what type of outdoor space you're dreaming of, careful design is the key to a successful build. We aren't a cookie-cutter company. Each of our customers and every landscape is unique. That's why our design process depends heavily on you. Working closely with our customers is the only way to provide the satisfactory service we demand. From the very first phone call, you are the most important member of our landscape contractors team. It's our deepest desire to understand exactly what you want and delight you with the results. We welcome your thoughts and ideas and are glad to offer inspiration when it's needed.
We know it's not easy to invite people onto your property and trust contractors to make changes. That's why we like to keep the whole process as transparent as possible. Here's what you can expect during the landscape design phase:


Initial consultation

Unique design plan

Meeting with the designer to discuss, adapt, and confirm the plan

Cost and time estimate
Texas is the home to some of the country's most beautiful weather, but drought-prone areas can make landscape maintenance challenging. The right sprinkler and irrigation system is the answer to a beautiful healthy green lawn throughout the hottest months of summer. Most Texans know that a sprinkler can help keep your yard healthy. However, many people don't realize a modern sprinkler can actually conserve water, saving you money and time. 
A sprinkler and irrigation system designed for your unique property will keep your lawn green and beautiful, keep the soil healthy, keep your home's foundation safe, and comply with the local water restrictions. The professional sprinkler designers at Tex-Scapes have a clear understanding of the climate and zoning restrictions in Waxahachie and the surrounding area. This gives us a unique understanding of the best way to provide exactly what your landscape needs without any waste.
Your imagination (and perhaps your budget!) are the only limits when it comes to the elements that can be added to your Waxahachie, Texas landscape.


Land construction- moving and grading:

Landscape construction often begins by moving soil. Whether you need to create a more level space or add new topsoil, we have the equipment and experience to get the job done.

Hardscapes - patios, walkways, porches, pergolas, retaining walls:

Everything man made that is added to your landscape is considered a hardscape. Whether you're seeking a relaxing patio, the shade of a pergola, the functionality of walkways and retaining walls, or the beauty of a unique water feature, the Tex-Scapes team can make it happen. 

Xeriscaping:

Choosing local plants can help provide year-round beauty, conserve water, and provide irrigation benefits.

Trees, shrubs, and plants:

Adding trees, shrubs, and plants to your yard and garden can add beauty, privacy, and reduce maintenance tasks. The complete selection provided by our garden center ensures we have all of your favorite plants and trees available.

Water features:

If you think water features are something you have to live without in a dry climate, think again. Our team can design an original water feature to fit your unique space that uses recycling technology to conserve water.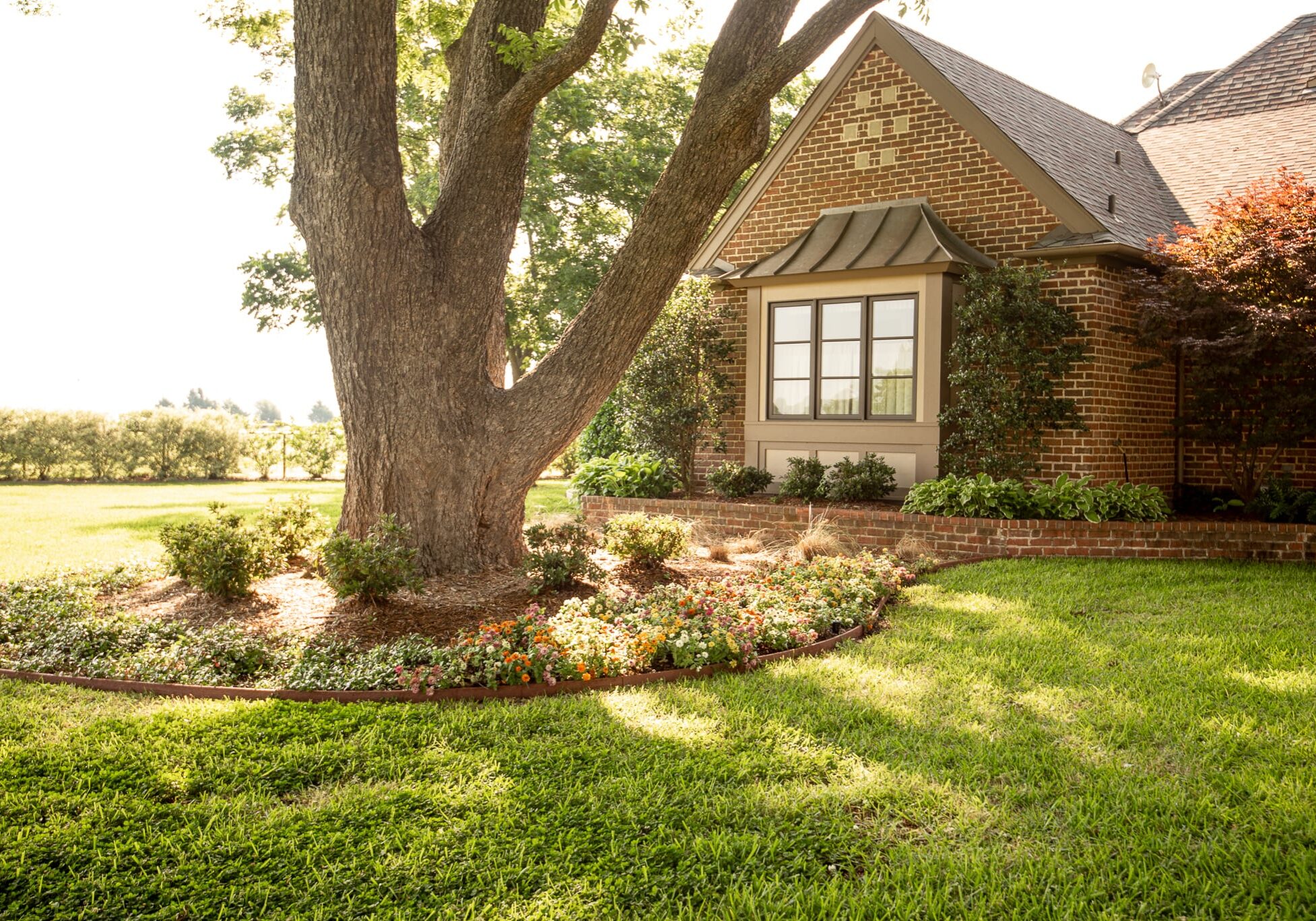 Tex-Scapes Nursery and Landscape for Superior Quality and Service
Tex-Scapes Nursery and Landscape is a full-service landscaping company that will take care of your project from design to completion. Founded in 2004, we're a family company that puts family values at the forefront of everything we do. Our customers are our friends and neighbors and we treat them like family. That's why we never cut corners and always provide the highest quality products and services for every job we take on.
Additionally, we're the only local year-round nursery and garden center in the Ennis, Texas area. This means we have everything you need to update your landscape at any time of the year. From plant selection to a full landscape makeover, our team is sure to delight you with unmatched customer service that will make you a Tex-Scapes customer for life.
If you're ready to update your outdoor space and enjoy the great outdoors on your Waxahachie, Texas property, get in touch with the experienced landscape contractors at Tex-Scapes Nursery and Landscape today. Stop imagining your dream landscape and let us help you start the path to making it a reality.
Ready to get started on your project?
Schedule your Project Planning meeting online now!