Christmas Light Installation and More at Tex-Scapes Nursery and Landscape
Everyone here at Tex-Scapes has a Texas-sized obsession with all things Christmas. We love everything about it, from the music and food to decorating our homes and yards. In Ennis, Waxahachie, Corsicana, and the surrounding areas, we're some of the first to put up our trees and Christmas lights, and the last to take them down. You can feel the Christmas spirit from the moment you drive up to the garden center and nursery. Once you're inside, you'll think you're at the North Pole.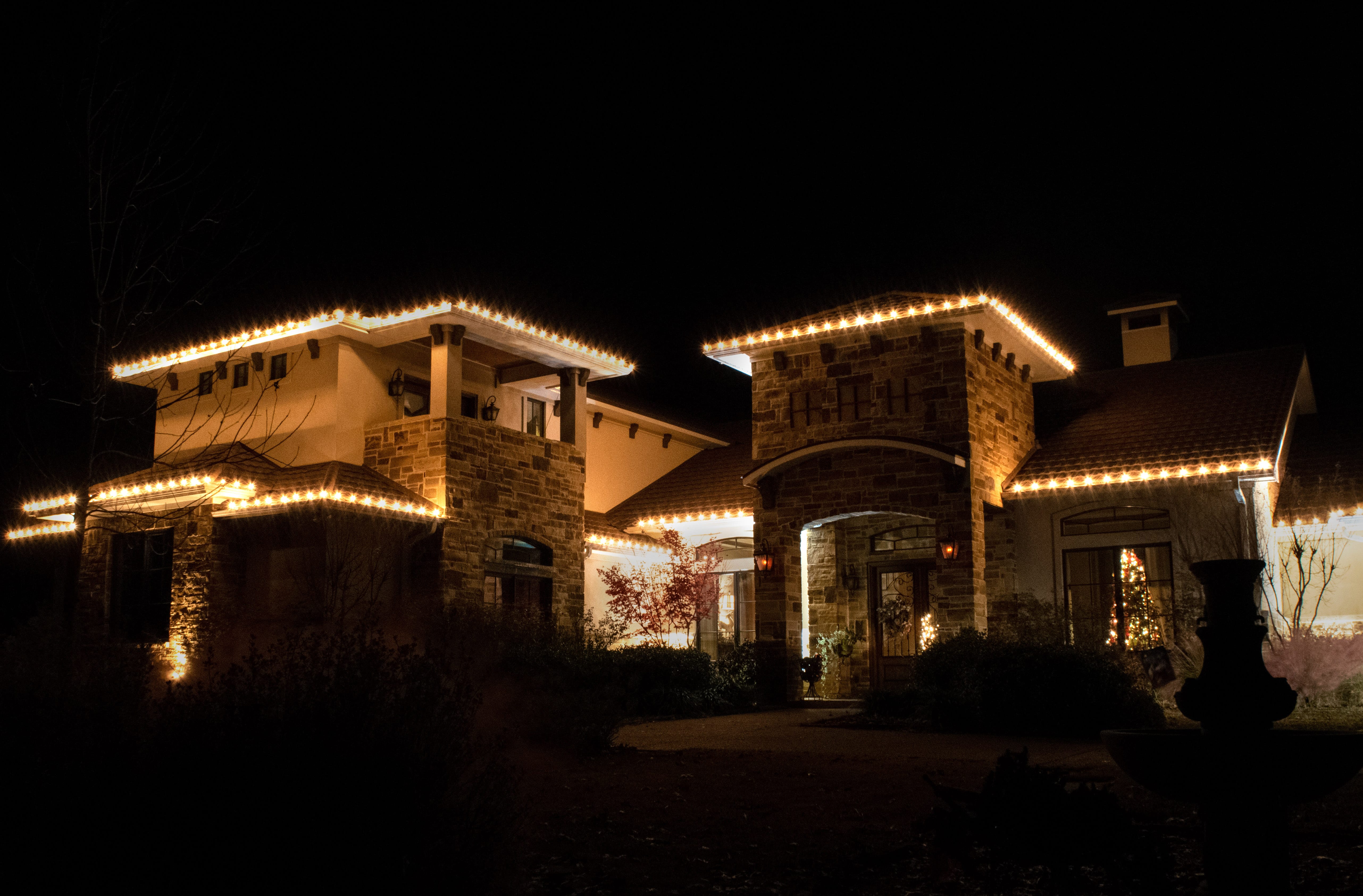 Want to Show off Your Christmas Spirit?
Have you seen the show, Great Christmas Light Fight that airs during the holiday season? The displays people come up with are incredible, detailed, and huge. Whether you want a giant Christmas display like those or simpler design that follows the roofline, surrounds doors and windows, and highlights the trees and plants, we have everything you need! Plus, our Christmas light installation services can do the hard work for you!
A Few Words from Happy Tex-Scapes Customers
Tanya Hydes
This greenery is so nice, clean, and well stocked and organized. The people are very nice and genuine!! They know their stuff and always willing to help! Brett was so respectful and listened intently to our needs and concerns. We left with some good plants and compost as well as a plan for the future of our landscaping plans!! Thank you Brett!! Thank you Tex scapes!! We will be back!!
Britton Mann
I absolutely LOVE this nursery! Everyone is friendly and very knowledgeable. I recommend this place to everyone looking to make their outdoor living space beautiful.
Charlotte Fletcher
Tex-Scapes did a great job of removing existing overgrown landscaping and reinstalling landscaping. Quick, two-day process for our smaller lot with great results. Several compliments from neighbors, and a fair price for the amount of work done in completely removing several larger bushes, smaller trees, and existing plants and redoing several beds.
Deanne Miller
I live 30 minutes away and just discovered Tex-Scapes a few weeks ago and have been back twice since then. The quality of plants and flowers are phenomenal with a great price. All the staff is friendly and eager to help. Brett was hard working, exceptional in answering our questions, and loading our purchases in the truck. Thank you for your assistance!
Kelsey McMullen
I really enjoyed all the options this greenery had to offer. Brett Neal was very helpful with showing me the flowers, and was patient with my kids in the greenhouse! I highly recommend this place for your next landscaping purchase! And ask for Brett!
Erin Abay
We are so thankful for Texscapes! We had a garden bed put it in and due to the shelter in place we were unable to buy plants before it started. But thanks to Brett at Texscapes we are able to get all of the beautiful flowers we needed! He went above and beyond and was so kind. We chatted over the phone and he even video called me so I could pick out the exact plants I wanted, and that was so no small feat! We are beyond happy with Texscapes and Brett's customer service and personal touch. And thankful for their flexibility during this unprecedented time. Highly recommend!
Kasey Edward
Brett neal was so amazing today he literally helped us find everything we wanted and needed and if we had any questions he was right there to help us with the answer!!!! Thank you so much.

A big Tex-Scapes thank you to our valued customers for sharing these kind reviews on Yelp and Google Reviews!
Things to Ask Yourself Before Creating a Christmas Light Display
You're full of enthusiasm, and your Christmas spirit is overflowing, and you've got a good idea of how you want your display too look. You're ready to get started, right? Your enthusiasm is contagious, but if you're thinking about a DIY installation, ask yourself a few questions before you commit.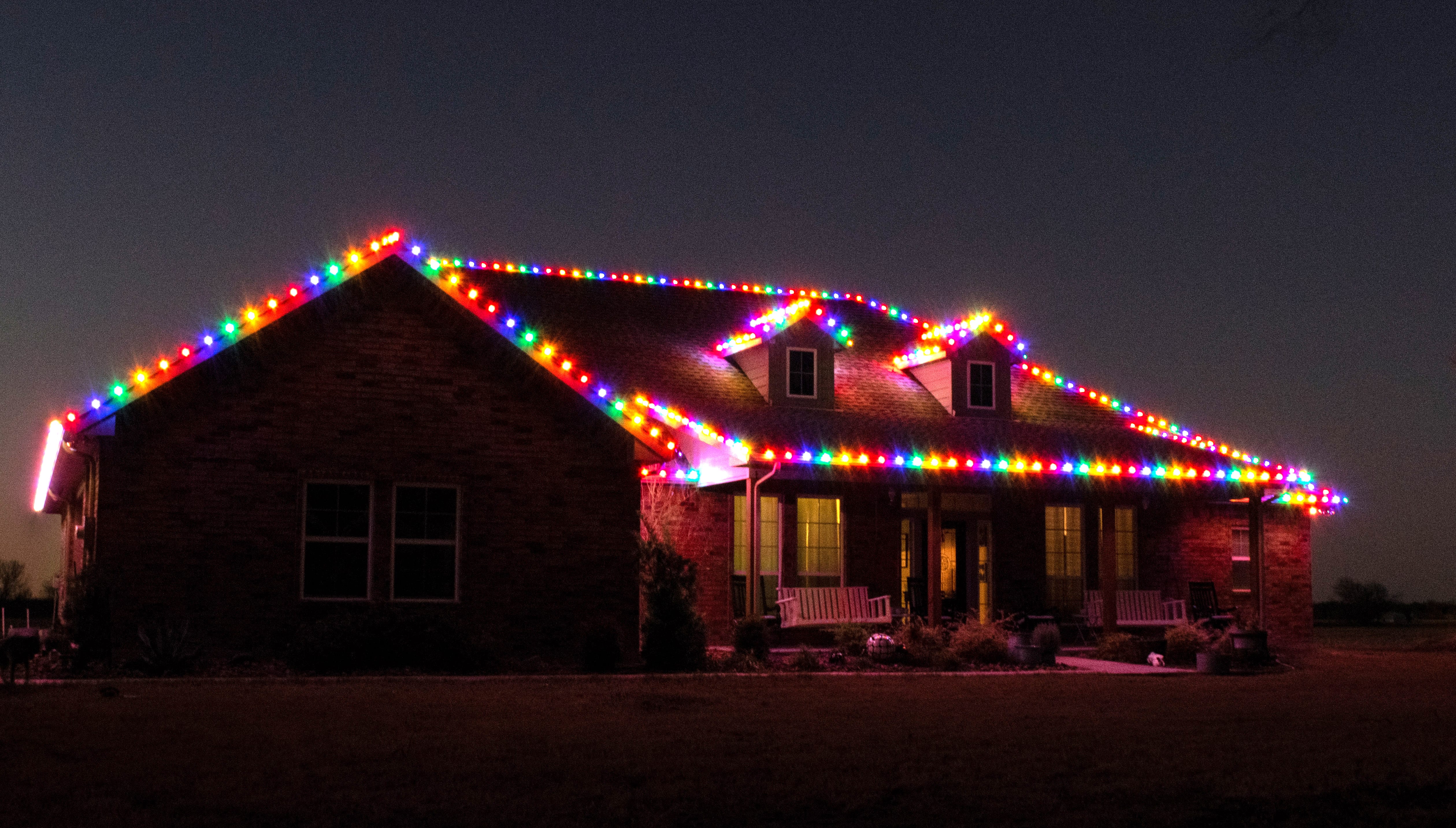 How detailed will my display be?
Will I only decorate the house, or the entire yard and garden too?
How many lights will I need?
How long will the installation take? And do I have time?
Am I physically able to handle hanging my own Christmas lights?
Will anyone be able to help with the high, or difficult to reach spots?
Designing a Christmas light display is the fun part, but getting everything installed and working together can be difficult. You have to carefully calculate the number of light strands you need, where each one will be placed, how you'll run power to them, and then you have to do all the work of the installation.
Did You Know? Tex-Scapes Installs Christmas Lights!
If you've visited our garden center and nursery during the Christmas season, you know we've got a beautiful selection of holiday plants like Poinsettias. But did you know that we also provide Christmas light installation, too? In fact, we design, install, and dismantle Christmas light displays for residents and business all over Ellis and Navarro counties.
We'll help you create a unique design for your Christmas light display.
We'll calculate the exact number of light strands you need.
We'll carefully and professionally install everything for you.
When the holidays are over, we'll come back and take everything down.
When it's time to flip the switch and turn the lights on, we hand over the controls to you. After all, this is your display and we want you to experience the satisfaction of watching it all come to life. Of course, you also get all the kudos from your friends, family, and neighbors!
We'll Decorate Your Home, Garden, or Entire Landscape
If you need help with your Christmas light display, give us a jingle. Our expert light installers will help you bring your Christmas vision to life no matter what the scale. We'll hang your lights where ever you want! We can help with:
Adding Christmas lights to your home and garage.
Decorating trees, shrubs, and other plants with Christmas lights.
Illuminating walkways, retaining walls, and other landscape features.
Stringing Christmas lights around fences and other structures.
In short, if you can dream up a beautiful Christmas light display, we can make it happen. So bring us your ideas. We'll pitch in a few of our own, and together we will get your house lit up!
Benefits of Tex-Scapes Christmas Light Installation
You're the kind of person who likes to do what they can, and you don't like spending money if you don't have to. We get it! While it's true that installing your own Christmas lights isn't the most difficult project, it's not the easiest either. And sure, DIY is less expensive, but there are real benefits to letting a professional do the job: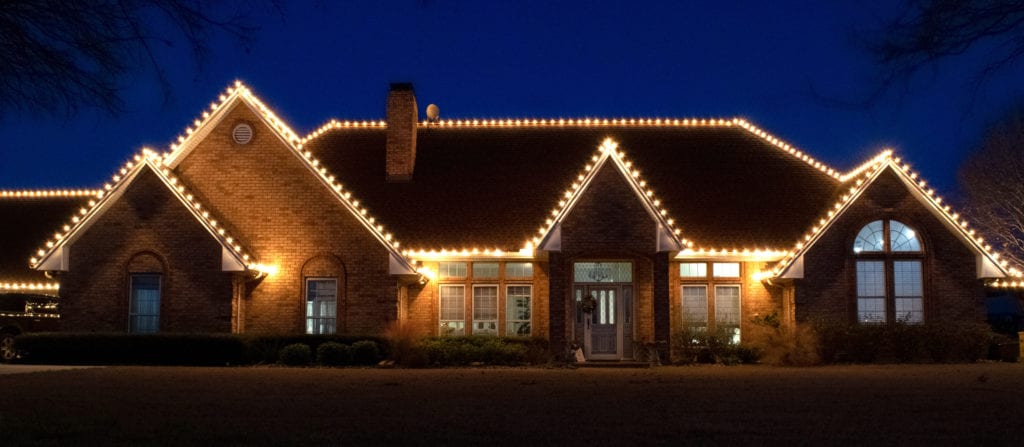 Professional design that maximizes the effects of the lighting.
Accurate planning for the number of lights needed.
Safe wiring that protects lights and wires from snow and water exposure.
Full-service installation and end-of-holiday takedown.
Perhaps the biggest benefit of letting Tex-Scapes install your Christmas lights is that you won't risk injury. We're used to climbing ladders, scrambling across branches, and dangling above the ground. We also have all the best safety equipment, and our installers are highly trained pros who know how to work safe.
When Is the Best Time to Get Christmas Lights Installed?
As you might expect, we start getting busy in October, and our pace picks up in November and December. We don't mind a bit—we love the work and it's a great way to get into the Christmas mood. But the truth is, you can get your Christmas lights installed any time of the year in Ennis, Texas. So if you like to beat the holiday rush, holler at us in the summer or fall!
Year-Round Christmas Light Design Services
Anytime of the Year Christmas Light Installation
Christmas Light Display Maintenance & Repairs
Whether you're a pre-planner who hates to wait, or you prefer to wait until the last minute, give Tex-Scapes a call when you're ready to install your Christmas lights. We'll send a crew out and they'll have everything taken care of lickedy-split.
Make Your Christmas Merry and Bright This Year
Christmas is our favorite holiday. It's a time of joy and happiness, peace, and goodwill. We love everything about it, and we're especially fond of all those pretty Christmas lights that illuminate the yards, homes, and gardens here in Ennis, Texas. We want to help make sure that everyone has a bright and happy Christmas, whether they can hang their own lights or not. If you'd like help with Christmas light installation, give us a call!
Give Us a Jingle, or Stop In and Say Hello!
We don't care if it's the hottest day of the summer or a cold, rainy fall day. We'd love to talk to you about your Christmas light display or your yard and garden. Next time you shop at our garden store for garden supplies, talk to one of our friendly staff members. They'll be happy to give you a hand. If you prefer, you can always give us a call during business hours at (972) 875-1716, or you can send us a note online and we'll get back to you.
Ready to get started on your project?
Schedule your Project Planning meeting online now!