When Choosing From Landscaping Companies, We're Local and Best
Welcome to Tex-Scapes Nursery and Landscape! We hope you make yourself right at home, whether you're visiting our garden store in Ennis, Texas, looking for a landscaping company, or just browsing our website. To make your visit easier, we'd like to introduce you to the different services Tex-Scapes offers. Feel free to click through to the various pages to learn more about each facet of our growing company.
We proudly serve Ennis, Texas and the surrounding areas, which includes Ennis, Waxahachie, Corsicana and all of the Dallas-Fort Worth area. Are you interested in learning more about our full-service garden supply and landscaping company? Check out our About page.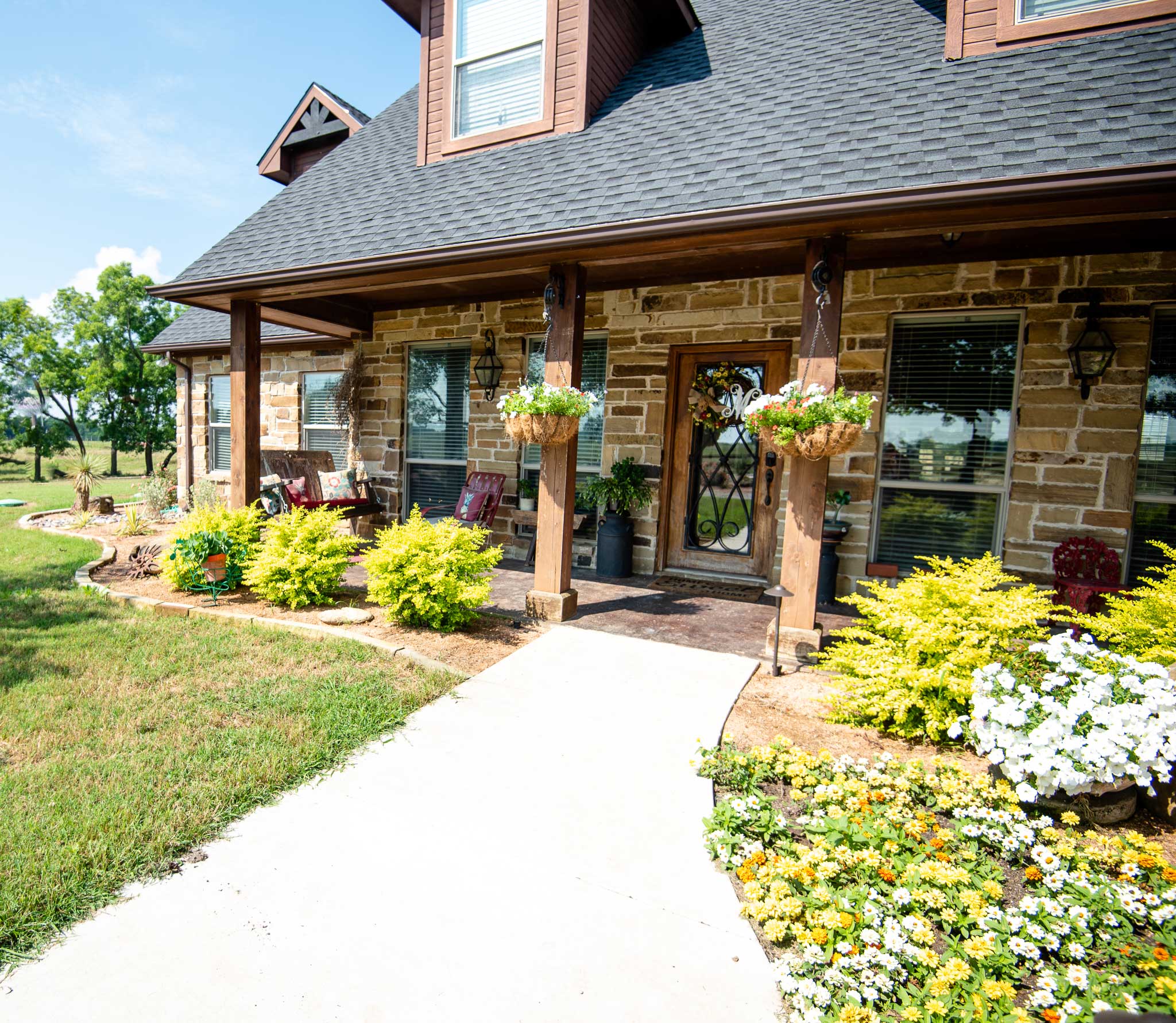 Our Large Garden Store is Open Year-Round
We stock an extensive variety of hand-picked plants, shrubs and trees in our garden store, plus a lot more! Many landscaping companies are closed seasonally; Tex-Scapes is the only nursery and garden store in the Ennis, Texas area that is open year-round! The professionals working for us love their jobs, and they love to help people find exactly what they need. Stop on in, and we'll greet you before you even get to the door! Click here to get a preview of what you'll find in our store.
A Few Words from Happy Tex-Scapes Customers
Tanya Hydes
This greenery is so nice, clean, and well stocked and organized. The people are very nice and genuine!! They know their stuff and always willing to help! Brett was so respectful and listened intently to our needs and concerns. We left with some good plants and compost as well as a plan for the future of our landscaping plans!! Thank you Brett!! Thank you Tex scapes!! We will be back!!
Britton Mann
I absolutely LOVE this nursery! Everyone is friendly and very knowledgeable. I recommend this place to everyone looking to make their outdoor living space beautiful.
Charlotte Fletcher
Tex-Scapes did a great job of removing existing overgrown landscaping and reinstalling landscaping. Quick, two-day process for our smaller lot with great results. Several compliments from neighbors, and a fair price for the amount of work done in completely removing several larger bushes, smaller trees, and existing plants and redoing several beds.
Deanne Miller
I live 30 minutes away and just discovered Tex-Scapes a few weeks ago and have been back twice since then. The quality of plants and flowers are phenomenal with a great price. All the staff is friendly and eager to help. Brett was hard working, exceptional in answering our questions, and loading our purchases in the truck. Thank you for your assistance!
Kelsey McMullen
I really enjoyed all the options this greenery had to offer. Brett Neal was very helpful with showing me the flowers, and was patient with my kids in the greenhouse! I highly recommend this place for your next landscaping purchase! And ask for Brett!
Erin Abay
We are so thankful for Texscapes! We had a garden bed put it in and due to the shelter in place we were unable to buy plants before it started. But thanks to Brett at Texscapes we are able to get all of the beautiful flowers we needed! He went above and beyond and was so kind. We chatted over the phone and he even video called me so I could pick out the exact plants I wanted, and that was so no small feat! We are beyond happy with Texscapes and Brett's customer service and personal touch. And thankful for their flexibility during this unprecedented time. Highly recommend!
Kasey Edward
Brett neal was so amazing today he literally helped us find everything we wanted and needed and if we had any questions he was right there to help us with the answer!!!! Thank you so much.

A big Tex-Scapes thank you to our valued customers for sharing these kind reviews on Yelp and Google Reviews!
A Full-Service Landscaping Company for Ennis, Texas and the Surrounding Areas
Take advantage of Tex-Scapes' landscaping expertise. Our services range from commercial and residential landscaping to drainage installation and everything in-between. Do you have landscaping questions? Feel free to contact us, and we'll do our best to answer them in a friendly and professional manner.
High-Quality Commercial Landscaping
Area businesses know that Tex-Scapes is a professional and comprehensive landscaping company for commercial properties. Tex-Scapes handles design, installation, landscaping, sod installation, irrigation and drainage. Are you wondering if your business could benefit from our landscaping services? Read here to find out more.
Your Landscape Design Begins Here
Landscape design is the first step toward a beautiful and successful landscaping project. We understand the unique challenges the Ennis, Texas area presents for landscaping. We also have a thorough knowledge of the native plants and trees that grow here. Our experts can put together a design for your landscape that will be aesthetically beautiful and practical for the years to come. Learn more about what goes into a landscape design.
Landscape Installation from Consultation to Finished Project
We have so many landscape installation skills, we can't even begin to describe them here! Well, maybe we can mention a few:
Read more here to get the full scoop on our landscaping expertise. You'll be amazed at what our dedicated landscaping team can accomplish!
Sprinkler and Irrigation Installation Specialists
We specialize in sprinkler and irrigation system installations. Our team has a knack for keeping your landscape green while protecting your buildings from too much water. Trust the professionals, whether you are residential or light commercial. Learn more about our sprinkler and irrigation department here:
Knowledgeable Drainage Experts
Because the soil type in our area causes foundation and drainage problems, we have plenty of experience in the drainage department. Check us out first if you are thinking of installing a new drainage system, repairing an old one, or putting in a French drain. When you have too much water, Tex-Scapes is there to keep your property drained. Learn more here:
Full Range of Landscaping Services
We are so glad you are interested in our landscaping services. If you can't find a service on our website that you are in need of, please contact us. With so much experience under our belts, chances are, we know how to do it. We're dedicated to standing out among landscaping companies due to our dedication to integrity and customer services. We like to think of ourselves as the friendly landscaping experts of Ennis, Texas.

Experience Award-Winning Customer Service
You can see that our company knows a lot about landscaping. Did you also know that Tex-Scapes Nursery and Landscape has won awards for its excellent customer service? It is this winning combination of expert landscaping and friendly people-skills that makes Tex-Scapes the natural choice for your next landscaping project. With Tex-Scapes, you'll experience personalized service from someone who really wants to meet your expectations. Try us out! We'll prove that we are the most helpful and highest quality landscaping company in the area.
How to Begin Your Next Landscaping Project
Are you ready to begin a landscaping project with Tex-Scapes? Let's get talking. Tex-Scapes is here to help you from the very beginning of a project all the way to the amazing final product. Even if you only have an inkling of what you want to accomplish, we can help you flesh out the details using our expert knowledge in landscaping. Our friendly and professional crews are ready and able to help you with any of the above services.
If you have questions about any of our services or any of the products we sell and install, please let us know! For example, we get questions like:
What native plants work best in a sunny area?
What trees grow the fastest?
How much work will it take to put in a French drain?
How much water do your sprinkler systems use?
What type of stone works best in a walkway?
Is it safe to install lighting in my yard?
There is no such thing as a bad question! So feel free to test our landscaping knowledge. We are up for the challenge, and we really love to share our wealth of landscaping information with others.
Please go to our Contact Page and fill out the form to let us know how we can help. Would you rather talk to someone in person? Please call us at the number on our Contact Page, or better yet, visit our convenient Garden Store location. We are looking forward to working with you!
Ready to get started on your project?
Schedule your Project Planning meeting online now!