Visit Our Stone Yard in Ennis, Texas!
We stock a variety of stones, gravel, and hardscaping materials at our stoneyard. Come browse our selection at Tex-Scape Nursery and Landscape. Find the perfect stones and river rocks for your next landscaping project. Whether you want to build an outdoor oasis with a flagstone patio or you want to improve your property's curb appeal with landscaping stones, we have the materials you need.
A Few Words from Happy Tex-Scapes Customers
A big Tex-Scapes thank you to our valued customers for sharing these kind reviews on Yelp and Google Reviews!
A Proven Process from Beginning to End
Our landscape design process begins with your first phone call. If you are interested in our design services, we'll set up a consultation at your property. We'll go over your landscape area together, talking about your ideas and gathering initial data. You can ask us questions, and we'll ask a few of our own. The initial consultation is for learning about each other and how Tex-Scapes can help you. We hope you'll come to trust us as we begin a new professional relationship.
After the first consultation, we'll come up with a design plan. We always custom-make our landscape designs. Everything is based on your unique property and your needs. We will explain this first design plan to you in detail, and you'll have the opportunity to tell us what you think. We count on your honest input, so that we can create a landscape you'll enjoy.
At Tex-Scapes, we take into account your budget and timeline. Your time and money are valuable. That's why our process includes clear estimates of the costs and the time it will take to complete the project. We will also list the materials that will be used in your landscape. If you ever have any questions, we're right here! We'll take the time to listen and answer your questions.
What Is Stone Landscaping?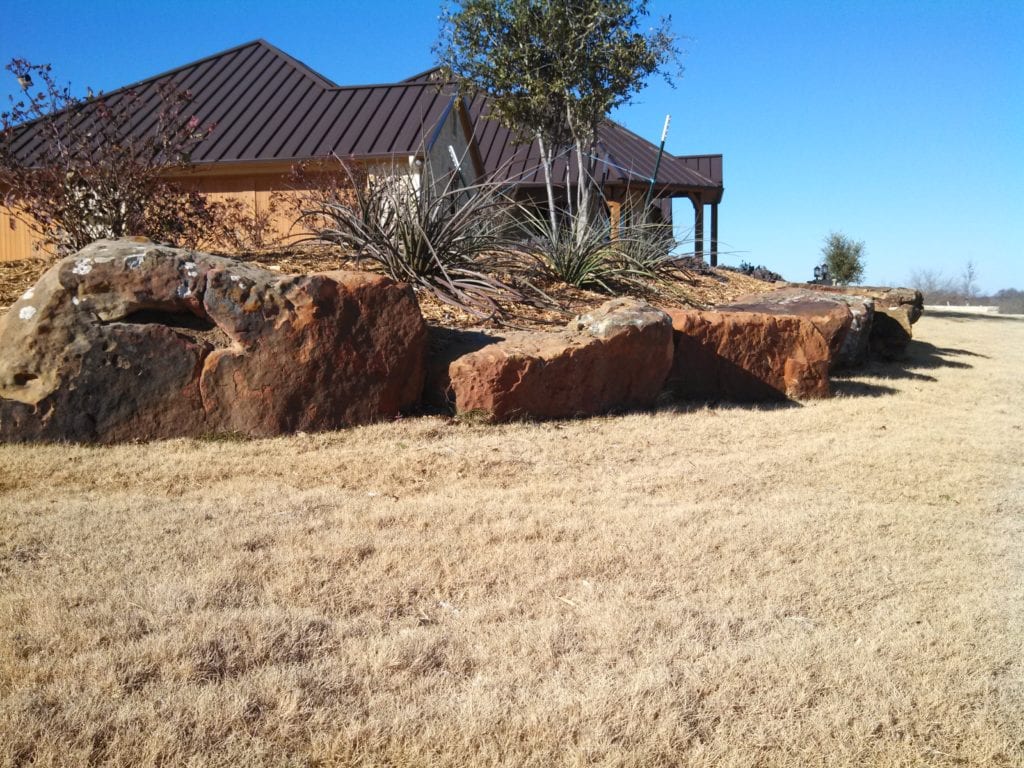 Stone landscaping is an increasingly popular trend, especially for landscaping areas with a high risk of drought. Large stones can accent your desert-style landscaping, border your property's pond, or mark the medians in a commercial parking lot. No matter what your style is, adding decorative and functional stones is a distinct style of landscaping.
Another way to incorporate stones into your landscape is through hardscaping. Hardscapes are stone structures that add function and organization to your outdoor space. Hardscaping elements include:
Garden paths and stone walkways
Borders for garden beds
Stone patios and fire pits
Benches, walls, and other structures
Stone landscaping provides contrast to your garden landscaping. It gives your space more utility. Homeowners can build a stone outdoor living space in their backyard with hardy, beautiful stones. Commercial property owners can enhance their landscaping with low-maintenance features, more outdoor seating, and accessible walkways.
Build Up Your Backyard With a DIY Stone Landscaping Project
Do you want to take on a new project for your forever home, or do you want to add value to your home before you put it on the market? Adding to your home's landscaping is a perfect place to start. Stone projects give you immediate rewards through their beautiful finish and endless customizations. Visit our stone yard to find ideas and the perfect materials for DIY projects.
One of the best DIY projects is a beautiful new path. You can use wide flagstones to quickly lay down a flat, striking footpath. Find beautiful pavers and patio stones for a walkway with a tight-knit pattern like herringbone. No matter what stones fit your style, garden paths can help make your yard more functional. They can keep weeds and grasses separate from your garden beds, too. You can depend on finding the ideal landscaping stones for your property at Tex-Scapes Nursery and Landscape!
Beautiful Commercial Landscaping Includes Stone Landscaping
Stone landscaping is the perfect choice for commercial properties, too. Build a bigger patio at your restaurant to encourage more diners or to give patrons someplace to wait for their table. Pepper your parking lot medians with large boulders to add both curb appeal and more visibility to keep pedestrians safer.
Tex-Scapes Nursery and Landscape offers wholesale landscaping stones so you can undertake more hardscaping projects. Visit our stone yard to find the perfect stones for your commercial properties. Our landscaping experts can also recommend the best installations based on your business.
Stone landscaping and hardscapes are particularly valuable for commercial properties because they're low-maintenance. Stone surfaces only require occasional brushing or washing instead of frequent watering. Stone mulch or gravel paths can improve drainage and encourage more shoppers to walk around. Incorporating stone features into your roadside displays, such as two-tiered garden beds or decorative boulders, catches shoppers' eyes during winter when the plants have gone dormant.
Find the Right Supplies at Our Ennis, Texas, Stone Yard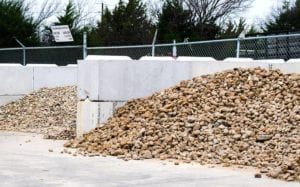 No matter what project you have in mind, start off with the right stone materials. Our stoneyard in Ennis, Texas, has everything you need to get started on residential and commercial projects. Our selection includes:
Chopped Stone
Moss Boulders
Flagstone
Pea Gravel
Decomposed Granite
Walk through the stone yard to find the stone shades and shapes that fit your construction. Our stones are palletized for easy transportation. We offer wholesale pricing for qualified landscape contractors.
Our chopped stone, patio stone, and flagstone selections are a great fit for classic stone landscaping projects that need consistently shaped materials. Use them to border your garden beds, to build paths and patios, or to protect your trees and keep mulch in place.
River rock and pea gravel can line your hedges and even act as a protective mulch to keep weeds away from your plants. You can use river rocks for decorative ground cover where grass refuses to grow.
Decomposed granite is a perfect choice for footpaths that need to have good drainage. The material is eroded granite flakes that are typically three-eighths of an inch or smaller in length. It holds together like tougher, finer gravel. Use this material to lay down walking paths around your store and outdoor seating, and then compact it to lock it in place. Not only will your property have strong, durable paths, but water can still drain through the material to leave the walkways clear and accessible.
Improve Your Property's Drainage with Purposeful Stone Landscaping
There are numerous ways stone additions to your property's landscaping can help with drainage. Gravel beds encourage better drainage so there's no standing water against your home's foundation. Stone fixtures can be installed with a strong below-ground base to divert water away from your structures.
Commercial properties can reduce drainage issues with stone landscaping, too. Decomposed gravel pathways drain excess rainwater below ground so your walkways aren't covered in puddles or mud. Incorporating river rock beds on your property's slopes and dry creeks can also help.
Talk to one of our landscaping experts when you visit our stoneyard. If good drainage is your goal, they can help you choose the right materials and designs for your property. We specialize in landscaping drainage solutions such as French drains, light grading, and drainage equipment installation.
Visit the Premiere Garden Supply Store in Ennis, Texas
We love our garden supply store, and we think you will, too. Visit us at the following hours:
Spring Hours (March - May)
Monday – Friday: 8:00 am – 6:00 pm
Saturday: 8:00 am – 5:00 pm
Sunday – Closed
Monday – Friday: 8:00 am – 5:30 pm
Saturday: 8:00 am – 5:00 pm
Sunday – Closed
Come to Tex-Scapes Nursery and Landscape for Drainage and Retaining Walls Services