The communities of Ennis, Waxahachie and Corsicana provide the advantage of a small town feel while easily within driving distance of Dallas. One of the reasons residents enjoy it so much is for the country charm and the space that allows them to have homes of their own. Along with home ownership comes the responsibility of outdoor landscaping and yard care. That's where Tex-Scapes Nursery and Landscape comes in! Since 2004, we have been supplying do-it-yourself home landscapers with everything needed for spectacular outdoor living areas. One of our specialties is landscaping rock.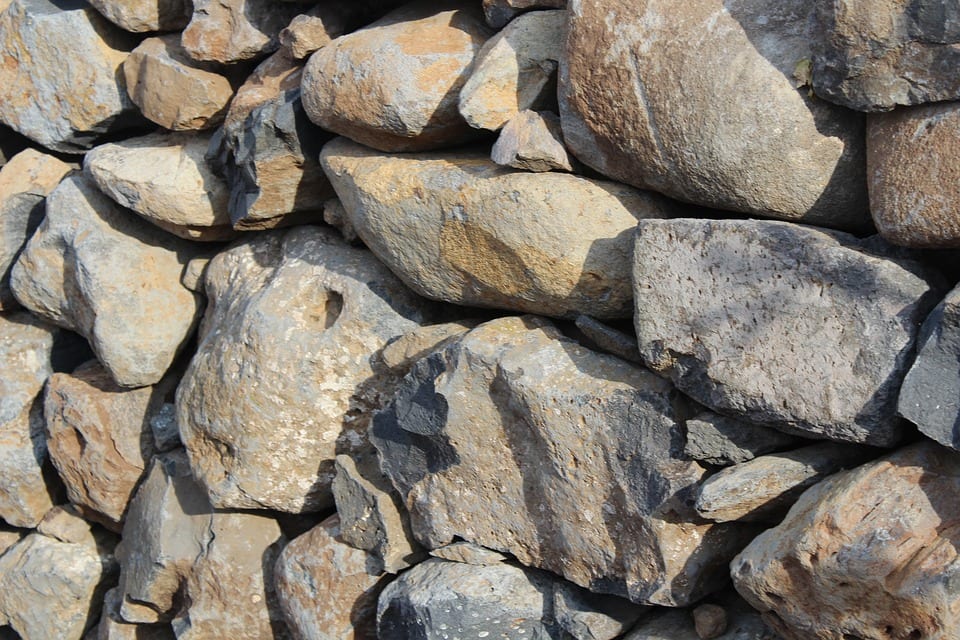 What Is Landscaping Rock?
The most effective landscape designs include a balance of green plants, flowers, trees, shrubs and grass with hardscape features such as concrete, wood, bricks, decorative stone and rock. Available in a variety of colors and sizes, landscaping rock can be used to create imaginative focal points, durable areas for high traffic, and practical ground cover for drainage.
We are very proud of our rock yard at Tex-Scapes! We offer an inspiring array of styles, shapes and sizes in rock. With your ingenuity and vision, your outdoor living space will become everything you dreamed possible. We offer the following varieties of rock:
Flagstone - This is a type of flat stone used in the construction of patios and/or walkways. It can be cut into square, rectangular or decorative, irregular shapes.
Chopped Stone and Bricks - Made of brick or natural stone, this type of rock material is ideal for use in walkways, edging, retaining walls, stone fire pits, serving areas and curbing around fireplaces.
Larger Boulders - These are large (or very large) rocks that come with naturally smooth or jagged surfaces. They are used as statement pieces or focal points that add visual impact to your landscape.
River Rock - This is a diverse group of rocks, in many colors and textures that have been rounded and smoothed by moving water. It can be used on paths and walkways, play or picnic areas and for edging.
River Cobble - This similar to river rock, although slightly larger. It comes from stream beds and beaches. It is used in the same way as river rock and provides excellent drainage, preventing runoff and converting rainwater to nurturing moisture for plant life.
Pea Gravel - This is a small, smooth type of stone the size of green peas - hence its name! It is used for walkways, playgrounds, dog runs and high traffic areas. It is also ideal for underground drainage and pipe bedding.
Decomposed Granite - This is made of granite aggregates 1/4 inch or smaller. It can be as fine as sand. It is perfect for filling in gaps, such as between flagstone or patio stones. It helps to preserve rainwater by preventing water runoff.
Choosing The Right Rocks For Your Ennis, Texas Landscape
The colors, textures, sizes and shapes of the rocks you select for will help to set the look and feel for your entire landscape. For example, lighter color rock brightens a shady area. Rock in tawny earth tones provide a sense of friendly warmth. Terracotta stone gives a tropical feel. Darker colors can provide an environment that appears contemporary or formal.
Before you choose your rocks, have a landscape design in mind. Your selections should complement your vision for the landscape that suits your taste perfectly. However, we advise to be open to creative ideas that pop in while you are looking at the many options available in our rock yard - you might be pleasantly surprised by what you find!
Increase The Beauty Of Your Outdoor Living Space
Landscape rock is very durable and will last a lifetime. It is great as a ground cover and anywhere in your landscape improved by contrasting shapes, textures and colors.
Replace mulch with rock to discourage weed growth, hold in moisture and create the effect of a living sculpture in combination with foliage.
Plant a rock garden in the midst of low-lying flowers, colorful ground covers or decorative shrubs for a unique, exotic look.
Create a centerpiece with a larger landscape boulder that catches the eye, providing a low maintenance focal point.
Use rocks irregular in shape and color to create a fairy tale look with colorful flowers around a pond or water feature.
Cover an area within reach of your irrigation system with smaller rock where you can set up your container garden with pots of colorful flowers, or vegetable plants.
A stepping stone path embedded in river rock or pea gravel is a picturesque strategy for areas that are too shady for plants but have high foot traffic.
Rock is ideal for establishing borders around areas in your yard where you want to prevent various elements from overflowing into each others space.
Build a durable, heat-resistant seating area around an outdoor fire pit that adds a sense of luxury and blends with the surrounding landscape elements.
See Our Exciting Collection of Landscaping Rock
Our very friendly and knowledgeable staff members are delighted to show you around the garden center and spend time discussing your landscape design ideas. They are happy to help you find answers to your questions and choose the materials that are just right for your "dream" outdoor area. We are happy to get all of the supplies you need for your do-it-yourself project ready for pickup or delivery.
You may find that once you see our collection of landscape materials that your creative ideas grow beyond expectation! In that case, we offer landscape installation and construction services for homes in and around Ennis, Waxahachie and Corsicana. You can sit back and watch as our landscape team brings your vision to life in front of your eyes!
Either way we are here to serve your landscape needs. Give us a call to speak with one of our landscape installation experts about having your yard professionally upgraded. If you are confident in your own DIY gardening and landscaping skills and are looking to add stone or landscaping rock to enhance your yard, come over to our Ennis, Texas garden center and let us take you on the tour!
A Proven Process from Beginning to End
Our landscape design process begins with your first phone call. If you are interested in our design services, we'll set up a consultation at your property. We'll go over your landscape area together, talking about your ideas and gathering initial data. You can ask us questions, and we'll ask a few of our own. The initial consultation is for learning about each other and how Tex-Scapes can help you. We hope you'll come to trust us as we begin a new professional relationship.
After the first consultation, we'll come up with a design plan. We always custom-make our landscape designs. Everything is based on your unique property and your needs. We will explain this first design plan to you in detail, and you'll have the opportunity to tell us what you think. We count on your honest input, so that we can create a landscape you'll enjoy.
At Tex-Scapes, we take into account your budget and timeline. Your time and money are valuable. That's why our process includes clear estimates of the costs and the time it will take to complete the project. We will also list the materials that will be used in your landscape. If you ever have any questions, we're right here! We'll take the time to listen and answer your questions.
Visit the Premiere Garden Supply Store in Ennis, Texas
We love our garden supply store, and we think you will, too. Visit us at the following hours:
Spring Hours (March - May)
Monday – Friday: 8:00 am – 6:00 pm
Saturday: 8:00 am – 5:00 pm
Sunday – Closed
Monday – Friday: 8:00 am – 5:30 pm
Saturday: 8:00 am – 5:00 pm
Sunday – Closed
Come to Tex-Scapes Nursery and Landscape for Drainage and Retaining Walls Services