Do You Have Too Much Water on Your Property?
We solve a lot of water problems in Ennis, Texas, and the surrounding areas. Broken foundations, swampy yards, old and broken drainage equipment: we've seen it all. Most of the problems come from the soil type in our area. Not all soils are the same. Ennis, Texas lies in a region that contains expansive clay soil. When it gets wet, expansive soil swells. When it dries out, it shrinks. Geological maps of Texas show that our area lies in the Texas Blackland Prairie, which contains a high amount of the shrink-swell soil. Soil movement is very bad for building foundations and creates many drainage problems.
Tex-Scapes Nursery and Landscape Solves Drainage Problems at the Source
We understand that when you're looking for a solution to your drainage problem, you want to fix the problem, not just put a band-aid on it. That's why Tex-Scapes searches for the source of the problem. Our team of drainage experts goes to the problem area, adequately assesses the issue, and finds the root cause. We don't want to provide you with a temporary fix. We want to use our drainage problem-solving skills to give you a lasting solution. We'll find the right kind of drainage installation for your property and your needs.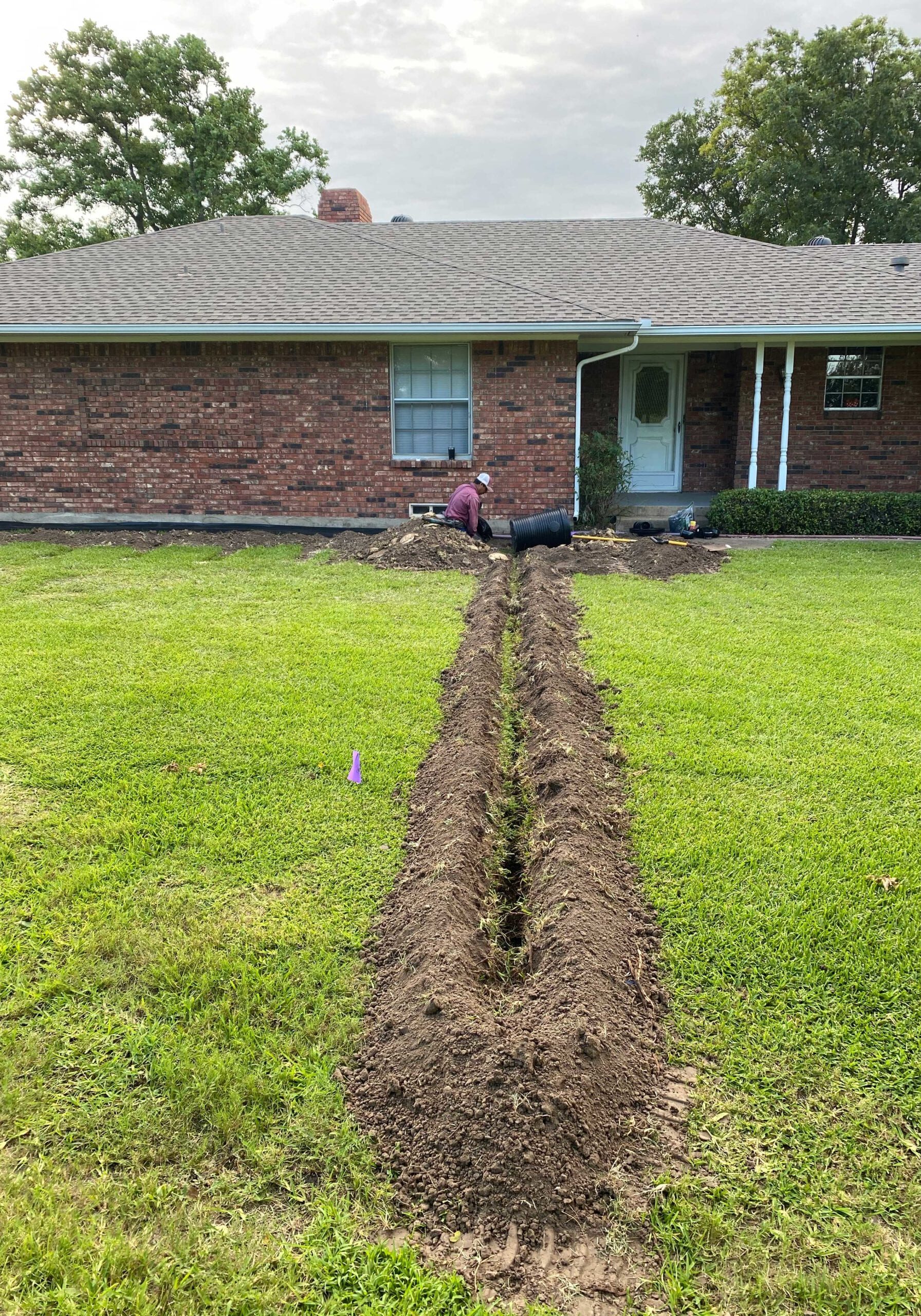 Bad drainage does real damage to your property. It can crack the foundations of your building. It can introduce mold and mildew into your house. It can destroy the look of your landscaping. In fact, bad drainage causes billions of dollars of damage in North Texas. We want to stop the problem before the problem becomes bigger.
If you would like more information on what types of drainage problems we fix, please contact us.
A Few Words from Happy Tex-Scapes Customers
A big Tex-Scapes thank you to our valued customers for sharing these kind reviews on Yelp and Google Reviews!
A Proven Process from Beginning to End
Our landscape design process begins with your first phone call. If you are interested in our design services, we'll set up a consultation at your property. We'll go over your landscape area together, talking about your ideas and gathering initial data. You can ask us questions, and we'll ask a few of our own. The initial consultation is for learning about each other and how Tex-Scapes can help you. We hope you'll come to trust us as we begin a new professional relationship.
After the first consultation, we'll come up with a design plan. We always custom-make our landscape designs. Everything is based on your unique property and your needs. We will explain this first design plan to you in detail, and you'll have the opportunity to tell us what you think. We count on your honest input, so that we can create a landscape you'll enjoy.
At Tex-Scapes, we take into account your budget and timeline. Your time and money are valuable. That's why our process includes clear estimates of the costs and the time it will take to complete the project. We will also list the materials that will be used in your landscape. If you ever have any questions, we're right here! We'll take the time to listen and answer your questions.
Drainage Solutions Come in All Shapes and Sizes
Because we begin with a comprehensive assessment of the situation, we know whether your drainage problem requires a simple repair or an entire new drainage installation. Each project is treated on an individual basis because no two projects are exactly alike. Here are some of the solutions we provide:
Drainage Swales
Precise Grading
Repairs to Current Drainage Equipment
Installation of New Drainage Equipment
Installation and Repair of French Drains
After our team comes and looks over the situation thoroughly, we can let you know what needs to be done. In most cases, grading is the next step. When we grade your landscape, we're really creating a way for water to run away from your building. We know the right slope to grade your landscape so the water will drain properly. We also make sure you won't have erosion problems from too big of a slope. Our professionals understand the physics behind grading, and we have the right equipment to perform the task precisely and neatly. You don't want a mess, and we don't either. We promise to leave your property better than we found it.
Top Quality New Installation Drainage Equipment
If you need new drainage equipment, you're looking in the right place. The drainage experts at Tex-Scapes use only premier equipment. Putting in a new drainage system is a big project. You don't want to install something that is going to break right away. You also don't want to put in top-quality equipment only to have it work improperly.
You can trust us. We've been in the drainage and landscaping business in Ennis, Texas since 2004. We understand this area's challenges, and we know all there is to know about drainage installation and the variety of drainage equipment and systems, so your property will drain correctly for years to come.
We Specialize in French Drains
A French drain is a practical and reliable way to reroute the water away from your building. Think of a French drain as a type of gutter that operates at the ground level. Instead of allowing standing water to soak into the ground around your building's foundation, water flows through the French drain and is safely directed away from the building. This is a gutter you don't see. The water drains through a pipe which is inside a ditch. Then the pipe is covered with a layer of gravel.
Tex-Scapes has experience installing French drains around homes and other buildings. Do you think your home could benefit from the installation of a French drain? Give us a call! We'll come out and take a look.
Preserve the Value of Your Property
What is the number one reason for hiring Tex-Scapes to solve your drainage problems? We care about your property. Each member of our team loves the beauty of nature, and we want your home to celebrate that outdoor beauty. Big projects that involve digging up old drainage systems, installing a brand new system, or fixing the grade of your lawn can be messy. We have to use big equipment and move a lot of dirt around, right? It may look like a mess during the process, but don't worry! We don't leave it that way. Your property will look as good as it did before, or better. After all, we're solving drainage problems, which means you won't have standing water ruining the looks of your property. An investment in proper drainage is an investment in the value of your property.
Our Goal is Customer Satisfaction
Every aspect of our business is designed to meet the satisfaction of our customers. This is especially true when it comes to drainage solutions. We aim to stop drainage problems that can wreak havoc on your home or business. Every project we take on is completed with wholehearted care and experience. Our customers come back to us with smiles on their faces because they know they will get treated like family at Tex-Scapes Nursery and Landscape.
We offer other landscaping services, too, such as landscape design, landscape installation, sprinkler installation and repair, and commercial landscaping. Come on over and check out our large Garden Store!
Want more information about drainage installation? Contact us, and we'll do everything we can to help you! We've been providing Ennis, Texas, and the surrounding areas with high-quality drainage solutions since 2004, and our expertise keeps getting better and better.
I wanted to take the time to express my appreciation for the job well done by Alberto & Frankie.  These gentlemen were friendly, courteous and professional in their job performance on the work that was done for me this morning.

I am pleased with a job that was well done by these men.  I simply waited in the house while they worked.  After the job was done, the presentation of the work was professional, and they showed (justified) pride in their work.  It was obvious, watching them from a window, that both men were well trained professionals who handled the equipment well, quickly and safely."

-   R. C., Palmer TX
Ready to get started on your project?
Schedule your Project Planning meeting online now!