Tex-Scapes Nursery and Landscape is the home of year-round plant selections, landscaping services, and more in Ennis, Texas. If you're planning on redesigning your lawn, garden, or entire yard, consider transforming your space with a xeriscape design. This can help you conserve water, spend less time maintaining your yard, and enjoy a unique lawn with hardy plants.
Xeriscaping is a landscaping style that relies on little to no supplemental water to stay beautiful and healthy. If you want a front yard that remains beautiful despite the drought and local water restrictions, xeriscaping is a great choice. It incorporates low-maintenance plants and rock features to create a unique and conservation-conscious landscape. Xeriscaping doesn't mean a desert landscape with cacti and no grass — unless you love that style! Instead, xeriscaping is all about using plants that grow well in the climate naturally without the use of supplemental water to keep your lawn healthy with minimal maintenance.
Xeriscaping has some unique principles that will result in a beautiful, easy to maintain yard. They focus on solid landscape design, protecting the soil, improving irrigation, and choosing the right plants.
A Few Words from Happy Tex-Scapes Customers
A big Tex-Scapes thank you to our valued customers for sharing these kind reviews on Yelp and Google Reviews!
Why Is Xeriscaping a Perfect Fit for Ennis, Texas, Homes
The creators of xeriscaping wanted to create a beautiful, simple alternative to landscaping styles that needed regular watering. Xeriscaping originated in Colorado, specifically through Denver's water department, but the design concept is a perfect fit for Texas. Not only can xeriscaping reduce your home's overall water consumption, but it also makes use of local plant species that thrive in Ennis, Texas' hot temperatures, can grow in Texas soil types, and are more resistant to pests and plant diseases.
Benefits of Xeriscaping
Xeriscaping has many benefits in terms of aesthetics, easy daily maintenance, and water conservation. Let's take a closer look at those benefits for Ennis, Texas, residents:
A beautiful, unique landscape: Professional design can make any landscape pop. Our team knows how to create a well-balanced and beautiful design that will enhance your home's curb appeal and turn your yard into the perfect oasis for relaxing and playing in. Xeriscaping also makes your yard stand out during every season. Enjoy vibrant colors and textures in the summer and green plants throughout the winter. During the fall and spring, your yard will also have unique blooms and verdant leaves. Hardscaping features are an essential element to every great xeriscape, so look forward to a landscape with beautifully designed retaining walls, natural rock paths, and more based on your preferences.
Low maintenance demands: Our landscape designs incorporate irrigation plans that give plants the water they need without wasting a drop. Our designs also pair complementary plants together to reduce trimming, watering, and fertilizing demands. Professional plant installation services also help plants grow deep, strong roots so they stay healthy throughout their lifespan.
Water conservation: Xeriscaping can reduce total water consumption by 50% or more. If your neighborhood currently has a water ban in place or you want to use less water, xeriscapes can stay green and lush. We will plan practical turf areas with native grasses that protect the soil from weed spore exposure and stop your lawn from developing yellow and brown patches. Local plants and trees can also thrive in a xeriscape with less water so you can enjoy beautiful flowers, lush plants, and healthy foundation plants.
Environmental-friendliness: Xeriscaping does more than reduce water consumption. It also keeps your yard and soil healthy with fewer chemicals. Native varieties of grasses are less susceptible to patchiness and brown spots, which means you don't have to rely on frequent weed treatments to keep your lawn safe. Natural mulching practices and native plant choices also keep your landscape healthy and strong year-round with less dependence on chemical fertilizers and pesticides.
Enjoy the colors, textures, and scents of the great outdoors from your own home. Find more landscape inspiration on our portfolio page.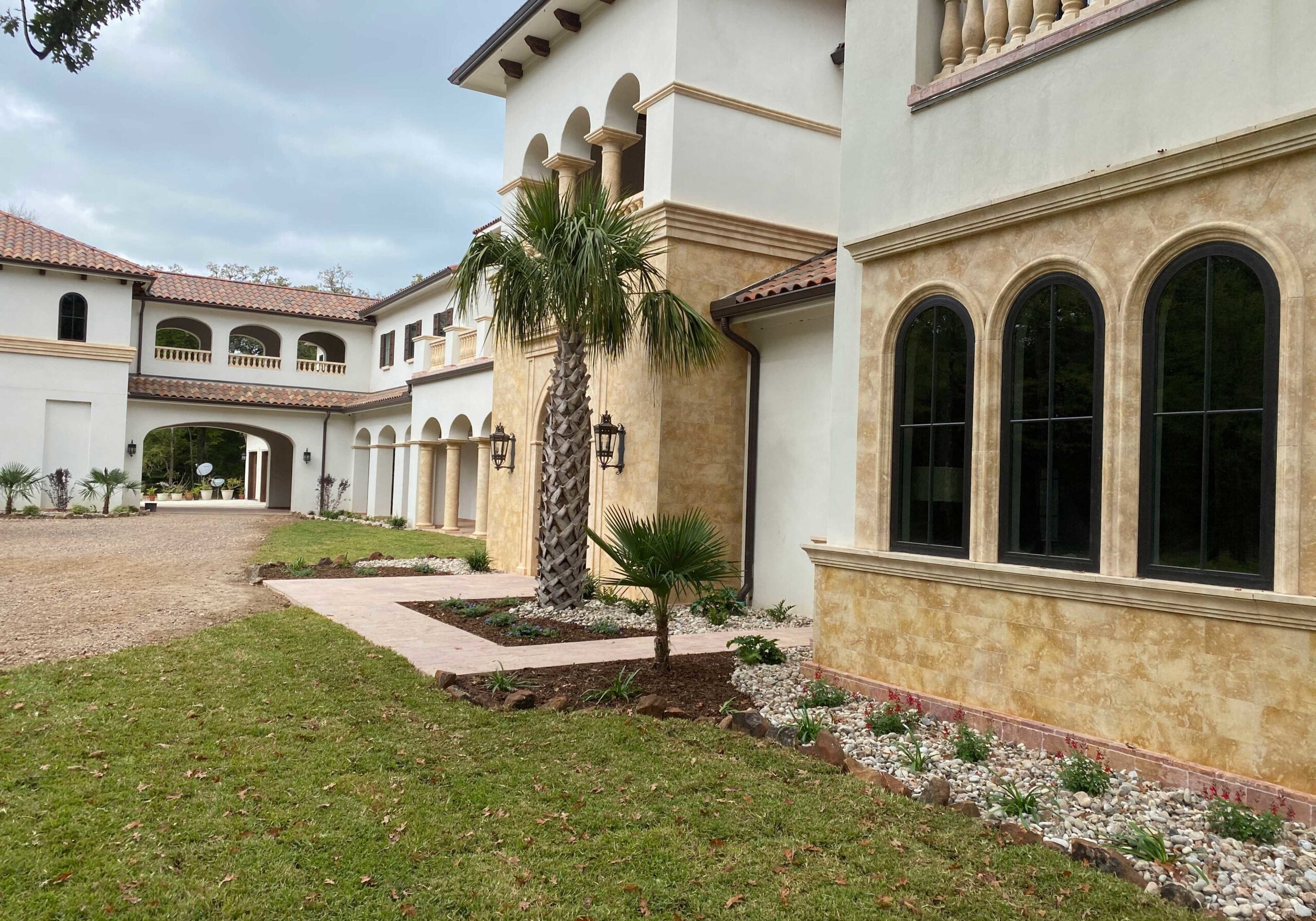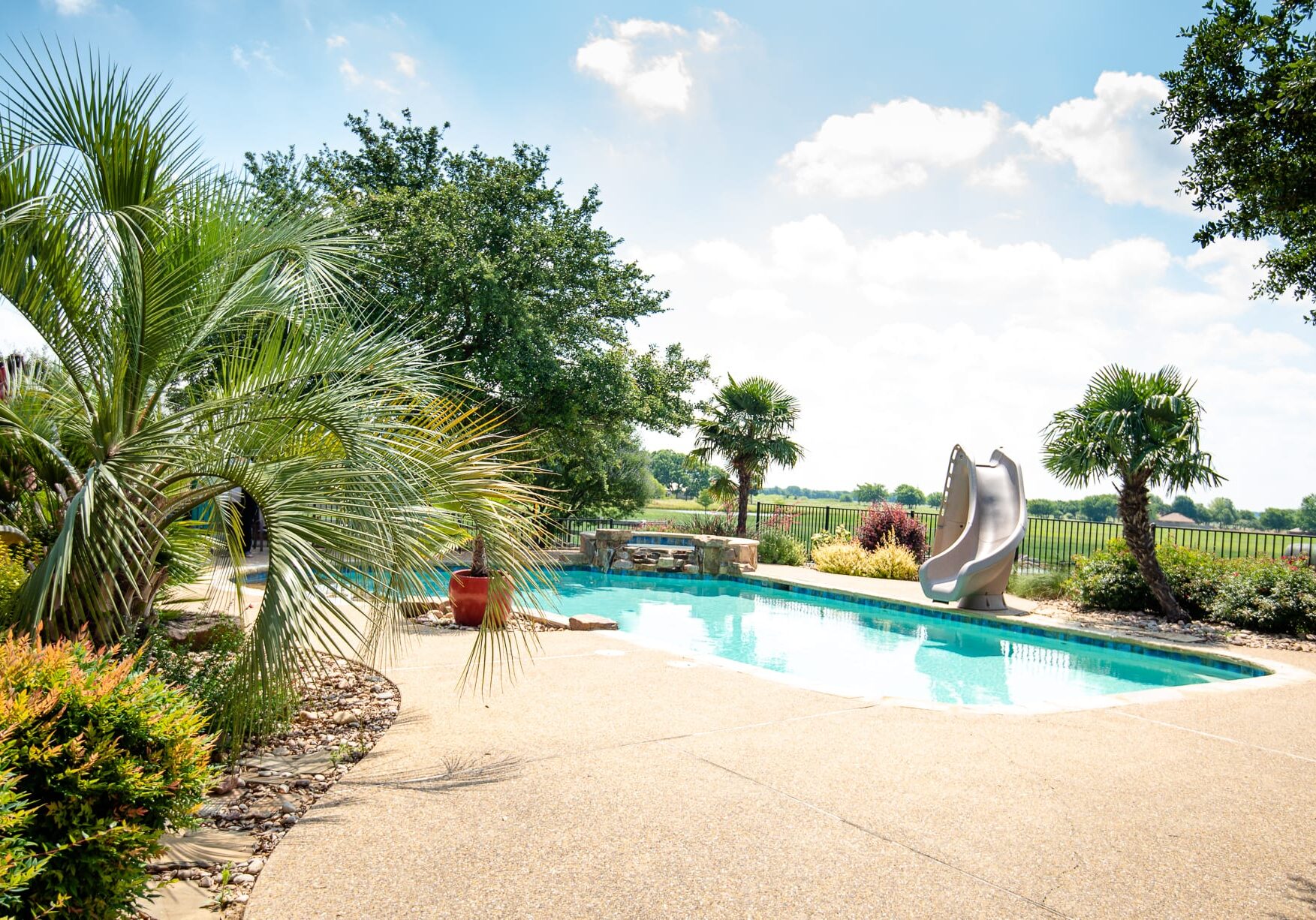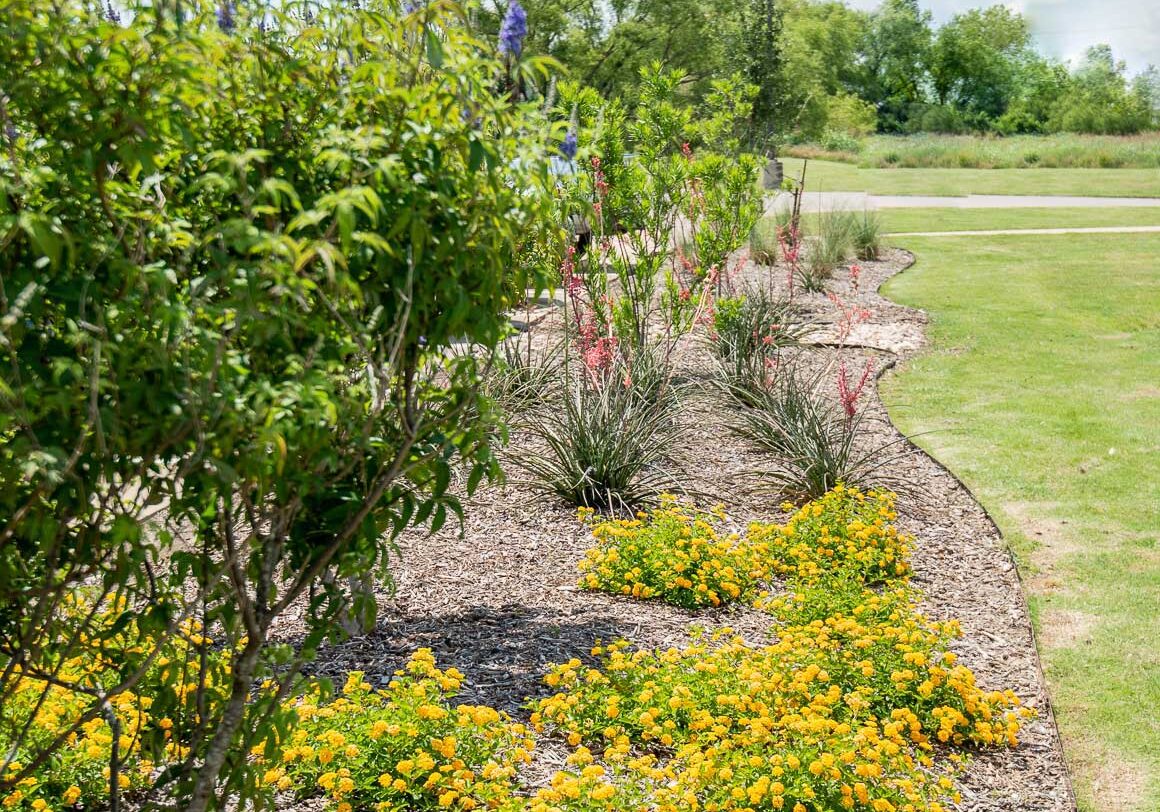 A Proven Process from Beginning to End
Our landscape design process begins with your first phone call. If you are interested in our design services, we'll set up a consultation at your property. We'll go over your landscape area together, talking about your ideas and gathering initial data. You can ask us questions, and we'll ask a few of our own. The initial consultation is for learning about each other and how Tex-Scapes can help you. We hope you'll come to trust us as we begin a new professional relationship.
After the first consultation, we'll come up with a design plan. We always custom-make our landscape designs. Everything is based on your unique property and your needs. We will explain this first design plan to you in detail, and you'll have the opportunity to tell us what you think. We count on your honest input, so that we can create a landscape you'll enjoy.
At Tex-Scapes, we take into account your budget and timeline. Your time and money are valuable. That's why our process includes clear estimates of the costs and the time it will take to complete the project. We will also list the materials that will be used in your landscape. If you ever have any questions, we're right here! We'll take the time to listen and answer your questions.
Tex-Scapes Nursery and Landscape Can Design and Install Your Ennis, Texas Home's Xeriscape
At Tex-Scapes Nursery and Landscape, we have a team of professional landscape designers that can incorporate xeriscaping design principles into your new yard or turn it into a complete xeriscape paradise. We also have the professional landscapers and in-house materials to make the design come to life before the season changes.
Our Expert Xeriscape Designers Can Create a Custom Plan for Your Home
Xeriscape designs start from below the ground. Our team will create an irrigation installation plan, soil grading modifications, and a customized plant layout plan. Every layer of our design plans will keep your soil healthy, help protect your foundation from droughts and dry soil, and make your yard beautiful throughout the seasons. Come visit our team or schedule an appointment to get started.
Let Our Landscapers Complete the Project from Start to Finish
Once you have a design plan you love, our landscapers can bring it to life. Our specialties include landscaping, irrigation, and drainage. We can quickly install your preferred plants, stone features, garden decor, and more. Our team will also get your plants off to a strong, healthy start with natural mulches that protect the plants' roots and the soil from droughts and temperature extremes.
Find a Beautiful Selection of Plants, Stones, and Accents in Our Garden Store in Ennis, Texas
Browse our selection of beautiful plants, trees, and hedges at our garden store. Our designers can recommend the best choices for your unique landscaping design or give you a range of options so you can choose your favorites. We have a knowledgeable team that can tell you everything you want to know about which native plants pair well together, what their water and sunlight needs are, and how to achieve the lawn look you want.
If You Want Xeriscaping for Your Business, We Can Help
Great xeriscapes aren't just for homes. If you own a business and you want your landscape to reflect your interests in water conservation and environmental stewardship, our team can help. We can create a low-maintenance, low-water landscaping plan that will draw in new visitors and keep your property vibrant.
Contact Tex-Scapes Nursery and Landscape Today to Get Your Xeriscape Project Started
Tex-Scapes Nursery and Landscape is Ennis's only local nursery and landscape business that's open all year long, so any time is a great time to start planning your new xeriscape. Contact our team today to learn more about our landscaping design and installation services, or find us at our garden store on Kaufman Street.
Ready to get started on your project?
Schedule your Project Planning meeting online now!