Enjoy Your Time Spent Outdoors With Custom Hardscaping by Tex-Scapes Nursery and Landscape
With mild temperatures throughout most of the year and a family-friendly lifestyle, it's no wonder the residents of Ennis, Texas enjoy time spent outdoors. Unfortunately, if your current landscape doesn't really meet your family's needs, you may be spending most of your time at home inside the house. Outdoor living is a way to bring the comforts of your home outside into the fresh air you crave. The solution to creating this atmosphere is the addition of hardscapes to your Ennis property.
Hardscapes describe the man-made elements that add value and beauty to your landscape. Perhaps you've always dreamed of a patio with built-in seating for family and guests. Maybe your family would love spending summer afternoons playing and relaxing in the backyard. A pergola could provide that perfect balance between sun and shade, or a fire pit might be the missing piece to provide family time during cooler weather.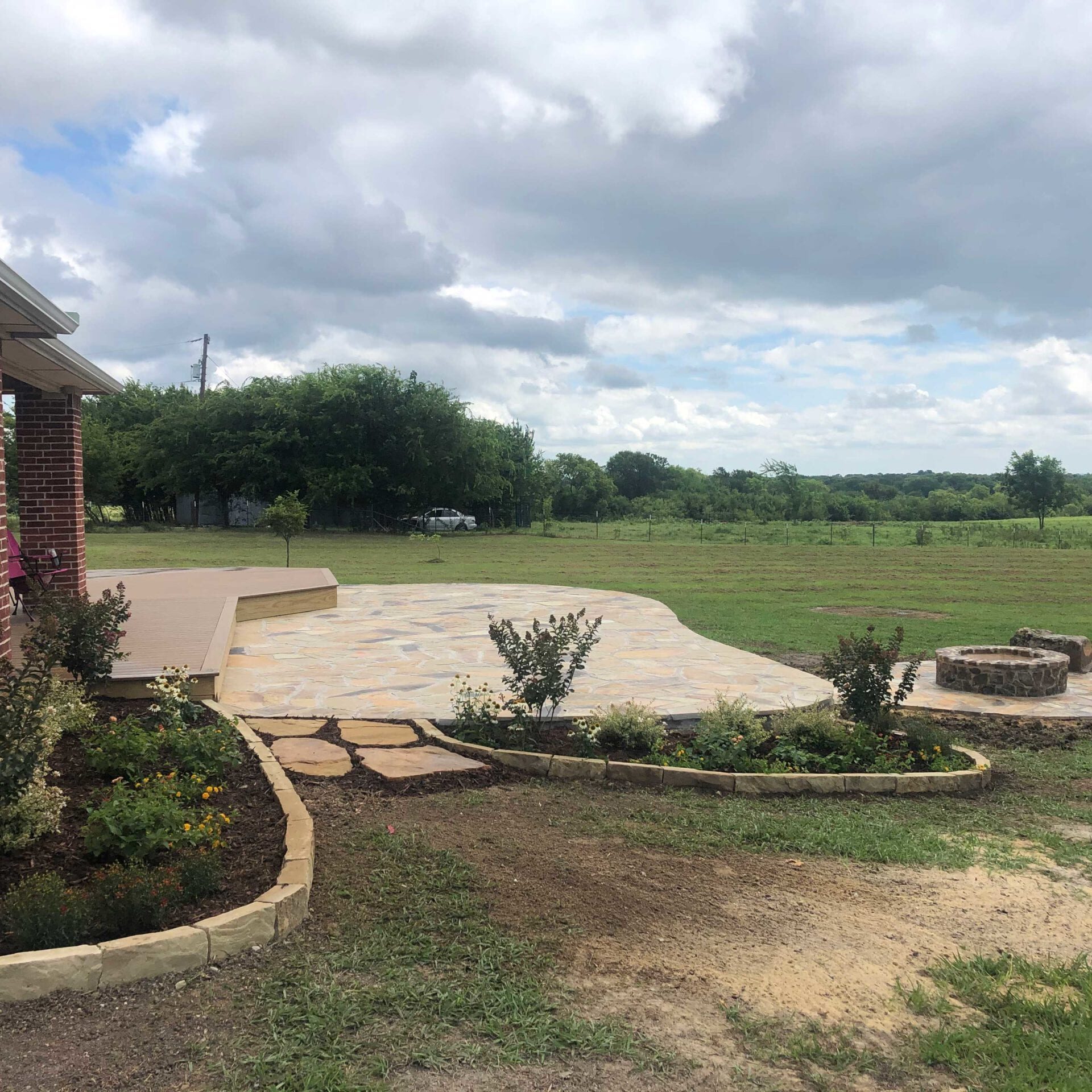 Every landscape has the potential for enjoyable outdoor living. The experienced Tex-Scapes team can help you bring your Ennis property to life by creating the hardscaping projects that will make your outdoor space so enjoyable, you'll never want to leave.
A Few Words from Happy Tex-Scapes Customers
A big Tex-Scapes thank you to our valued customers for sharing these kind reviews on Yelp and Google Reviews!
A Proven Process from Beginning to End
Our landscape design process begins with your first phone call. If you are interested in our design services, we'll set up a consultation at your property. We'll go over your landscape area together, talking about your ideas and gathering initial data. You can ask us questions, and we'll ask a few of our own. The initial consultation is for learning about each other and how Tex-Scapes can help you. We hope you'll come to trust us as we begin a new professional relationship.
After the first consultation, we'll come up with a design plan. We always custom-make our landscape designs. Everything is based on your unique property and your needs. We will explain this first design plan to you in detail, and you'll have the opportunity to tell us what you think. We count on your honest input, so that we can create a landscape you'll enjoy.
At Tex-Scapes, we take into account your budget and timeline. Your time and money are valuable. That's why our process includes clear estimates of the costs and the time it will take to complete the project. We will also list the materials that will be used in your landscape. If you ever have any questions, we're right here! We'll take the time to listen and answer your questions.
Benefits of Adding Hardscaping to Your Ennis, Texas Property
Hardscapes are man-made elements that complement the natural beauty of your landscape. Hardscapes can provide many useful and entertaining features that make your outdoor space more comfortable and functional. These are a few benefits our customers have experienced with the addition of hardscaping to their Ennis, Texas property.
Safety: Walkways, steps, and outdoor lighting make your property easier to navigate.
Entertainment: Outdoor additions like outdoor kitchens and play areas provide your family with daily entertainment at home.
Comfort: Outdoor dining, decks, pergolas, and seating make spending time outdoors a comfortable experience for all to enjoy.
Additional property value: As the value of outdoor living becomes apparent to homebuyers everywhere, quality hardscapes bring additional living space and value to your home.
Enjoy the colors, textures, and scents of the great outdoors from your own home. Find more hardscaping inspiration on our portfolio page.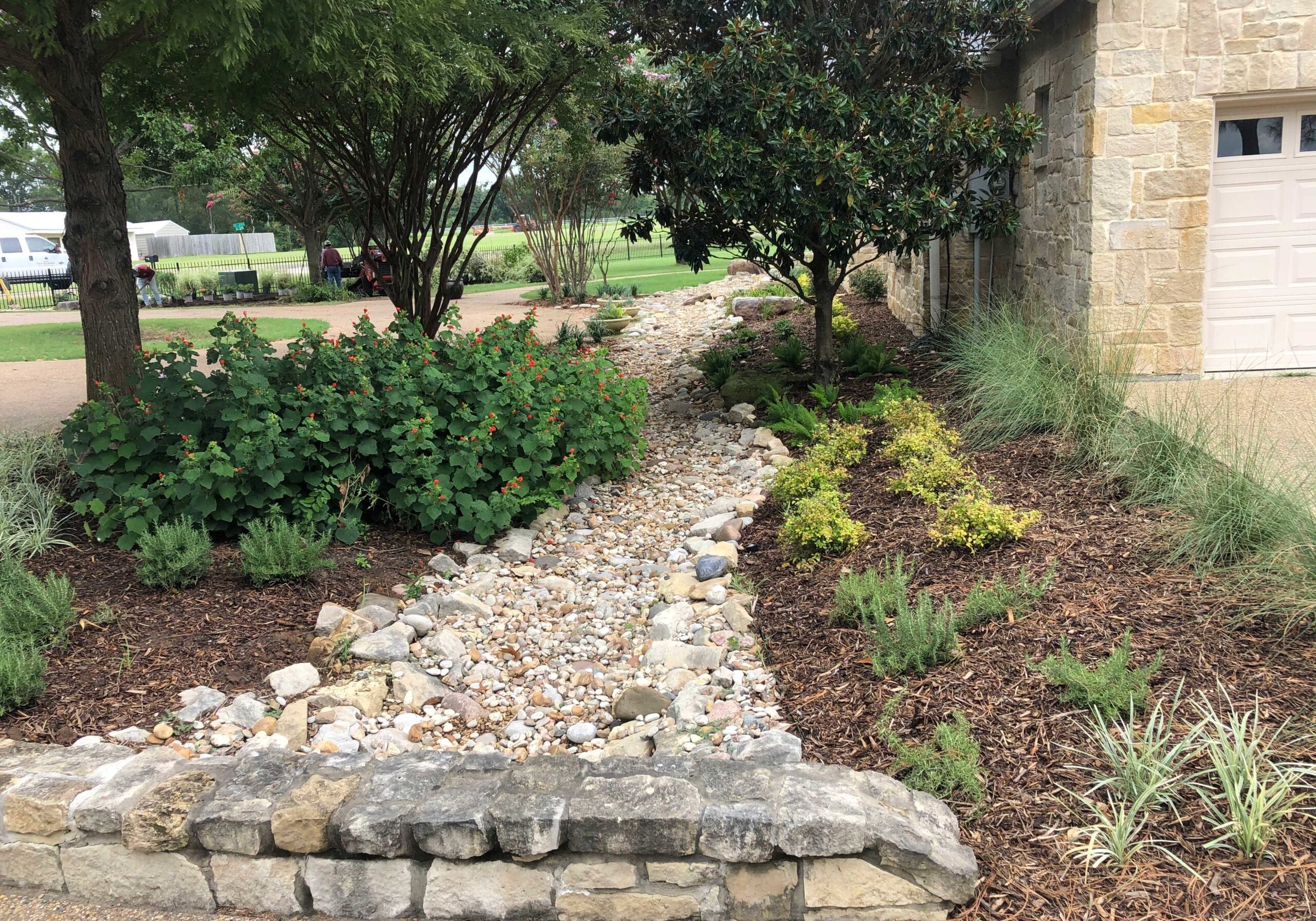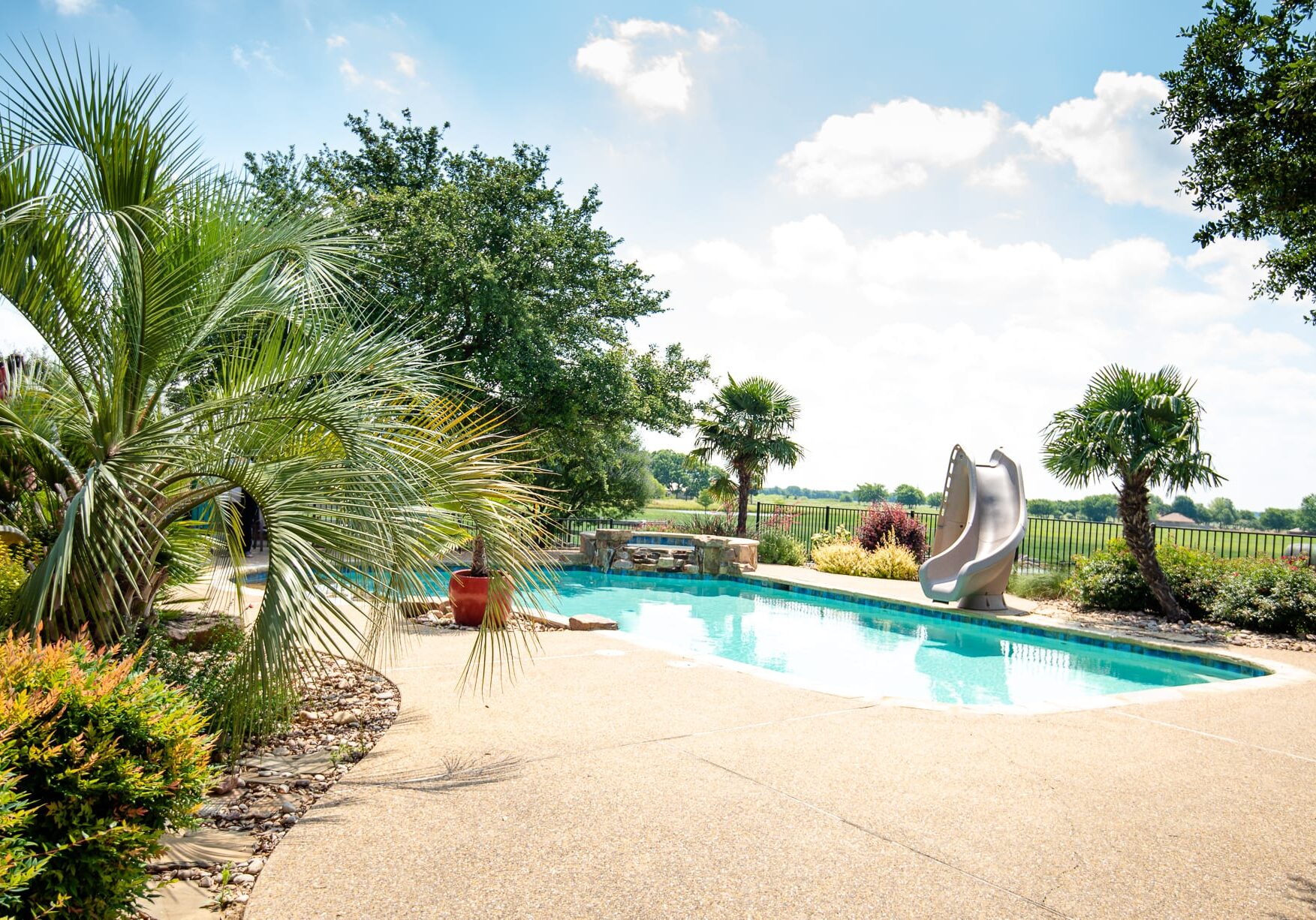 Hardscapes for Your Texas Landscape
Water Features
Enjoy the beauty and tranquility of water on your property with a custom water feature designed for your landscape. Whether you're dreaming of a flowing fountain, tranquil pond, or a sparkling waterfall, our experienced landscaping team can design and install the water feature you've been dreaming of. These structures often recycle water so they can even be used during the hot summer months when drought is common. Any water feature provides a striking centerpiece to make your outdoor space more inviting.
Walkways, Steps, and Retaining Walls
Concrete, stone, or cobbled walkways unite your landscape and provide safe pathways for your family and guests. Well-trod paths through your lush green grass are unsightly, and sloping banks can be dangerous. Walkways designed for your property can fix these problems and unify your outdoor space. Quaint garden paths, walkways built from natural stones or pavers, and steps built into sloping banks provide function to your yard and add beautiful details at the same time. Full or partial retaining walls can be built to avoid erosion, assist irrigation, and offer privacy where you need it.
Patios, Pergolas, and Decks
Your outdoor space should be a place of comfort and function and these hardscapes make it happen. Whether you seek relaxation, an outdoor gathering space, or a garden retreat, one of these structures is sure to fit the bill. Patios and decks are a great way to extend the living space of your home. Your structure can be designed to complement your home's style and permanent seating can even be added to the design. Pergolas can provide the perfect accent to your garden or provide shade over a dining area or other outdoor seating.
Outdoor Kitchens and Dining Areas
Meals eaten outdoors have a special atmosphere you can't find in the kitchen. However, preparing meals to be carried outside and cleaning up later can be a hassle. Outdoor kitchens provide the perfect solution. Imagine the meals you could provide your family and guests if your outdoor kitchen had the same functionality as the one indoors. Outdoor kitchens can have stoves, counters, sinks, and dining areas. All of the features of your outdoor kitchen are designed to withstand the outdoors and last for years to come.
Outdoor Lighting and Fire Features
Sunny summer days are great for spending time outdoors, but there's no reason to limit the time spent with family and friends out in the fresh air. Outdoor fire pits and fireplaces are a great way to add a cozy touch to your outdoor space. Whether you're making S'mores with the family or providing a romantic atmosphere for date night fire features add another layer to time spent outdoors.
Outdoor lighting can be built into or added onto practically any hardscape for additional safety and beauty after dark. Overhead string lights are a popular way to light dining and seating areas. Floodlights can easily light large areas, and lights flanking walkways and driveways provide safe navigation and attractive style. Create a spectacular night view by adding lights to water features, gardens, and trees on your landscape.
Tex-Scapes Nursery and Landscapes for Superior Service and Lasting Quality
Tex-Scapes Nursery and Landscape is a full-service landscaping company with the experience and dedicated employees to take care of your hardscaping projects from start to finish. Founded in 2004, Tex-Scapes is a family business, and family values are our top priority. Our customers are our neighbors, and we treat them like family.
Every member of our dedicated team begins each job with a listening ear and a helping hand. We follow through with reliable service, strict attention to detail, and quality supplies designed to last. We know how important your North Texas property is to you, and we treat it with the same respect we treat our own homes. If you're ready to upgrade your North Texas landscape with hardscaping that will turn your yard into a stunning outdoor living space, get in touch today. Our team is ready to listen to your dreams and help you make them a reality.