Sitting less than an hour south of Dallas, the towns of Ennis, Corsicana, and Waxahachie, Texas are a mixture of small communities and suburbs. Locals and visitors love hitting the water for a day of boating and swimming on Bardwell Lake. In the warmer months, Saturday mornings are all about getting the freshest, local ingredients at the farmer's market at Waxahachie, Texas. With the beautiful homes in the area come spacious yards that require tending to keep it looking its best and creating a functional space for families.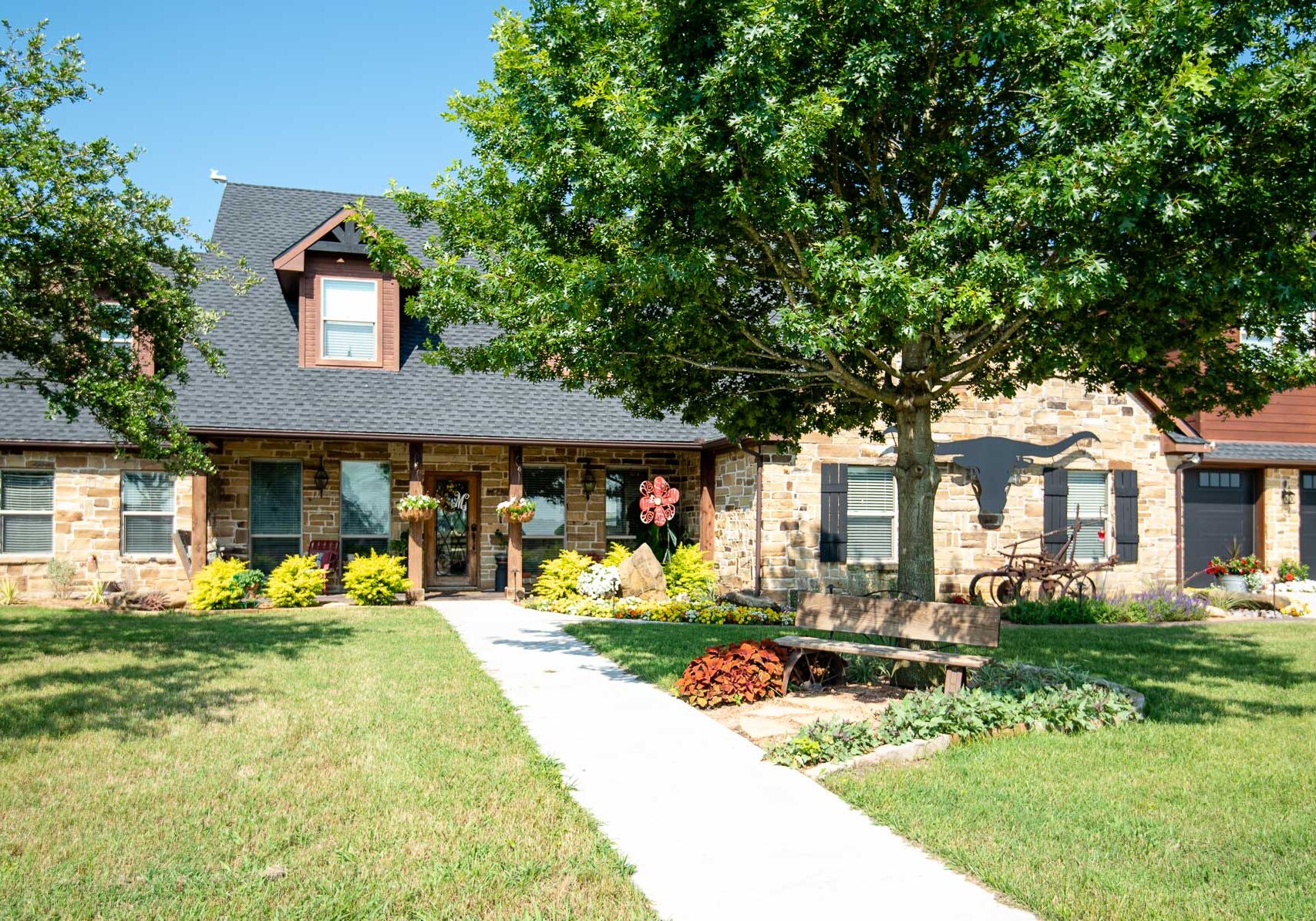 A Few Words from Happy Tex-Scapes Customers
A big Tex-Scapes thank you to our valued customers for sharing these kind reviews on Yelp and Google Reviews!
A Proven Process from Beginning to End
Our landscape design process begins with your first phone call. If you are interested in our design services, we'll set up a consultation at your property. We'll go over your landscape area together, talking about your ideas and gathering initial data. You can ask us questions, and we'll ask a few of our own. The initial consultation is for learning about each other and how Tex-Scapes can help you. We hope you'll come to trust us as we begin a new professional relationship.
After the first consultation, we'll come up with a design plan. We always custom-make our landscape designs. Everything is based on your unique property and your needs. We will explain this first design plan to you in detail, and you'll have the opportunity to tell us what you think. We count on your honest input, so that we can create a landscape you'll enjoy.
At Tex-Scapes, we take into account your budget and timeline. Your time and money are valuable. That's why our process includes clear estimates of the costs and the time it will take to complete the project. We will also list the materials that will be used in your landscape. If you ever have any questions, we're right here! We'll take the time to listen and answer your questions.
Garden Store
Tex-Scapes Nursery and Landscape is proud to run the only family-owned and operated nursery and garden center that's open year-round in Ennis, Texas. We take pride in having everything the home gardener needs to create a gorgeous lawn and yard. We offer sod, gravel, and rocks in bulk, as well as flowering bushes, flowers, trees, and sod in numerous varieties. We also stock organic gardening supplies and garden decor to create a completed look.
We strive to be the only shop you need to visit for all of your supplies. This saves you time and money. You can also find inspiration for your next gardening project from the extensive selection of greenery we have in stock.
Landscaping
Want to spend your weekends with your family instead of mowing the lawn and pruning your bushes? Tex-Scapes Nursery and Landscape is also a full-service landscape company that can take over your yard chores. Our team comes to your home with all the necessary products and tools to whip your yard into pristine shape and make it more functional for your family. We can mow the yard, trim the hedges, weed the flower beds, edge the walkways and so much more. A few of the benefits of a landscape company include:
Curb appeal
Safety and security
Functional space
More personal time
and more.
Commercial Landscaping
If you own a commercial business and the land or you rent commercial space, you know how important it is to make a great first impression, and a large part of that is an attractive outdoor area. From seating areas to trees that provide shade, you want the outdoor space to welcome customers. Our landscape company can take care of all the work for you so that you can spend your time working with customers. We can also help you increase the curb appeal with the addition of flower beds, shrubs that provide some privacy, and beautiful sod.
Landscape Design
Before you get the yard of your dreams, it's beneficial to sit down with one of our professional landscape designers. After looking at the yard and space you have available, the designer sits down and listens to your ideas to get an idea of what you want the finished space to look like.
Using a variety of methods from blueprints and 3D modeling, your landscape designer brings your imagined yard to life. They also bring their years of experience to the job and can offer advice that you might not have considered. A landscape designer can provide you with a quote for materials if you want to do the work yourself and one for our team to handle the installation for you.
Landscape Installation
Once you have a plan in hand, it's time to take the next step, landscape installation. A landscape company in Ennis, Texas can make minor changes to your yard, such as adding sod only, or they can total revamp your outdoor space with flowers, trees, pine straw islands, and so much more. These changes take a significant amount of time and lots of hard work, which makes hiring a landscape service essential.
Your landscape company partners with you to translate your completed landscape design into a reality. They take carry of the heavy lifting, planting, and installation, so your only job is to enjoy the space once it's completed. Tex-Scapes Nursery and Landscape can even help you get in the holiday spirits by installing your Christmas lights on your home, trees, and bushes.
Sprinkler Installation
We all love living in Texas with its hot, sunny summers where we can get outside and enjoy nature. However, your yard needs a little more moisture than the occasional rainstorm provides. Installing a sprinkler system is the best way to provide your yard and grass with as much water as it needs. Our landscape company offers several models to meet your needs and price point while our staff can handle the installation.
After your new sprinkler system installation, our staff can show you how to program it and troubleshoot any issues. If you already have a system installed and it experiences problems, your landscape company can usually handle all the necessary repairs and parts replacements.
Drainage Installation
When the rains do come and the rivers and creeks rise, it's essential to protect your home and businesses from the damage water can do. A landscape company can install drainage around your home in Ennis, Corsicana, or Waxahachie, Texas and help to keep the water at bay. These services can include dirt work, grading, and underground drainage systems.
At Tex-Scapes Nursery and Landscape, we take pride in helping our clients create a solution to their drainage issues. The correct drainage system protects your home from expensive water damage. It can also keep your yard looking amazing and allow you and your family to enjoy the outdoor space.
Visit the Premiere Garden Supply Store in Ennis, Texas
We love our garden supply store, and we think you will, too. Visit us at the following hours:
Spring Hours (March - May)
Monday – Friday: 8:00 am – 6:00 pm
Saturday: 8:00 am – 5:00 pm
Sunday – Closed
Monday – Friday: 8:00 am – 5:30 pm
Saturday: 8:00 am – 5:00 pm
Sunday – Closed
(972) 875-1716
2705 S Kaufman St, Ennis, Texas
info@texscapesnursery.com
Reasons You Should Choose Tex-Scapes Nursery and Landscape
Tex-Scapes Nursery and Landscape wants to be your first stop when you need lawn and gardening supplies, and also when you need more comprehensive landscaping services. There are many reasons to select us as your landscape company. The reasons include:
Family owned and operated
Largest year-round nursery in Ennis, Texas
More than 15 years of experience
Member of the Texas Nursery and Landscape Association
Open on Saturdays
Outstanding customer service
and more.
When your ready to start building and stop daydreaming about your idyllic yard, Tex-Scapes Nursery and Landscape is ready to go to work for you. Call us today to learn more about our services!
Ready to get started on your project?
Schedule your Project Planning meeting online now!