Landscape design is more than planning where to plant a tree or how far out to extend your patio space. It's about creating an outdoor space that belongs to you and your home in every way. The elements of landscape design bring texture, color, and interest to your yard, creating a space with personality. It's also about forming a structure so the different areas of your landscape make sense together. If your Waxahachie, Texas home is in need of a landscape refresh, or if you're just starting out on a new landscape area, Tex-Scapes' landscape design services are the perfect place to begin.
From First Phone Call and Onward: Our Design Process is Geared Around You
Every landscape design begins with an initial consultation. Our landscape designer will come out to meet you, look at your property, and do some initial data-gathering. At this time you will be able to voice your thoughts and suggestions. You will be asked questions, and you will have an opportunity to ask us questions. Like any relationship, this process begins with some give and take from both sides. We want you to be confident in our expertise, and we also want to understand your property and your plans for it.
Once the initial consultation is over, and the designer knows enough to move forward, a first design plan will be created. This plan will be unique, based entirely on your own property's needs. We will explain everything in the plan to you in detail. We want  you to understand what we have in mind, and then you will be able to say, "Yes, I love that," or "No, I don't think that part is what I want." Our designers truly desire your honest input because they want you to love your landscape!
We also realize that you may be constricted by money and time. That's why we give you a clear estimate of the costs and how long the project should take to complete. We will also explain what materials are going to be used. Everything Tex-Scapes does, including landscape design, is buffered with a generous dose of great customer service. Your satisfaction is our goal.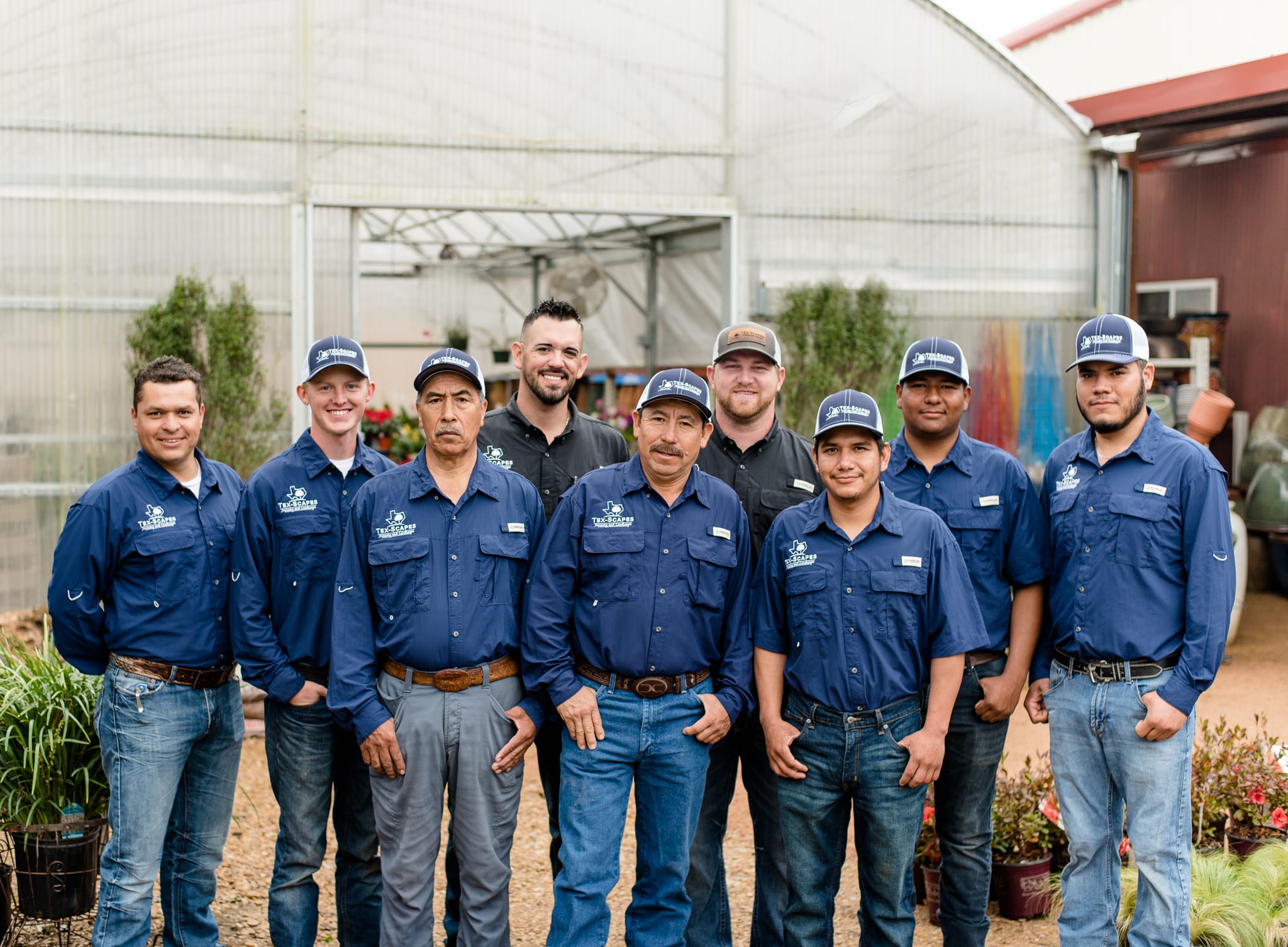 Expert Designers in the Waxahachie, TX Area
Our landscape design team lives in this part of Texas. We understand Waxahachie, Texas climate and growing season. We know which plants are going to thrive here and which ones are difficult to grow. Your soil content is not a foreign substance to us. We know what to do to create a lush, beautiful landscape on your property!
Our designers are also creative experts. Where you see a problem area, we see a creative solution! Maybe your property needs irrigation or drainage systems. Our designers understand how to incorporate these important elements into their design so it adds value to your landscape. Not only do they consider the initial design, they understand how plants and trees grow, and what the design will look like ten years down the road. Our expert designers are up for your unique landscape challenge! Our landscape design services are offered in the Waxahachie area as well as the Ennis and Corsicana areas.
Your Vision + Our Expertise = One Harmonious Landscape
Whether you know exactly what you want your landscape to look like, or you only have a vague idea, we can work with you to create a design that reflects your home. Our designers are not going to step in and tell you everything your yard needs to become a dream landscape. Instead, we are going to listen to you. We are going to take into careful consideration all your requests, your budget, and your ideas. We are also going to be practical. If you want to grow an exotic plant that doesn't do well in your Waxahachie, TX climate, we'll let you know why it won't work.
We believe that your vision for your property is important. We are going to team up with you and add in our expertise so that the final design plan will be beautiful and in harmony with your home. Creating a new landscape or updating an old one doesn't have to be daunting. With our help, the design phase of the landscaping process will be enjoyable and smooth-going.
What Comes Next in the Landscaping Process?
Once you have given us the go-ahead on our final design plan, we can begin the landscape installation process. Guess what? Tex-Scapes is a full-service landscaping company, which means all parts of the landscaping process are completed by our team! The transition from design to installation and construction is seamless. Our team moves forward to transform your landscape, carefully following the guidelines set forth in the design phase. The excellent customer service remains intact during the entire process. We will explain everything we do in detail, so you will never be wondering what is going on in your yard.
Tex-Scapes landscaping division includes these services:
Landscape lighting
Irrigation
Drainage
On the other side of the Tex-Scapes coin is our unique Garden Store and Nursery. When we plant a tree or a row of shrubs in your landscape, those trees and shrubs come from our nursery. If we use stones to hardscape part of your property, we will carefully choose the stones from our stoneyard. Our Garden Store has everything you need to keep your new landscape and garden healthy and beautiful. Our location in Ennis, Texas is just a short drive from Waxahachie, so feel free to stop by anytime. You'll enjoy our down-home atmosphere, and we'll be happy to answer your questions.
High-Quality Landscaping Begins with an Excellent Design. Call Today to Begin!
If you're on the fence about who to hire for your landscape design needs, we'll remind you why Tex-Scapes is the best in the area.
Our landscape designers are true professionals.
We understand Waxahachie, Texas and its unique issues.
We offer high-quality everything (materials, services, designs).
We have a large base of faithful customers who will recommend us.
We are a full-service landscaping company with many years of experience.
Excellent customer service is our number one priority.
Begin your landscaping process with an initial consultation with one of our expert designers. Contact us to learn more! We look forward to working with you.