Landscape Installation Possibilities Abound When You Hire Tex-Scapes to Do the Job
Fix your ho-hum landscape with a new transformation from Tex-Scapes. Our comprehensive landscape installation services cover all aspects of your project, whether it is big or small. We create an outdoor space on your home or business property that looks healthy, beautiful, and appropriate for your lifestyle. Whether you want to completely revamp your entire landscape with new greenery, new sod, and tasteful hardscaping elements, or you want a simple refresh, such as a new flower bed, we can help. 
The installation process begins after the landscape design process. Our Waxahachie, Texas design experts will work closely with you to understand your needs. Once everything is planned to your liking, we begin the physical aspects of the installation. All work is completed by our professional team. We strive to be safe at all jobs, and we want to leave your property better than it was when we came.
A Few Words from Happy Tex-Scapes Customers
A big Tex-Scapes thank you to our valued customers for sharing these kind reviews on Yelp and Google Reviews!
A Proven Process from Beginning to End
Our landscape design process begins with your first phone call. If you are interested in our design services, we'll set up a consultation at your property. We'll go over your landscape area together, talking about your ideas and gathering initial data. You can ask us questions, and we'll ask a few of our own. The initial consultation is for learning about each other and how Tex-Scapes can help you. We hope you'll come to trust us as we begin a new professional relationship.
After the first consultation, we'll come up with a design plan. We always custom-make our landscape designs. Everything is based on your unique property and your needs. We will explain this first design plan to you in detail, and you'll have the opportunity to tell us what you think. We count on your honest input, so that we can create a landscape you'll enjoy.
At Tex-Scapes, we take into account your budget and timeline. Your time and money are valuable. That's why our process includes clear estimates of the costs and the time it will take to complete the project. We will also list the materials that will be used in your landscape. If you ever have any questions, we're right here! We'll take the time to listen and answer your questions.
Get Your Landscape Shaped and Graded
Depending on the end goal, your landscape may need to be reshaped. Our professionals will safely and carefully add contour to your yard with new dirt and rock. We grade the surface, replacing the topsoil. Precise grading is often done to ensure proper drainage away from your buildings' foundations.
Drainage Systems to Control Water Runoff
Drainage problems plague many properties. If your Waxahachie property needs a new drainage solution, allow Tex-Scapes to create a safe and effective way for water to drain away from your buildings. Our drainage equipment is high-quality and designed to last. We offer unique solutions for various types of landscapes, including French drains.
Install an Adequate Irrigation System
Avoid patchy, brown lawns with a sprinkler system that will provide the right amount of moisture to each part of your landscape. Irrigation is important in our hot, dry climate. Ensure your irrigation system is installed by professionals who know how to make the best use of your water. If you're getting other work done on your landscape, this is a great opportunity to invest in a new and efficient sprinkler system.
Hardscaping Elements Add Beauty and Functionality to Your Landscape
When we design your new landscape, we may include some man-made elements to blend harmoniously with the natural elements. These man-made details are called hardscapes. They include patios, decks, retaining walls, pergolas, fire pits, fountains, and walkways. Hardscaping elements add functionality to your landscape, providing places to sit, walk, and enjoy family and friends. They also add value to your home or business. What do you dream of in your backyard? We can make that for you.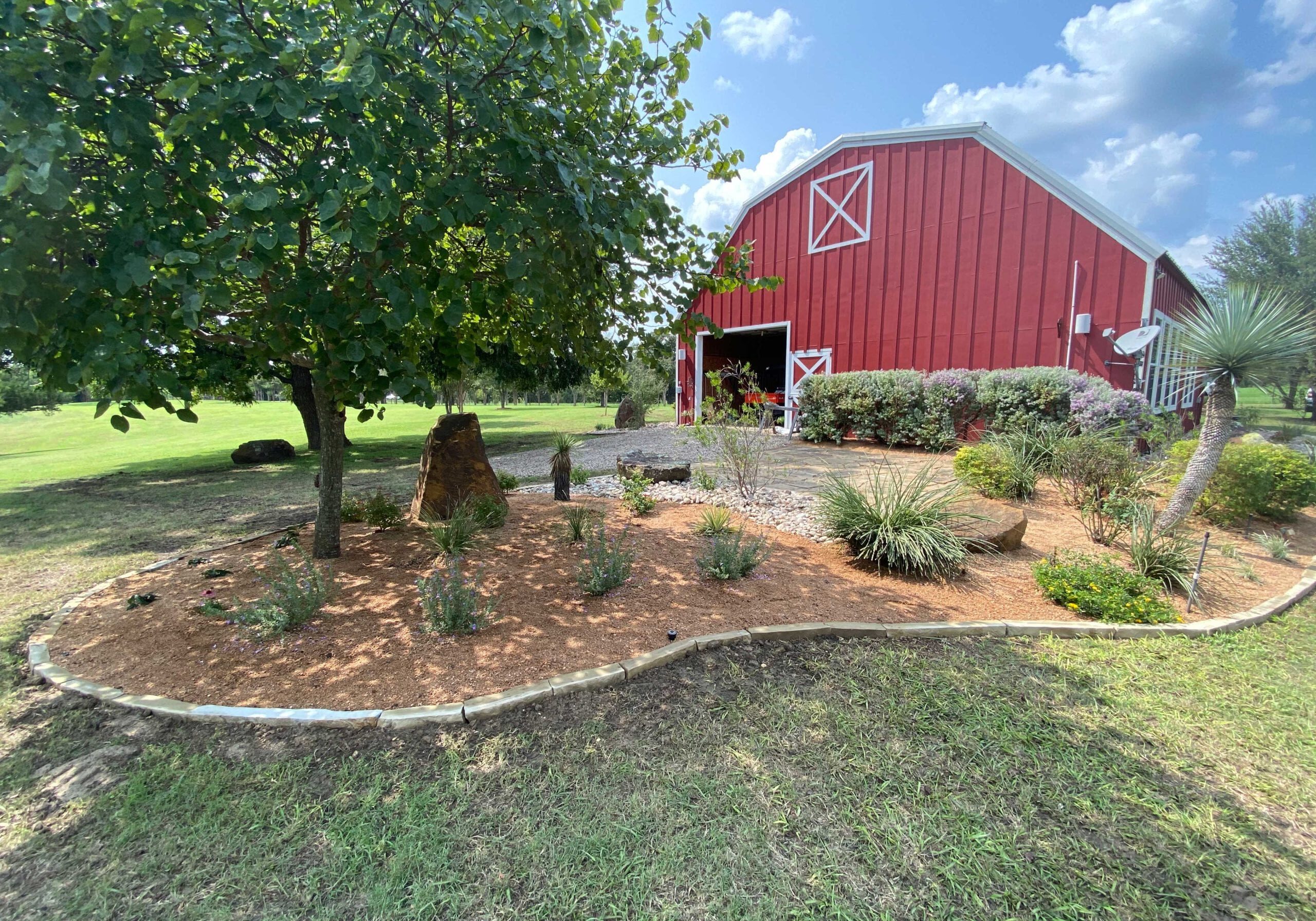 Landscape Lighting Illuminates Your Yard
Allow us to light up your landscape. We safely and professionally install lighting to create a dramatic look for your landscape. Outdoor lights also add an element of safety, guiding guests to your doorway, and also deterring uninvited guests from trespassing on your property. Imagine your nighttime yard in a whole new way!
Looking for a bright and convenient way to celebrate the holidays? Let us install holiday lights for a fresh, festive look at your home!
Add Various Types of Plantings for a Healthy, Vibrant Look
Of course, a landscape looks best when it has healthy plants growing in it. Our Garden Store and Nursery is stocked with many varieties of plants, shrubs, trees, flowers, vegetables, and grasses. Allow us to pick out a combination of plants and trees for your landscape, or help us pick out the plants you like best. We offer choices that are good for different styles. We can plant gardens full of aromatic flowers and bushes. We can create a vegetable nook to produce food for harvesting. Do you prefer shady areas? How about attracting wildlife? Whatever your style, we'll create a lush, growing landscape for you.
Xeriscaping is Good for Your Waxahachie Environment
Many homeowners and business owners don't have time to maintain their landscape. If this is your situation, we suggest xeriscaping. A xeriscape is a landscape designed to use little water and require very little maintenance. We know how to create a xeriscape that looks attractive and really works for your Waxahachie, Texas landscape. It's not all rocks and cacti! We can install ground cover, shrubbery, trees, and grasses that are native to the area, which means they grow well in high heat and drought conditions. You won't have to do much to keep them alive, so you can enjoy your yard when you are home, instead of spending your time maintaining your yard.
Get Full-Service Landscape Installation for Beautiful Landscape Transformation
We aim to satisfy you, no matter what your landscape requires. We are a full-service landscaping company, which means we handle everything, from the design to all the various details of the installation. Our professional team works hard to ensure everything meets your expectations and fits into your budget. When you hire Tex-Scapes, your landscape is in for a treat!
Our landscaping services apply to all residential areas in Waxahachie and neighboring areas, such as Ennis and Corsicana. We also provide light commercial landscaping services for commercial properties in and around Waxahachie.
Need Ideas? Our Garden Store is Open and Full of Inspiration!
Get your mind buzzing with landscape ideas by stopping into our Garden Store and Nursery. We stock everything you need for a stylish garden area. Our friendly staff is always willing to answer your questions about plants, dirt, rocks, or whatever else comes to mind while you are thinking about your landscape. We want to help you create an outdoor space that you'll be comfortable in.
Contact Us for All Your Waxahachie Landscape Installation Needs
Are you ready to make your landscape amazing? Please contact us today. We'll answer your questions and tell you more about our extensive landscape installation services. We hope you choose Tex-Scapes for your landscaping project. We look forward to meeting you and scheduling your first project planning consultation with our landscaping team!
Ready to get started on your project?
Schedule your Project Planning meeting online now!