Protect Your Property with a Drainage System that Works Now and in the Future
Poor drainage on your property can result in dry, patchy areas, swampy areas, or a mixture of both. When water isn't draining away from your buildings, it may be draining into your basement or causing serious problems to your foundation. To make matters even more complicated, our soil in the Kaufman, Texas area has a lot of clay in it, which expands and contracts at different times throughout the year. The shifting soil can change the way your landscape drains if you don't have a permanent drainage solution in place. The drainage installation experts at Tex-Scapes Nursery and Landscape can solve your drainage problems, so you can depend on a fully-functional outdoor area all year long.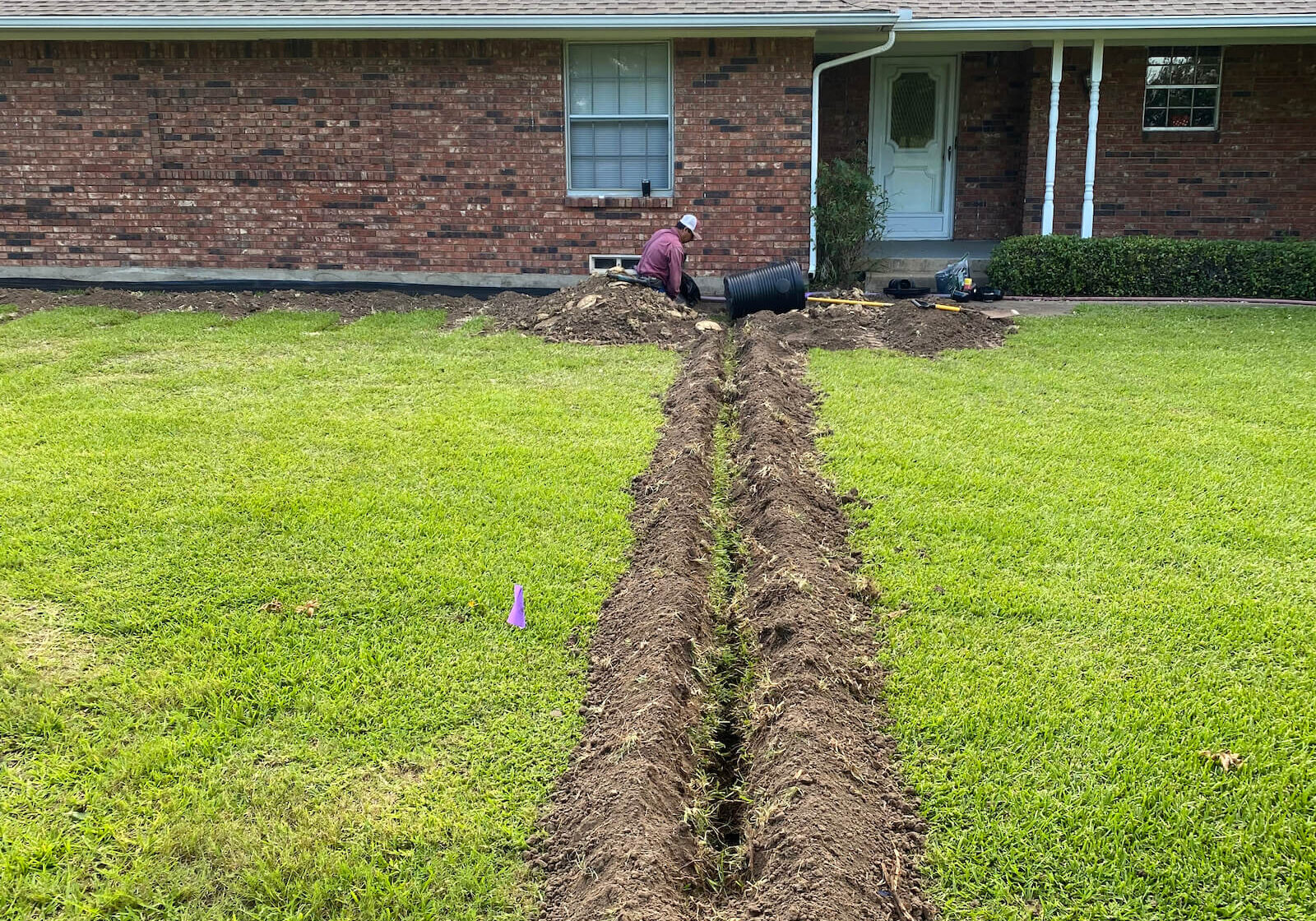 When you hire our professional team to install a new drainage system on your property, you can rely on us to find the real problem behind your poor drainage and install a suitable drain to fix the problem. We don't fix the problem temporarily. We fix it for good. Some of the ways we have solved drainage issues in area landscapes include installing a drainage swale, installing a French drain, grading the landscape, and repairing existing drainage equipment. Each landscape is unique, which is why we offer multiple drainage solutions. We will come to your property and determine the most effective solution, so you can enjoy a healthier landscape.
Hire Us for Professional Drainage Installation that Will Provide Long-Term Solutions
Our experienced team will find the underlying issue behind your drainage problems, and then solve the problem with an effective, high-quality solution. Our drainage installation services are good for new landscapes, landscapes undergoing major renovations, and landscapes that are experiencing drainage problems. When you hire Tex-Scapes, you benefit in the following ways:
Installation of an effective drainage solution, which may include a drainage swale, precise grading, or a French drain

Repairs to current drainage equipment, if necessary

Top-quality drainage materials for long-lasting results

Our tools, equipment, and experience make us the right choice for a drainage installation company

Over 15 years of local experience with drainage installation means we know what we're doing
As always, we customize our services to suit your individual property. Our specialty is French drains, but we will do whatever it takes to ensure your Kaufman, Texas property is protected from improper drainage.
A Few Words from Happy Tex-Scapes Customers
A big Tex-Scapes thank you to our valued customers for sharing these kind reviews on Yelp and Google Reviews!
See How Proper Drainage Improves the Look and Health of Local Landscapes
Drainage systems often go overlooked because they usually are not the main focus of your landscape. However, an effective drainage system lays the foundation for a healthy, functional landscape. See how our professional team has improved local outdoor spaces with drains and proper grading. Our portfolio is full of more examples of our handiwork.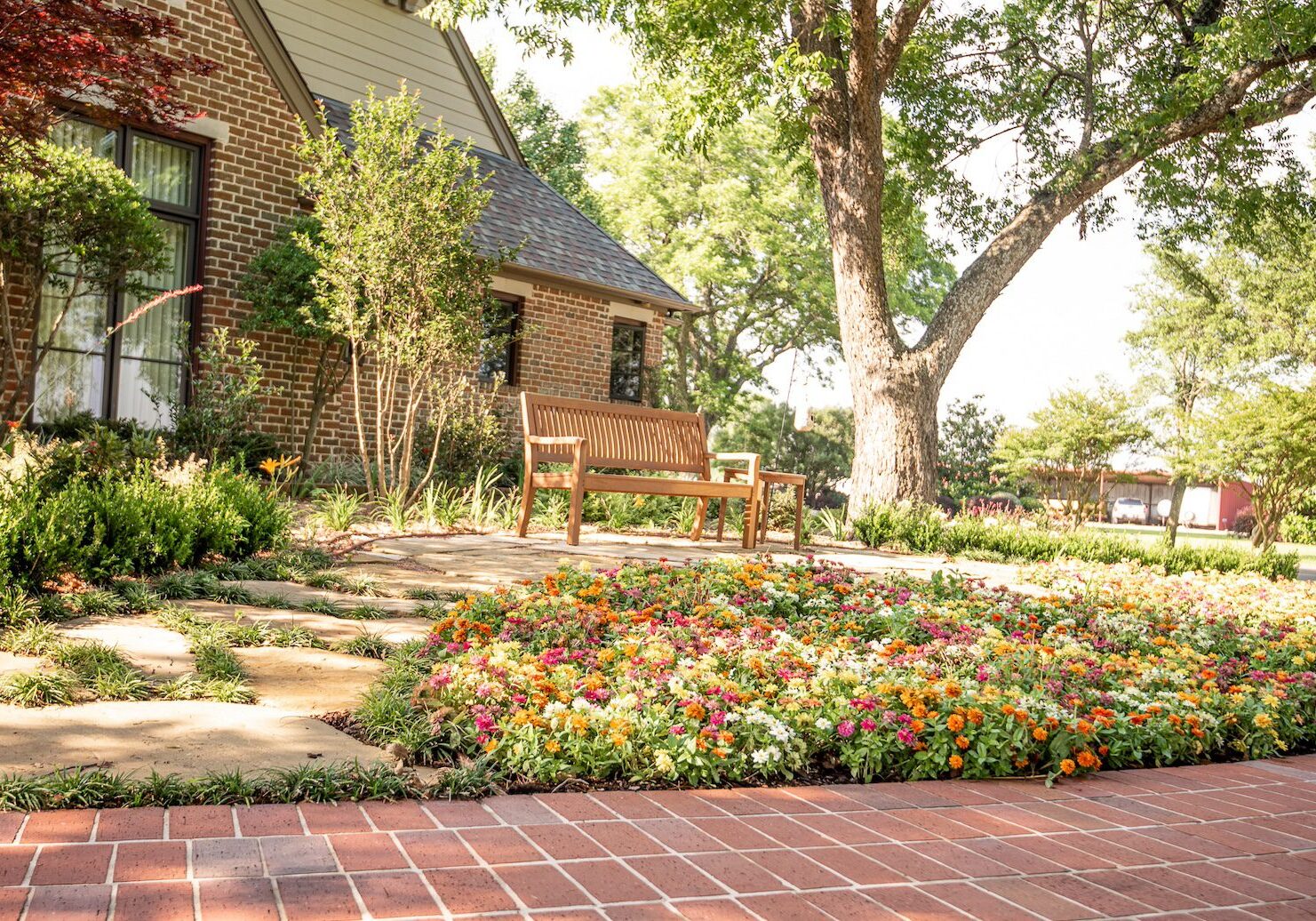 Achieve Better Landscaping with Our Streamlined Process
Our landscape design process begins with your first phone call. If you are interested in our design services, we'll set up a consultation at your property. We'll go over your landscape area together, talking about your ideas and gathering initial data. You can ask us questions, and we'll ask a few of our own. The initial consultation is for learning about each other and how Tex-Scapes can help you. We hope you'll come to trust us as we begin a new professional relationship.
After the first consultation, we'll come up with a design plan. We always custom-make our landscape designs. Everything is based on your unique property and your needs. We will explain this first design plan to you in detail, and you'll have the opportunity to tell us what you think. We count on your honest input, so that we can create a landscape you'll enjoy.
At Tex-Scapes, we take into account your budget and timeline. Your time and money are valuable. That's why our process includes clear estimates of the costs and the time it will take to complete the project. We will also list the materials that will be used in your landscape. If you ever have any questions, we're right here! We'll take the time to listen and answer your questions.
Our Team Can Help with All Your Landscaping Needs
These popular landscaping services cover your needs in the area:
Our year-round garden store and nursery in Ennis, Texas is a great place to visit and gather inspiration for your landscape! Find your favorite plants, trees, and shrubs in our large nursery, and then head on over to the garden store to stock up on gardening supplies. We have fertilizer, organic products, potting soil, gardening gifts, and fun decor. If you have any questions, our friendly and knowledgeable staff is happy to help you!
Proudly Serving Kaufman, TX and Surrounding Areas
Caring for Texas' finest properties is what we do. Our landscaping business provides services to homes and commercial businesses to all these areas:
Explore our service area page for more information.
Tell Us More About Your Drainage Issues
It may not be obvious to you that you need a new drainage system, but you may notice that your landscape has pools of water after it rains, or your basement gets water in it during certain seasons. Whatever is bothering you about your landscape, do not hesitate to ask us for help! We are local experts with years of experience solving drainage problems. Once we figure out the underlying issue, we can then find a lasting solution that will protect your buildings and improve the overall health of your Kaufman, Texas landscape. Contact us today, so we can get started.
Ready to get started on your project?
Schedule your Project Planning meeting online now!