Our Services Target the Root Cause of Your Drainage Issues for Permanent Results
Residents in Corsicana, TX are blessed with mild weather and more than their fair share of sunny days. It's the perfect environment to spend time outdoors. Yet, if your yard is dry and patchy or soggy and swampy (or a mixture of both), you and your family are likely spending too much time indoors. Even if your landscape suffers from the same issues season after season, you're not doomed to live without a functional outdoor space. Proper drainage installation can address a plethora of seemingly unrelated turf issues.
Tex-Scapes Nursery and Landscape is a full-service landscaping company dedicated to meeting the unique landscaping needs of residents in Corsicana, TX, and the surrounding areas. With nearly two decades of local experience, we're well-versed in the issues caused by intermittent dry and rainy seasons along with clay soil. While your landscape issues seem to be on top of your soil, the root cause is likely deeper. Our professional landscapers don't cut corners. We identify the source of your landscape problems to provide a permanent solution.
Bad drainage is unattractive and can make your outdoor space unpleasant to use. More importantly, soil movement can do real damage to your property. It can break water pipes or crack your home's foundation. Stop depending on temporary landscape fixes. Call the experts at Tex-Scapes to get to the root of your drainage problems with a drainage installation solution that will last.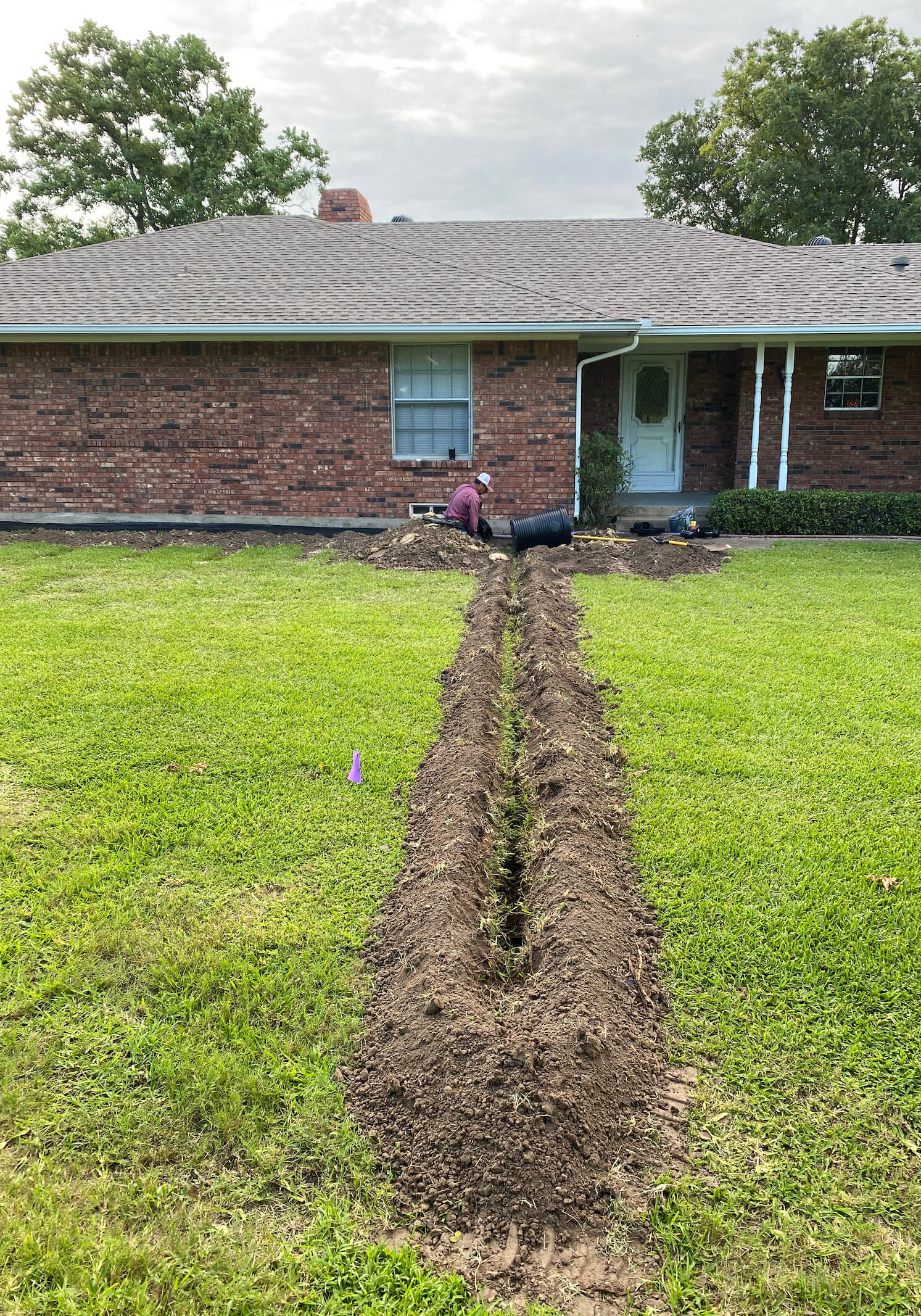 Solving Long Term Problems with Permanent Solutions
The climate in Corsicana, TX can cause the clay soil to expand and contract, leading to major changes in your landscape. It's common to address landscape problems with temporary fixes. Unfortunately, these solutions fail to get to the root of the problem. The drainage installation experts at Tex-Scapes don't waste time with band-aids. We understand that solving topical landscape issues arise from an underlying cause. When you partner with us to repair your drainage issues, you get these advantages.
Over 15 years of local experience addressing local drainage issues
Each project is treated on an individual basis because no two landscapes are exactly alike
We have the tools, equipment, and experience to provide successful results that last
Our teams can provide drainage swales, precise grading, repairs to current drainage equipment, and installation and repair of French drains
We only use top-quality drainage installation materials
Our specialization in French drains helps you avoid issues that affect your home
Your Neighbors Love their Improved Landscapes
A big Tex-Scapes thank you to our valued customers for sharing these kind reviews on Yelp and Google Reviews!
Take a Look at Unexpected Transformations
Drainage installation might not sound like the most exciting landscaping service. Yet, it's the service that lays the foundation for everything your landscape has to offer. Wondering how drainage installation will add functionality to your landscape so you can transform your outdoor living space? Browse our portfolio to see local properties serviced by our team.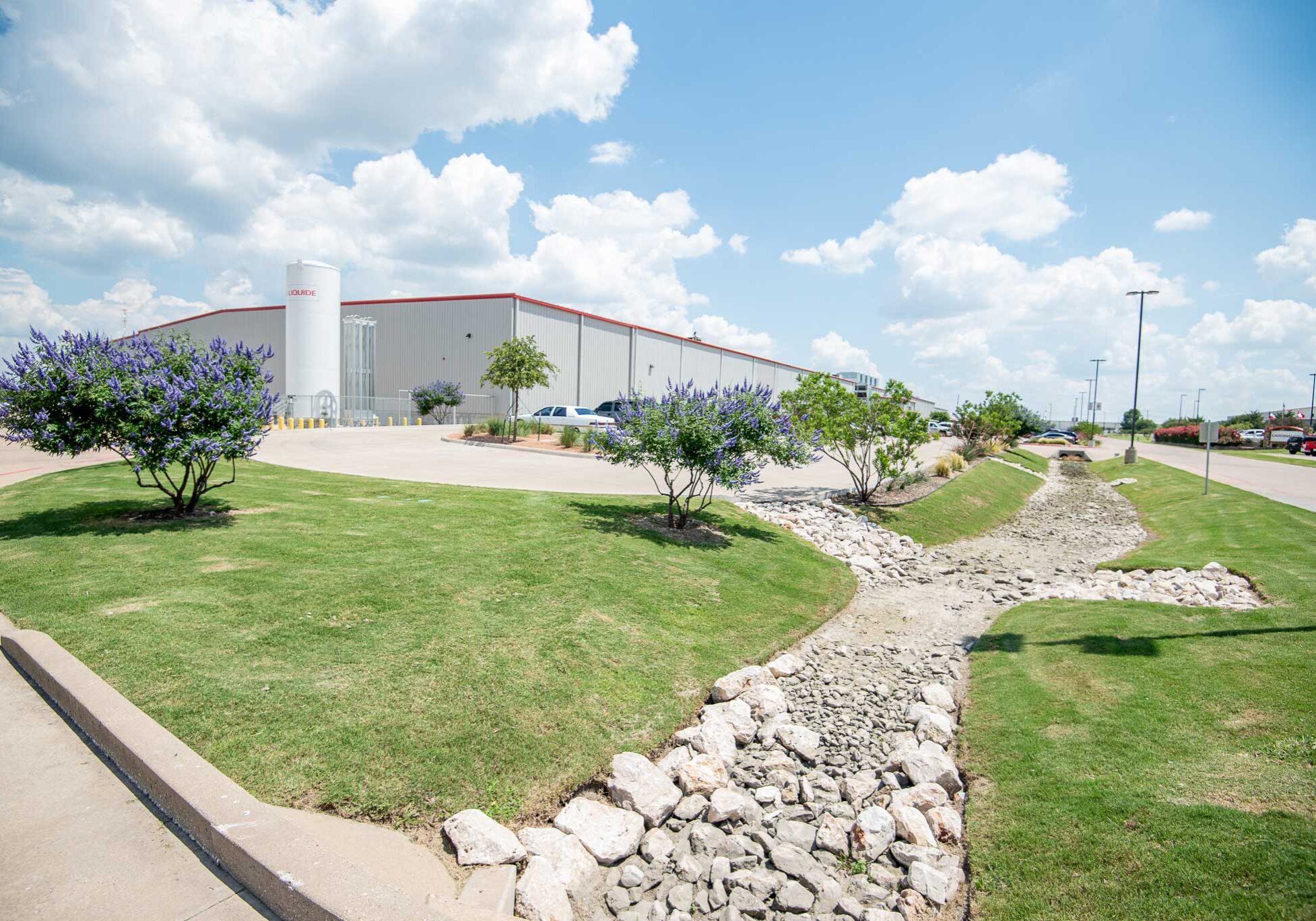 A Proven Process from Beginning to End
Our landscape design process begins with your first phone call. If you are interested in our design services, we'll set up a consultation at your property. We'll go over your landscape area together, talking about your ideas and gathering initial data. You can ask us questions, and we'll ask a few of our own. The initial consultation is for learning about each other and how Tex-Scapes can help you. We hope you'll come to trust us as we begin a new professional relationship.
After the first consultation, we'll come up with a design plan. We always custom-make our landscape designs. Everything is based on your unique property and your needs. We will explain this first design plan to you in detail, and you'll have the opportunity to tell us what you think. We count on your honest input, so that we can create a landscape you'll enjoy.
At Tex-Scapes, we take into account your budget and timeline. Your time and money are valuable. That's why our process includes clear estimates of the costs and the time it will take to complete the project. We will also list the materials that will be used in your landscape. If you ever have any questions, we're right here! We'll take the time to listen and answer your questions.
A Complete Line of Professional Landscape Services
These popular landscaping services cover your needs in the Ennis area:
Our year-round garden store and nursery in Ennis, Texas is a great place to visit and gather inspiration for your landscape! Find your favorite plants, trees, and shrubs in our large nursery, and then head on over to the garden store to stock up on gardening supplies. We have fertilizer, organic products, potting soil, gardening gifts, and fun decor. If you have any questions, our friendly and knowledgeable staff is happy to help you!
Proudly Serving Residents in Corsicana, TX, and the Surrounding Communities
Caring for Texas' finest properties is what we do. Our landscaping business provides services to homes and commercial businesses to all these areas:
Explore our service area page for more information.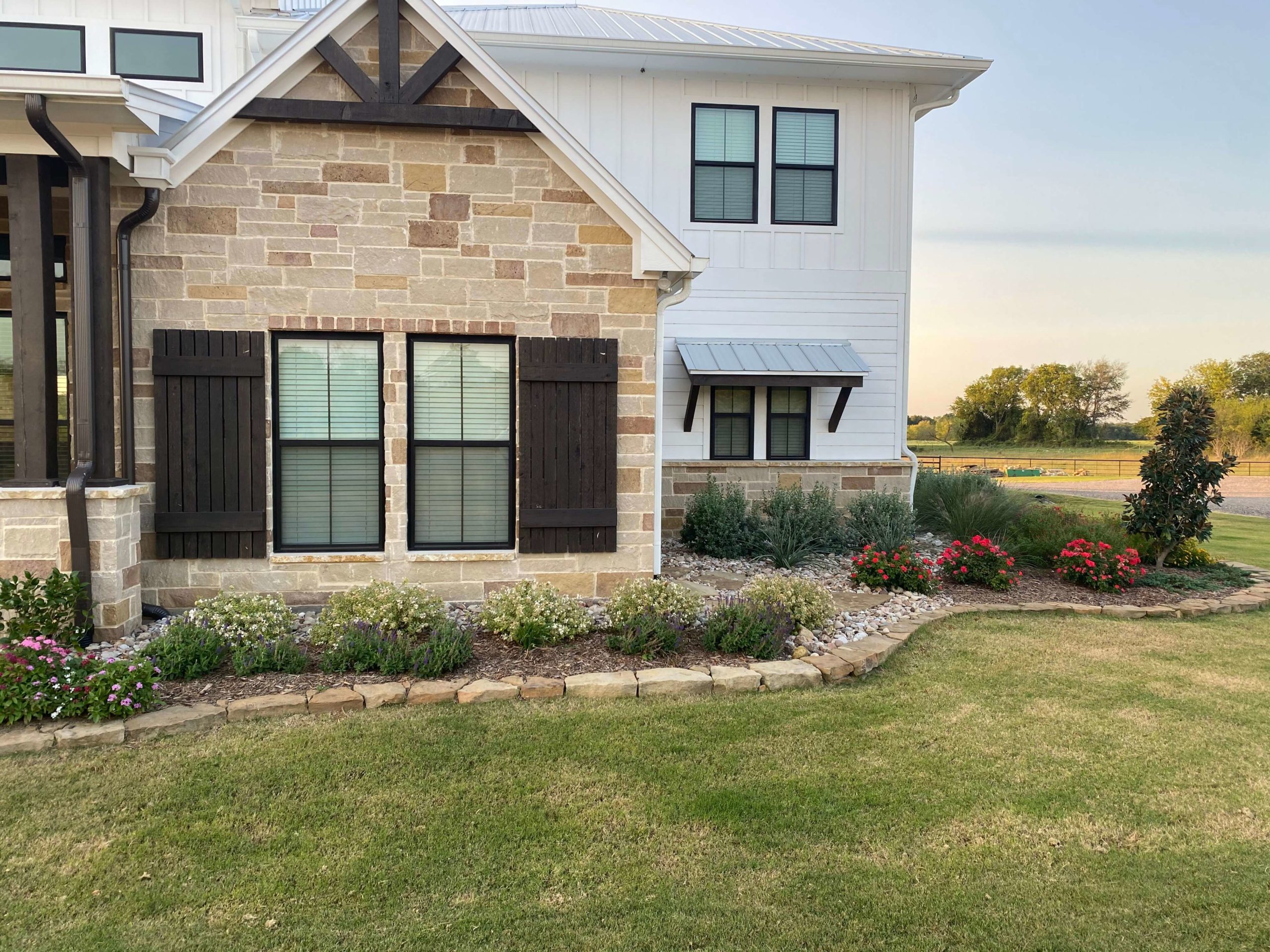 Solve Your Drainage Problems with Drainage Installation
from an Experienced Landscaping Company
Drainage issues occur underground but can cause major problems for your yard, or even your home. When you're searching for a solution, you don't need a band-aid, you need to attack the underlying cause. Tex-Scapes began with irrigation and landscape services in 2004. Our teams never cut corners. Whether you have too much water or not enough, we can find the cause and solve your irrigation problems for good. Stop dreaming about your property's potential and enjoy the beautiful, functional landscape you've always wanted. Schedule your project planning appointment today.
Ready to get started on your project?
Schedule your Project Planning meeting online now!