You'll Be Amazed How Our Creative Installations Transform Your Landscape!
The landscape installation experts at Tex-Scapes have the skills to take a tired-out landscape and transform it into an attractive, functional outdoor area. Gone are the days of patchy, brown grass, and wilting perennials. Our comprehensive landscaping services include everything it takes to make your landscape a healthy, green place for you to enjoy all year long. Does your commercial property need a complete landscape overhaul? We'll install new sod, add low-maintenance plants and shrubs, and safely put in landscape lighting to give your property a fresh presence. Is your family growing, and you would like to extend your living space into the outdoors? Allow Tex-Scapes to design and install a beautiful patio area, so you can be comfortable in your Corscicana, Texas backyard.
Even if your landscape dreams are small, we can help. Let us plant a colorful garden bed, create a native plant sanctuary, plant a tree, or build a small garden nook complete with a walkway and fountain. Dream your garden dreams, and then give us a call. Our friendly designers will meet with you and help turn those dreams into a plan, which our installation professionals can put into action. Our landscaping is full-service, which means you won't need to hire anyone else. Tex-Scapes takes care of all the details, big and small.
A Few Words from Happy Tex-Scapes Customers
A big Tex-Scapes thank you to our valued customers for sharing these kind reviews on Yelp and Google Reviews!
A Proven Process from Beginning to End
Our landscape design process begins with your first phone call. If you are interested in our design services, we'll set up a consultation at your property. We'll go over your landscape area together, talking about your ideas and gathering initial data. You can ask us questions, and we'll ask a few of our own. The initial consultation is for learning about each other and how Tex-Scapes can help you. We hope you'll come to trust us as we begin a new professional relationship.
After the first consultation, we'll come up with a design plan. We always custom-make our landscape designs. Everything is based on your unique property and your needs. We will explain this first design plan to you in detail, and you'll have the opportunity to tell us what you think. We count on your honest input, so that we can create a landscape you'll enjoy.
At Tex-Scapes, we take into account your budget and timeline. Your time and money are valuable. That's why our process includes clear estimates of the costs and the time it will take to complete the project. We will also list the materials that will be used in your landscape. If you ever have any questions, we're right here! We'll take the time to listen and answer your questions.
Professional Grading for a Beautifully-Shaped Landscape
Your landscape may need to be reshaped to achieve the desired effect. We offer precise grading services, always being careful to keep stormwater draining away from the foundations of your buildings. New dirt and rock may be added to build up the landscape to its proper shape. Sound messy? Don't worry. The Tex-Scapes landscaping crew is dedicated to being respectful of our customers' property. We'll clean up before we leave for the night.
Unique Drainage Solutions for Corsicana Homeowners
We specialize in creatively solving your drainage problems. Water runoff should run away from your buildings. Our high-quality drainage equipment will safely and effectively make this happen. French drains, drainage swales, and other solutions may be exactly what your property needs. Let us analyze your unique situation and give you a customized solution that is designed to last a long time.
Keep Your Lawn Green and Lush with Proper Irrigation
The hot Texas sun can scorch your grass and plants. Consider installing a professional irrigation system to keep your landscape growing healthy. Our professional team will carefully study your landscape and come up with a customized irrigation plan that will provide enough water without overwatering. Are you getting other work done on your landscape? Add a sprinkler system to your installation plan. It'll be worth every penny.
Create Functionality in Your Landscape with Hardscaping
A beautiful landscape is a nice thing, but we agree that it's even better when you can comfortably spend time in it. Hardscaping elements, which are man-made parts of a landscape, add function to your area. We design and install patios, decks, pergolas, walkways, fire pits, retaining walls, and more. Spend more hours outdoors with your family and friends. Make more meals outside, and enjoy more conversations around the fire pit. If you own a business, add value to your property with a lighted walkway and a deck area. Your landscape is the canvas. Let us paint your dreams onto it.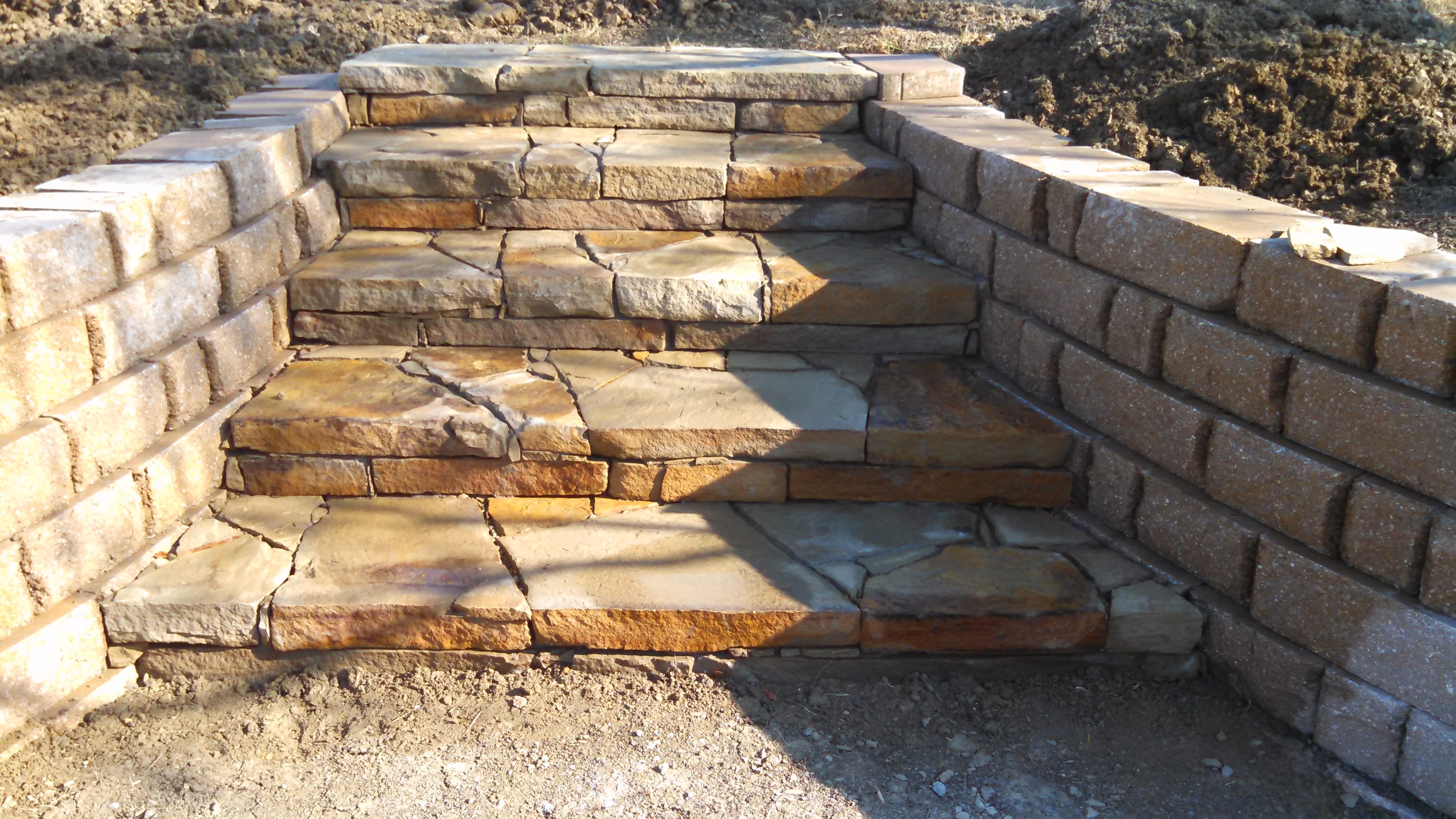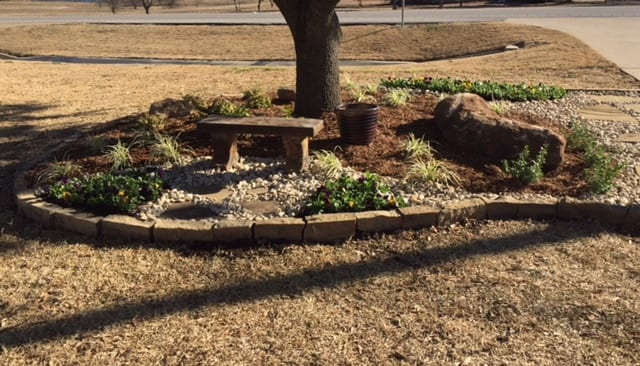 Illuminate Your Corsicana Landscape Safely and Effectively
Landscape lights are more than pretty spotlights in front of your flowering shrubs. Landscape lights serve many purposes. They provide a measure of safety for visitors walking to your doorway at night. They deter unwanted visitors from breaking into your property. Lights add drama to your landscape, creating another dimension that can be enjoyed after sunset. Trust the professionals at Tex-Scapes to install landscape lighting that will serve your purpose.
For the holidays, Tex-Scapes offers holiday light installation to make your property shine with all the festivity of the season.
Plants Make Every Landscape Uniquely Different
Complement the buildings and structures on your residential or commercial property with healthy green plants and flowers. Not sure which plants to grow? We can give you some professional advice. The Tex-Scapes Garden Store and Nursery has every plant, shrub, or tree that you could want. We have the horticultural knowledge of what grows well in Corsicana and the different types of soil that may be on your property. Let us grow a beautiful combination of plants in your landscape for a verdant area full of a variety of scents, colors, and textures. We make sure your plantings are well-suited for your landscape, whether they are growing in full sun or in a shady spot. If you desire a particular effect, such as an English rose garden, a butterfly garden, or a low-maintenance landscape, let us know. We aim to make your landscape as unique as your own personality.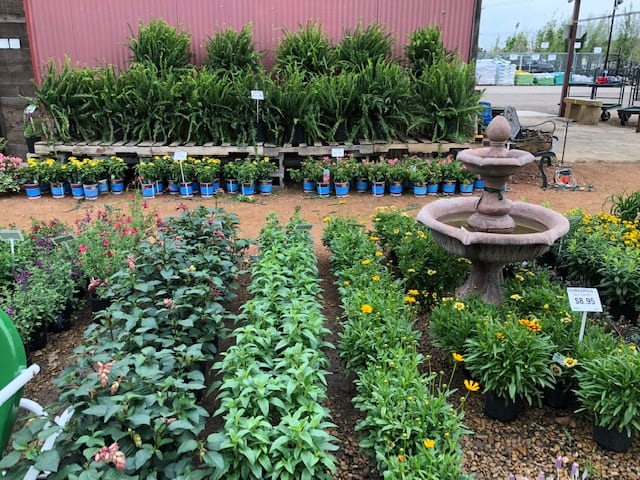 Xeriscapes Are Low-Maintenance and Grow Well in Corsicana, Texas
What is a xeriscape? It's a landscape designed to require little water and is very simple to maintain. Xeriscaping is an excellent choice for property owners who have no time or desire to maintain a landscape. Native grasses, shrubs, trees, and other plants cover your landscape area and are proven to survive in Texas heat and drought. We can make a xeriscape look amazing on your property! Spend time enjoying the outdoors instead of sweating over the maintenance work.
Landscape Installation Services Available in Corsicana and Neighboring Areas
Our landscape installation crews serve Corsicana, Ennis, Waxahachie, and surrounding areas. This applies to all residential properties. We provide light commercial landscaping services for commercial properties in these same cities.
The Garden Store is Open Year Round. Stop In and Take a Look!
The best way to get to know Tex-Scapes is by stopping into our Garden Store and Nursery. The store is overflowing with possibilities for your landscape, including unique garden decor, plant bulbs, organic gardening supplies, and much more. Take a stroll through our nursery and enjoy the blooms and greenery of the growing plants and trees. If you have any questions, our knowledgeable staff is more than willing to talk with you. We are here to help you enjoy your landscape at its fullest potential.
Schedule Your Consultation for Landscape Installation in Corsicana
Ready to get started on your project?
Schedule your Project Planning meeting online now!