Grow a Healthier Lawn and Landscape with an Efficient Sprinkler System from Tex-Scapes
Irrigating your lawn and landscape can be a real challenge in North Texas. Water restrictions and hose bans make it difficult to get the proper amount of moisture to the roots of your plants. That's why you need a sprinkler system that gets exactly the right amount of water to all the different zones of your property. A new, efficient sprinkler system can reduce the amount of water you use and increase the health and vitality of your plants.
Tex-Scapes' sprinkler system installation services include underground irrigation design, drip hose installation, and automated watering schedules. Save your lawn from becoming brown and patchy during the hottest summer months. We offer our professional services to Corsicana, Texas homeowners and business owners who desire a healthier and more attractive lawn and landscape without wasting precious resources.
How We Make Your New Sprinkler Work Correctly for Your Corsicana, TX Property
Sprinkler system installation is more than installing a few sprinkler heads and drip hoses. Check out the advantages of hiring a professional to install your new sprinkler system.
Efficient sprinkler design.

A sprinkler system is only as good as its design. Our irrigation experts take into consideration your landscape's unique needs, and we map out zones accordingly.

Analyzation of your water pressure.

We choose nozzles and sprinkler attachments that work best for your property's water pressure.

Check for consistency.

We analyze every square foot of your landscape to ensure each part is getting the proper amount of moisture with no gaps or overlaps. 

Install different tools for better efficiency.

Different sprinkler tools work for different areas of your landscape. For example, wide sprinklers and rotors are best for large areas of lawn, while side-strip spray nozzles work better for narrow strips of lawn. Drip systems safely irrigate garden beds and hedges without encouraging weeds to grow between the rows.

Protect your foundation.

If the soil around your foundation dries out, your foundation could settle and crack. Drip irrigation provides a steady amount of moisture to the soil, protecting your building from costly foundation damage.

Professionally install the system with minimal soil displacement.

Underground sprinkler systems don't have to make a big mess in your landscape. We'll lay down the irrigation infrastructure levelly and account for large root systems with the least amount of disruption possible.
A Few Words from Happy Tex-Scapes Customers
A big Tex-Scapes thank you to our valued customers for sharing these kind reviews on Yelp and Google Reviews!
A Proven Process from Beginning to End
Our landscape design process begins with your first phone call. If you are interested in our design services, we'll set up a consultation at your property. We'll go over your landscape area together, talking about your ideas and gathering initial data. You can ask us questions, and we'll ask a few of our own. The initial consultation is for learning about each other and how Tex-Scapes can help you. We hope you'll come to trust us as we begin a new professional relationship.
After the first consultation, we'll come up with a design plan. We always custom-make our landscape designs. Everything is based on your unique property and your needs. We will explain this first design plan to you in detail, and you'll have the opportunity to tell us what you think. We count on your honest input, so that we can create a landscape you'll enjoy.
At Tex-Scapes, we take into account your budget and timeline. Your time and money are valuable. That's why our process includes clear estimates of the costs and the time it will take to complete the project. We will also list the materials that will be used in your landscape. If you ever have any questions, we're right here! We'll take the time to listen and answer your questions.
Become Inspired by Local Landscapes We Have Improved with Our Full-Service Landscaping
Our team of experienced landscapers know how to make the most of natural areas in Corsicana, Texas and neighboring communities. We pay close attention to details while not neglecting important issues like irrigation and drainage. See our portfolio for more examples of our workmanship.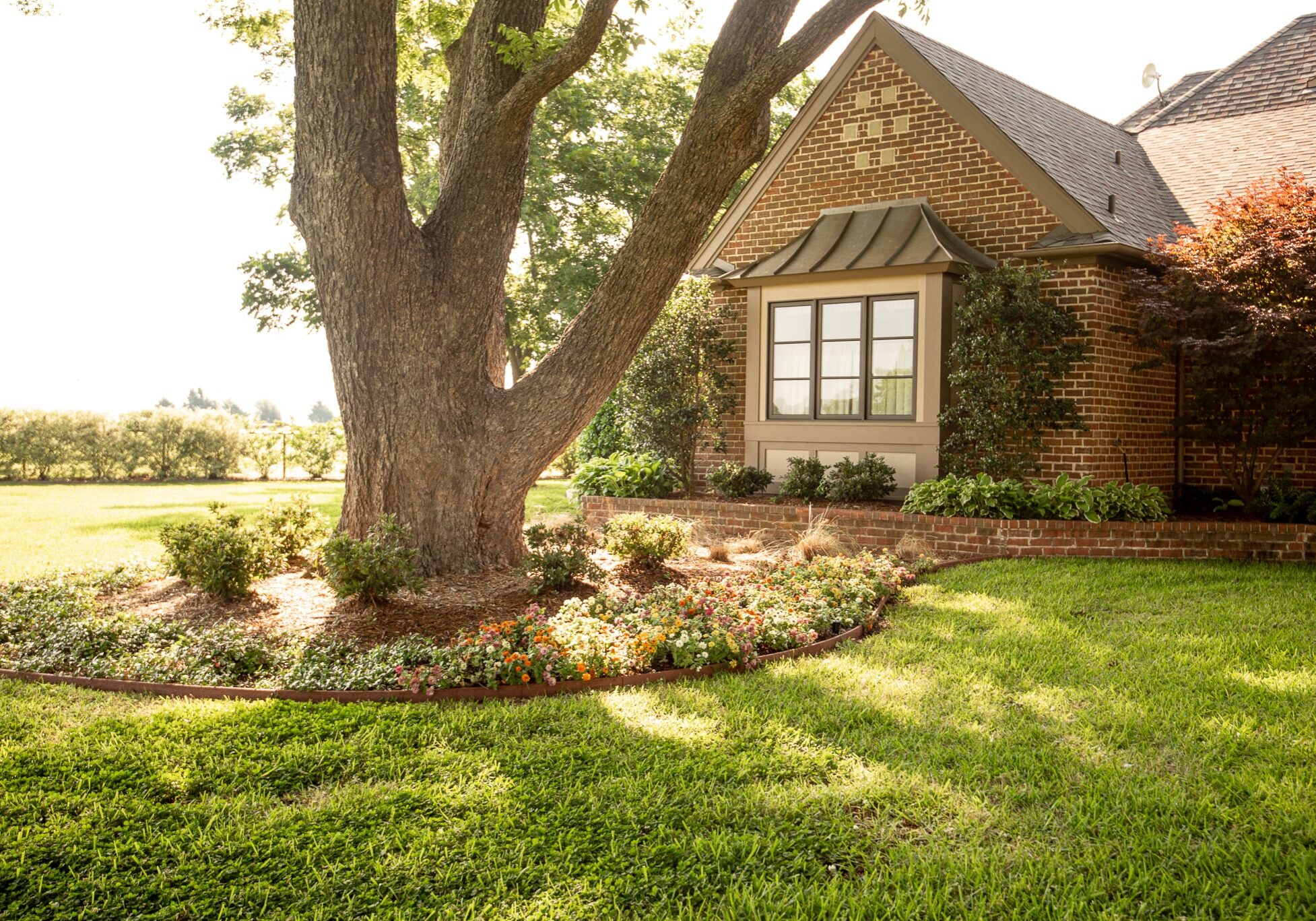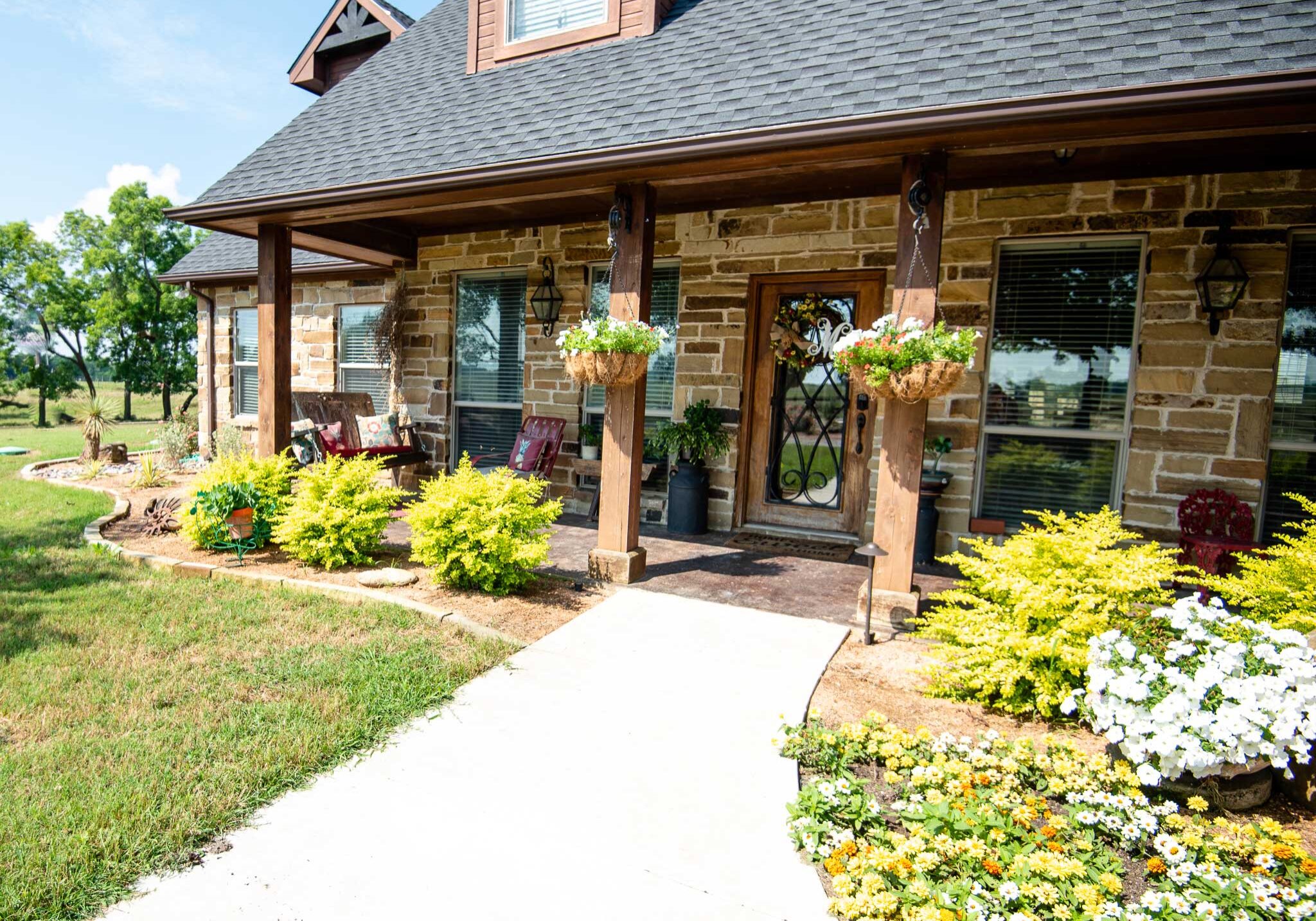 Get Great Results with Tex-Scapes' Proven Process
It's easy to get the landscape of your dreams. We follow a simple, transparent process that takes you from the first consultation to the final result. Our family values and professional services keep each project moving along at a steady pace. Here's what our landscaping process looks like:
Complete Your Landscape with More of Our Valuable Services
These popular landscaping services cover your needs in the Kaufman area:
Our year-round garden store and nursery in Ennis, Texas is a great place to visit and gather inspiration for your landscape! Find your favorite plants, trees, and shrubs in our large nursery, and then head on over to the garden store to stock up on gardening supplies. We have fertilizer, organic products, potting soil, gardening gifts, and fun decor. If you have any questions, our friendly and knowledgeable staff is happy to help you!
We Are Happy to Serve Homeowners and Business Owners in Corsicana, TX and Nearby Areas
Caring for Texas' finest properties is what we do. Our landscaping business provides services to homes and commercial businesses to all these areas:
Explore our service area page for more information.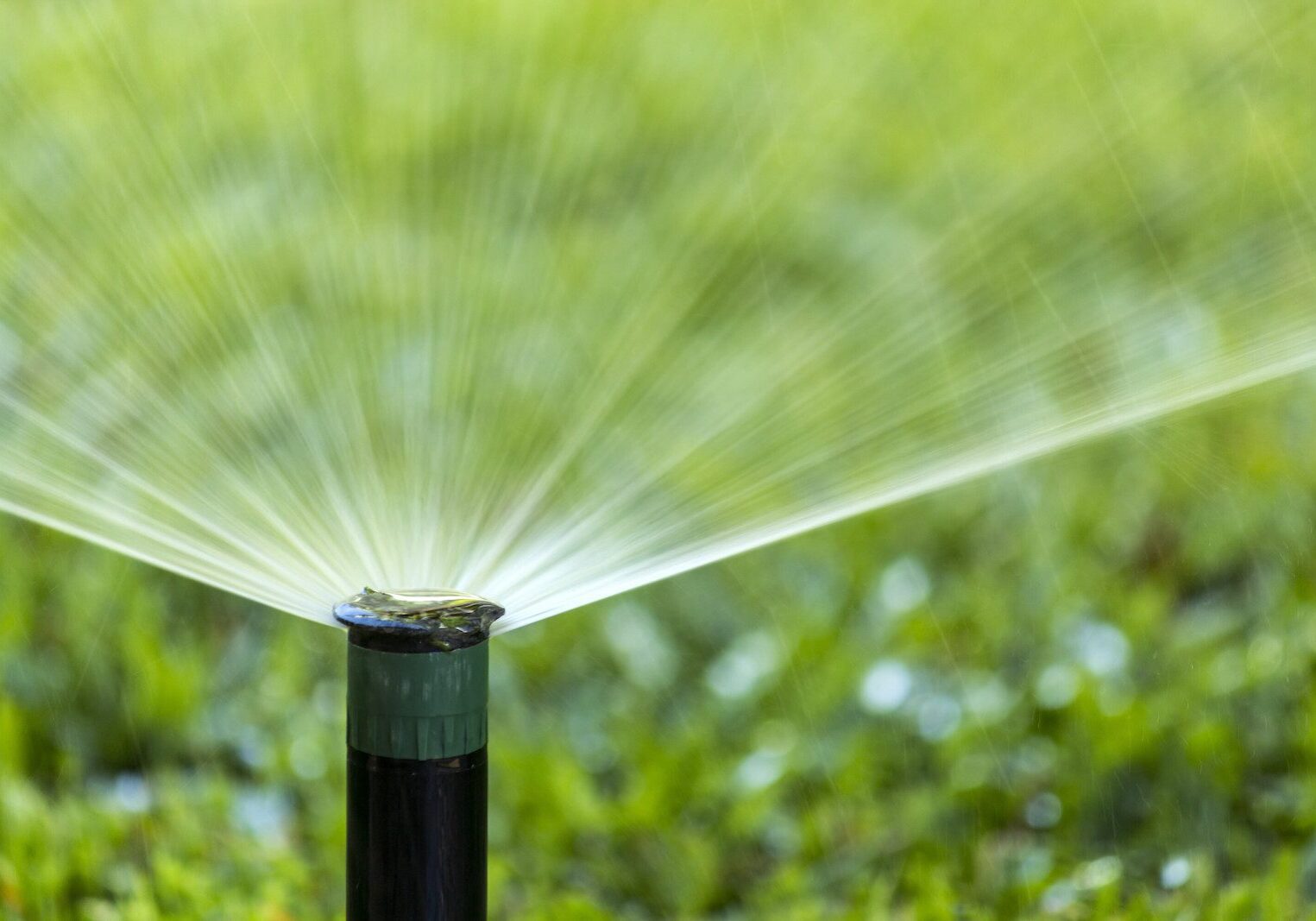 Discuss Your Irrigation Needs with Us
Our experienced team can provide you with sprinkler system installation services that are customized to your unique landscape. If your lawn is suffering from lack of irrigation, or you know your current sprinkler system is broken and outdated, then it's time to consider a new sprinkler system that will automate your irrigation, reduce water waste, and increase your curb appeal by keeping your grass and plants healthy. Contact us to schedule a consultation.
Ready to get started on your project?
Schedule your Project Planning meeting online now!