The weather here in Ennis, Texas is beautiful nearly year round. Plenty of sunshine and warm temperatures dominate the spring, summer, and fall. Even in the deep of winter, it's nice enough to be outside for the day. That makes it a perfect place for someone who loves to work outdoors. If that sounds like you, consider one of our landscaping jobs with Tex-Scapes Nursery and Landscape.
What Makes Tex-Scapes a Great Place to Work?
Other landscape companies tout their salaries and benefits packages as their biggest draw for talent. We know that earning a paycheck is important to our staff, but we also think there's more to being a great workplace than the compensation. We are a family-owned and operated local company and we think of our awesome staff as extended family. We value them not only for their contributions and experience but also because they're just great people. Our collective goal is to provide exceptional landscaping services for residential and commercial properties in Ennis, Texas and the Dallas-Fort Worth (DFW) area.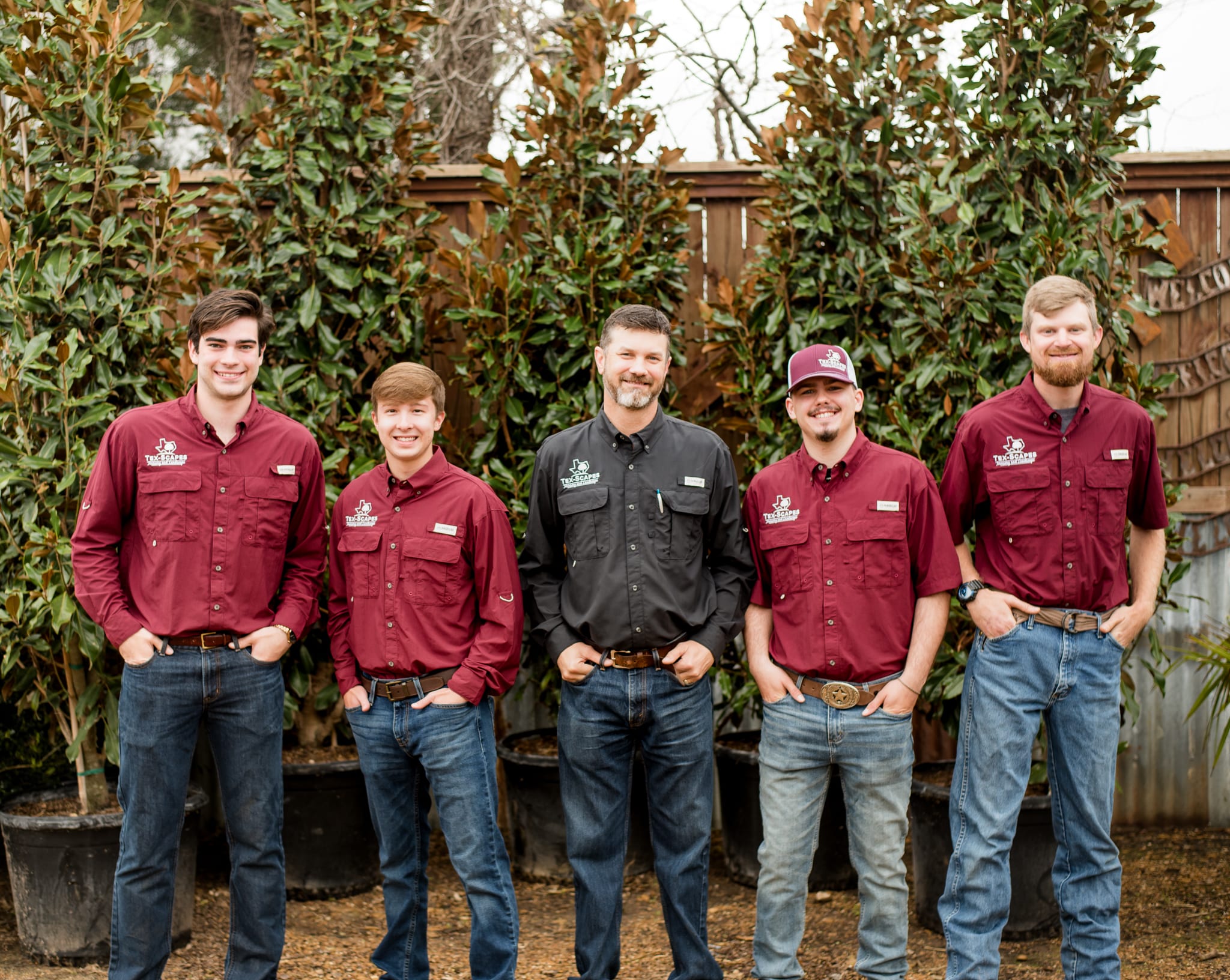 A Few Words from Happy Tex-Scapes Customers
A big Tex-Scapes thank you to our valued customers for sharing these kind reviews on Yelp and Google Reviews!
Join Our Growing Ennis, TX Family by Filling One of Our Landscaping Jobs
Demand for our landscaping services is growing and we are looking for qualified people to fill both full-time landscaping jobs and seasonal positions. If you have experience as a landscaper, outdoor craftsman, tradesman, or technician we would love to meet you and talk. We're looking for professionals that possess the following skill set and experience:
Strong Work Ethic
Positive, Enthusiastic Attitude
Detail Oriented
Commitment to Excellence
Integrity and Honesty
Communication Skills
Team Player
Safety First Mentality
Creativity and Willingness to Learn
Landscape Design & Installation Experience
Construction Industry Experience
Irrigation and Sprinkler System Experience
Understanding of Landscaping & Horticultural Practices
Knowledge of Job Tracking, Cost Reporting, and Scheduling
Education in landscaping, horticulture, construction project management, or associated fields
If any of these describes you and your experience, don't hesitate to contact us. We're ready to hire a qualified candidate like you right away.
Our Landscape Team's Daily Duties
We're a busy landscaping company and we provide a wide variety of landscaping services for private residential as well as light commercial properties. Our customers' landscaping needs range from adding a simple flower bed or vegetable garden to full-blown landscape renovation projects. We expect our landscape team to be proficient in all aspects of landscape construction, for both small and large projects. Some of the responsibilities our landscape team takes on include:
Dirt Work - We're not afraid to get our hands or our equipment dirty. We love playing in the dirt and offer dirt work services including grading, drainage, and French drain installation.
Irrigation Systems - Our hot Texas climate makes it difficult to keep landscape plants and grass hydrated. We need experts in both design and installation of irrigation systems to combat the problem.
Automated Sprinkler Systems - Maintaining a landscape is easier with an automated sprinkler system. If you have design, installation and repair experience we see that as a plus.
Horticultural Services - If you have a green thumb, we want to talk to you about designing landscaping and gardens, planting trees, shrubs, grasses, vegetables, flowers, and other plants.
Xeriscaping - Texas isn't the wettest place in the world and water-hungry plants won't do well. We need experienced landscapers to create dry landscaping using water conservation gardening techniques.
Hardscaping - Our experts don't just deal with plants and dirt, they're also skilled hardscape designers. If you enjoy designing and building retaining walls, planters, patios, and walkways apply today.
If you have experience in any of these areas of landscape design and installation, we would love to talk to you about joining our dynamic team of hard-working professionals.
Collaboration and Teamwork
We appreciate experience, training, and hard work they're the cornerstones of a successful landscape service business. What we find even more important, however, is the ability to collaborate and work as a team to accomplish a larger goal. From the initial consultation through to the final walk-through of the finished landscape design, we work closely with our customers to create a space they will love.
Customer Service - We value our customers and expect all of our landscapers to show them the utmost in respect and courtesy while maintaining the highest levels of quality workmanship.
Project Development - Our landscape professionals spend a great deal of time with every customer during the design phase. That starts with listening to the client's wishes, design preferences, and goals.
Landscape Installation - Once we've developed a plan the customer loves, we get busy making sure that we incorporate everything we've discussed in the planning stages.
Time & Money Management - We know that our customers don't want a project to drag on endlessly or cost more than promised. Our professionals understand how to stay on time and on budget.
Finished Product Delivery - Our goal is to deliver a beautiful outdoor living space that exceeds our customer's expectations. Nothing pleases us more than a satisfied customer!
Even the best-laid plans can go awry during a landscape project. Weather, unforeseen circumstances, and other factors do come up from time-to-time. That's why prefer to hire solution-oriented individuals that are able to think on their feet and can come up with workable solutions to any problem they encounter.
We Rely On Our Landscape Team
Our customers expect us to come up with creative solutions to all of their landscape desires and issues. Many of them already have a good idea of what they want, but some don't and we rely on our landscape team to help them design the landscape of their dreams. Our experienced team can also solve the most common landscape problems that Texans face. We do whatever it takes from grading and reshaping the land, installing drainage systems to combat moisture, or installing an irrigation or sprinkler system to keep plants from drying out.  Can we rely on you to conceive of and deliver these kinds of services too?
Apply for a One of Our Landscaping Jobs at Tex-Scapes Today
As we mentioned before, we're a local, family-owned business in Ennis, TX, not a huge corporation. That means working here is more like spending time with friends and family than actual work, but that doesn't mean we allow slacking off. In fact, we push each other to be productive and we hold each other accountable. If you're ready to start a challenging, yet rewarding, career in landscaping we invite you to contact us with your information to apply today.